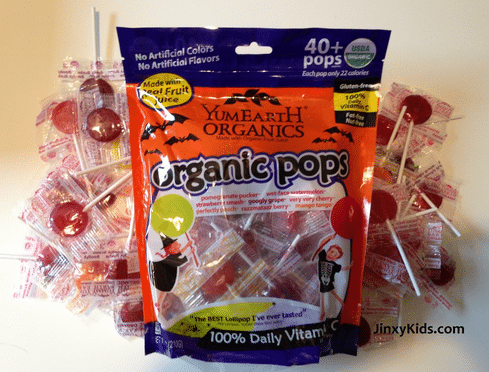 While we like our Halloween costumes and entertainment on the scary side, it's better to leave the scary ingredients OUT of our treats. YumEarth Organics Lollipops are made with real fruit juice and natural ingredients! They're also gluten-free.  As an added bonus, they also contain 100% of your daily vitamin C in each serving. That means lots of yum with NO scary stuff.
YumEarth Organics Lollipops come in lots of mouthwatering flavors including very very cherry, too berry blueberry, strawberry smash, sour apple tart, pomegranate pucker, razzmatazz berry, mango tango and wet-face watermelon.
I'm usually not a big fan of lollipops and wasn't in much of a hurry to taste out the samples from YumEarth when I received them.  But, as soon as I had one of the pomegranate pucker lollipops I thought,  "WOW – It is really good!"  It has a real fruit flavor that really stands out.  And they weren't kidding when they put "pucker" in the name.  The tart taste gives it a great zing!  Soon after that I tried a razzmatazz berry lollipop – also yummy! I am starting to think there won't be many of these left by the time the trick-or-treaters get to our door!
Where to Buy:  YumEarth is now available in over 7,000 Walgreens stores nationwide!  You can also purchase at YumEarth.com, Amazon.com, Drugstore.com, and many other local retailers.  Find more location here.
Reader Giveaway:  One lucky Jinxy Kids reader will win a bag of YumEarth Organics Lollipops.  To enter, just complete the entry form below by 11:59pm ET on 11/1/14.  Good luck!