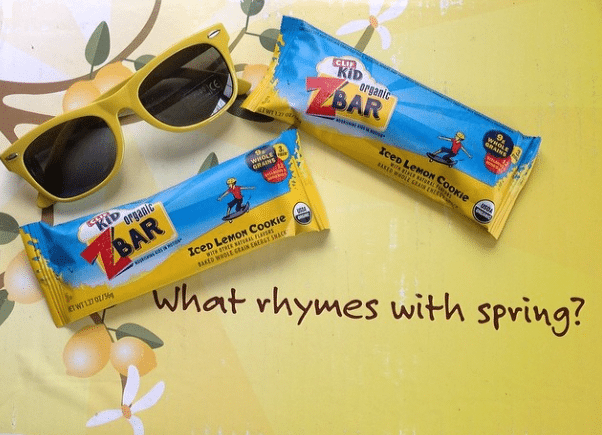 What rhymes with spring?  The answer is ZING and that's what you get in Zbar Iced Lemon Cookie bars.
We are big fans of CLIF Kid Zbars.  They're super yummy (even for adults), but they are portion-sized for kids and are filled with whole grains and fiber to keep kids satisfied between meals.  Especially for spring, there is a new flavor in a bright and sunny yellow wrapper:  The Zbar Iced Lemon Cookie.
Zbar Iced Lemon Cookie features the zing of lemon blended into organic whole grain oats topped with a drizzle of organic icing. USDA-certified organic and portion-sized for kids, Zbar Iced Lemon Cookie offers nine grams of whole grains, three grams of fiber and provides 12 vitamins and minerals that are important for kids' growing bodies.
The new snack also leaves out what parents consider "no-no's," such as partially-hydrogenated oils, high fructose corn syrup, synthetic preservatives and artificial flavors. Zbar Iced Lemon Cookie contains zero grams trans fat.

Reader Giveaway:  One lucky Jinxy Kids reader will win 12 CLIF Kid Zbar Iced Lemon Cookie bars.  To enter, just complete the entry form below by 11:59pm ET on 5/12/14.  Good luck!