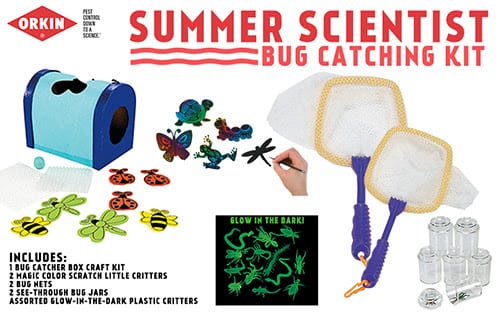 Summer is almost here! That means picnics, baseball games, barbecues and all the fun of enjoying the great outdoors with your family… and unfortunately, mosquitoes.  Not only do mosquito bites itch, but they can actually cause some pretty serious health problems.  Orkin has really studied mosquitoes and wants to help you and your family know more about them and how to prevent getting bit.
To help you better prepare yourself and your family to fight the bite, Orkin presents the "Buzzer Beater" app, which features its deep scientific knowledge of mosquitoes.  You will LOVE this app because it gives you a lot of valuable information in a fun way.  you can take a quiz to test your mosquito knowledge and earn a virtual badge, or you can watch a video with information on whether or not mosquitoes prefer adults over children, and more!


GIVEAWAY!  Orkin is also giving away Orkin Summer Scientist Bug Catching Kits to one lucky Jinxy Kids reader!  These kits are fun for the whole family! Each pack includes:
Bug Catcher Craft Kit: These awesome DIY bug catcher kits will let your family's personality shine through while also learning about nature and the world around us. The kits include a variety of foam ladybugs, dragonflies and more!
Bug Nets: Explore the great outdoors with these fun mesh insect nets. They can be used to collect and study butterflies, ladybugs, caterpillars and many other backyard creatures.
See-Through Bug Jars: Reveal the wonders of your backyard with these clear bug jars. Each transparent plastic box has a magnifying lid for better insect viewing. Young explorers love discovering worms, butterflies, ants and insects. These containers allow them to make homes for their new discoveries.
Magic Color Scratch Little Garden Critters: Scratch faces, designs and more on these Magic Color Scratch Little Garden Critters! A perfect kids' activity for critter lovers, simply scratch away the black coating to reveal vibrant rainbow colors. Includes butterflies, frogs, turtles and more.
Glow-in-the-Dark Creepy Crawlers: Turn off the lights and let them glow! These vinyl glow-in-the-dark bugs are lots of fun for all ages.
To enter, complete the form below by 11:59pm ET on 5/14/16. Good luck!
Orkin Mosquito Summer Scientist Giveaway

Each household is only eligible to win Summer Scientist Bug Catching Kit via blog reviews and giveaways. Only one entrant per mailing address per giveaway. If you have won the same prize on another blog, you will not be eligible to win it again. Winner is subject to eligibility verification.