One of the most fun ways to make our favorite books and movies come alive at home is to create crafts and recipes that replicate things the characters themselves do, play, eat and drink. In The BFG, Sophie befriends the big, friendly giant, and learns of his favorite drink, Frobscottle.
Frobscottle is a special drink unique to giants. It's a carbonated soft drink where the bubbles float downwards rather than upwards! You can create your own green and fizzy drink (we can't guarantee the direction of the bubbles!) with this fun The BFG Frobscottle recipe that highlights each of the noted flavors. It's not only fun to make a recipe straight out of the book, but it's delicious too!
Bellemain Swing Top Grolsch Glass Bottles

You can serve your homemade Frobscottle in a regular glass, but for something a little more special and "giant-y" you can serve and store your Frobscottle in a clear glass bottle with a stopper held by a wire bail. Just be sure to store your Frobscottle in the refrigerator until you're ready to drink it. It's best served within a day. (It might last longer, but we haven't tried it!)
Let's get on to the recipe!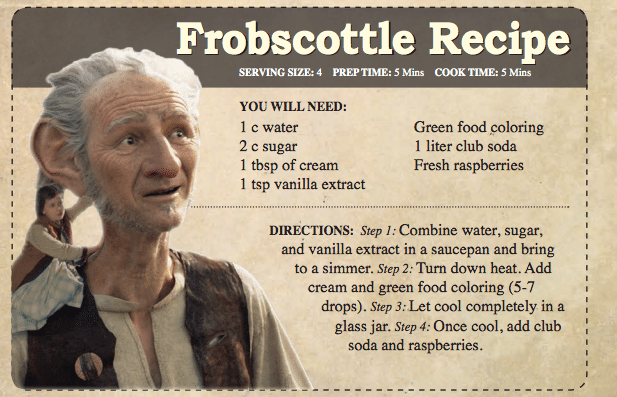 The BFG Frobscottle Recipe

Ingredients:
1 c water
2 c sugar
1 tbsp of cream
1 tsp vanilla extract
Green food coloring
1 liter club soda
Fresh raspberries
Directions:
Combine water, sugar, and vanilla extract in a saucepan and bring to a simmer.
Turn down heat. Add cream and green food coloring (5-7 drops).
Let cool completely in a glass jar.
Once cool, add club soda and raspberries.
Print a copy of The BFG Frobscottle recipe HERE.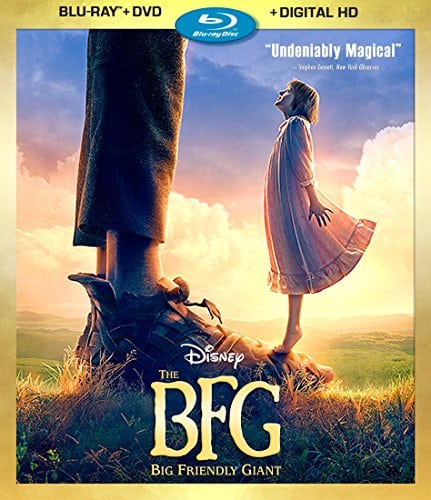 This BFG Frobscottle recipe will be just perfect for watching Disney's The BFG when it comes to Blu-ray, Digital HD and Disney Movies Anywhere on November 29th!
For more BFG fun, check out our BFG Gobblefunk Glossary and Printable Word Search Puzzle. Combine them with your Frobscottle and you'll have a regular BFG party! Have fun!
About the Author
Latest Posts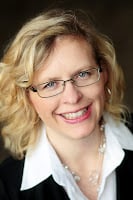 I'm a busy blogger and happy auntie of Little R, who I spend time with several days per week – which ends up being the FAVORITE part of my week! We love to cook together, do crafts, play outside and turn boring errands into fun adventures.