Disney's THE BFG will be opening in theatres everywhere tomorrow, Friday, July 1st! The imaginative story by Roald Dahl, directed by Steven Spielberg, introduces us to a young girl and the Giant who shows her to the wonders and perils of Giant Country.
This wonderful giant, The BFG, speaks Gobblefunk, a language created by Roald Dahl to give the BFG his unique voice. It is made up of silly words that are similar to common words found in the English language and are used when ordinary words just won't do. Take a listen:
At first, the filmmakers behind Disney's the BFG were concerned that the Gobblefunk language would make the characters' dialogue too confusing for the audience to understand. "We didn't want it to stop people from listening and trying to understand a line of dialogue because they just didn't get it," explains executive producer Kathleen Kennedy, "But after hearing how Mark Rylance spoke it, we all wanted more."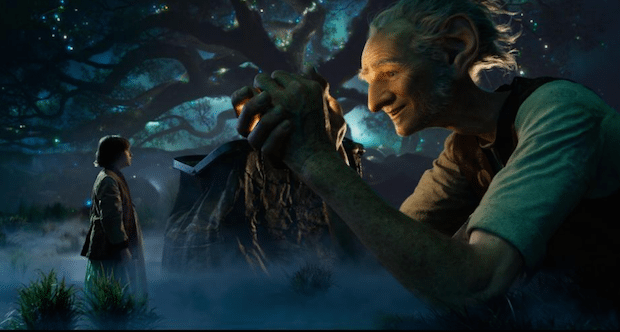 The actor wanted more of the language as well, and he wanted to repeat the words so that they actually became part of his character's strict vernacular. "He wasn't just pulling things out of his hat," says Rylance. "The BFG has words that he uses for certain things and he repeats them in his life."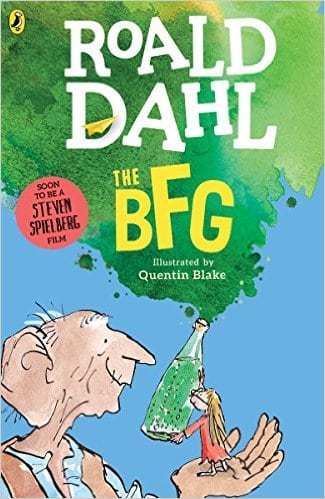 The BFG Gobblefunk Glossary:

To help you learn the ins and outs of Gobblefunk, we have a handy Gobblefunk Glossary explaining the English equivalents for each of the Gobblefunk words. You can print out the complete Gobblefunk Glossary here.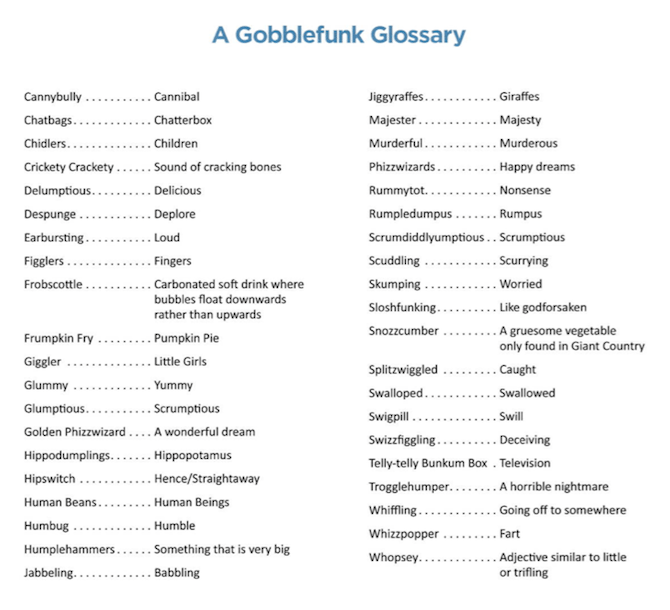 Phizz-Whizzing Stories – Gobblefunk
The BFG Mad Libs
The BFG (Colour Edition)
The BFG – Teacher Guide by Novel Units, Inc.
Funko POP Movies: The BFG – The Big Friendly Giant Action Figure
The BFG (BD + DVD + Digital HD) [Blu-ray]
&
For a bit of help practicing Gobblefunk, we have a fun printable Gobblefunk Word Search Puzzle. See how many of these words used by The BFG you can find by searching up, down, diagonaly and across.
For even more BFG fun, check out our recipe to make your own Frobscottle!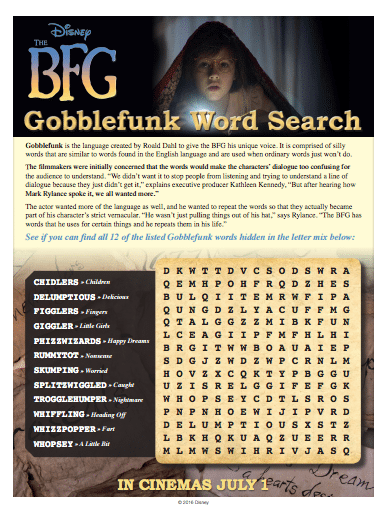 Like THE BFG on Facebook
Follow Walt Disney Studios on Instagram
Follow Walt Disney Studios on Twitter
THE BFG hits theaters everywhere on July 1st!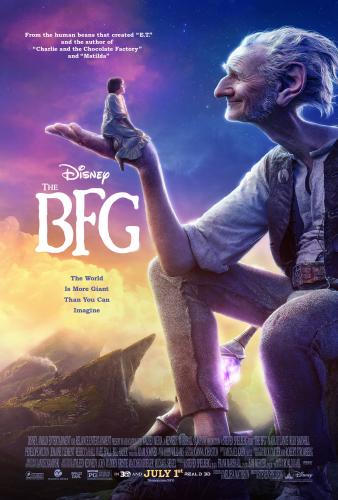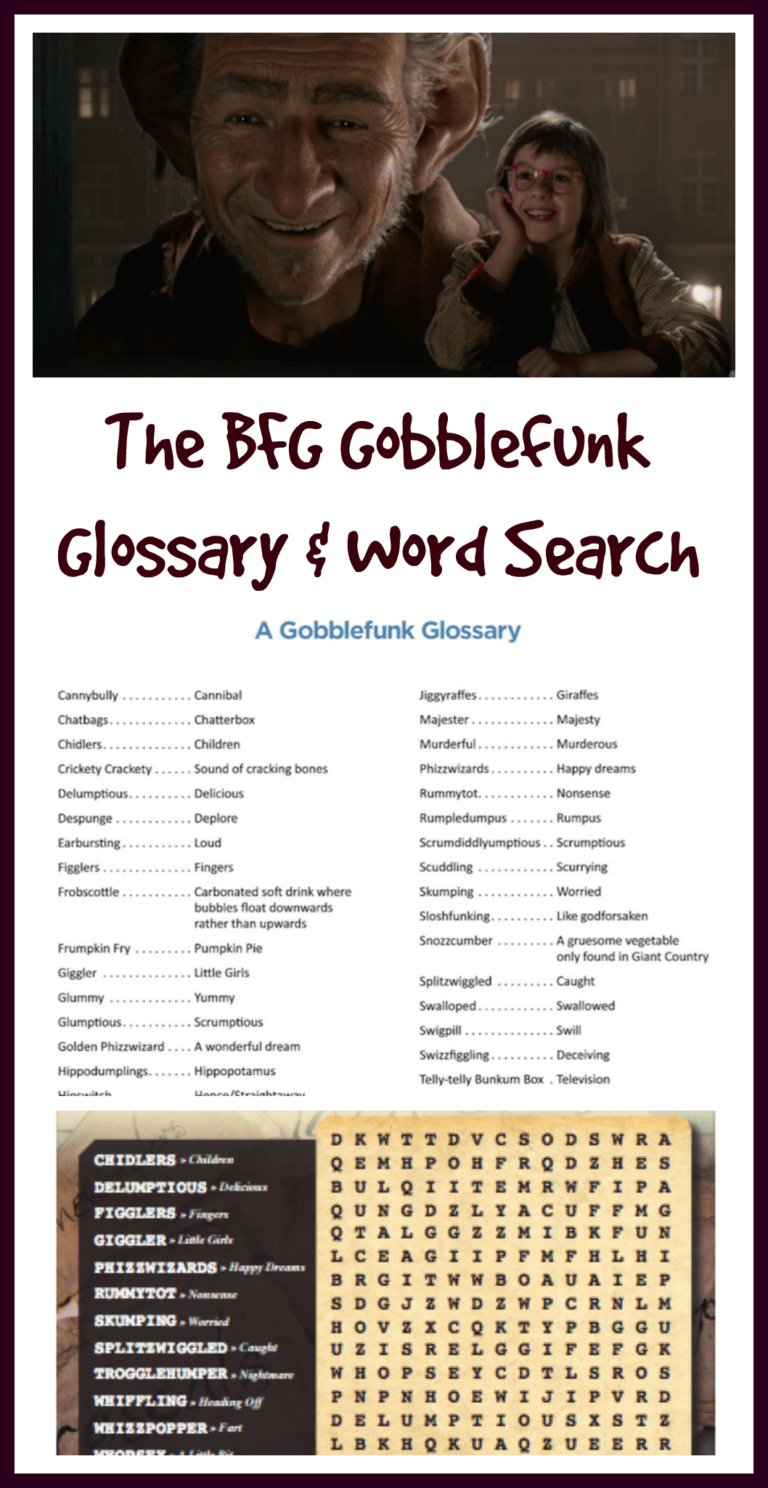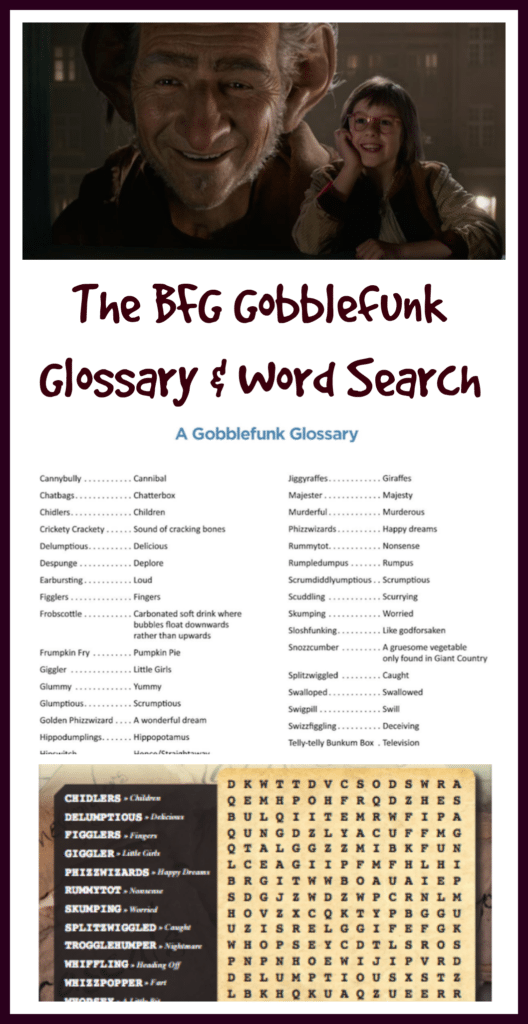 About the Author
Latest Posts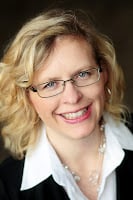 I'm a busy blogger and happy auntie of Little R, who I spend time with several days per week – which ends up being the FAVORITE part of my week! We love to cook together, do crafts, play outside and turn boring errands into fun adventures.