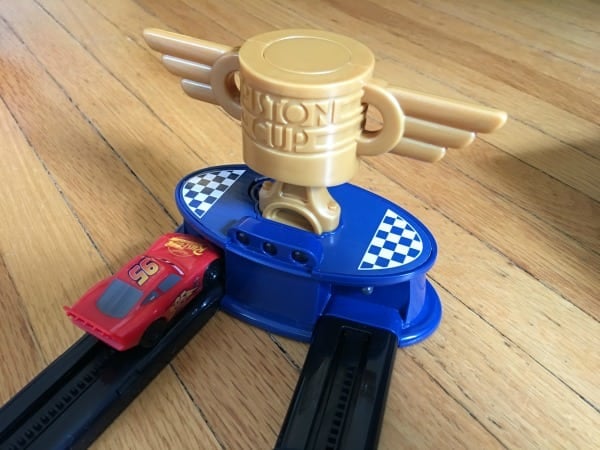 Our favorite family movie of the summer was Cars 3! It's one of those movies that both kids and adults can love, for some of the same reasons and some for different.
Not only is it a super fun thrill ride, but it also offers heartfelt lessons without overdoing it! No one likes leaving a movie feeling like they just received a lecture. Cars 3 shares important life lessons about friendship, mentorship, and keeping an open mind.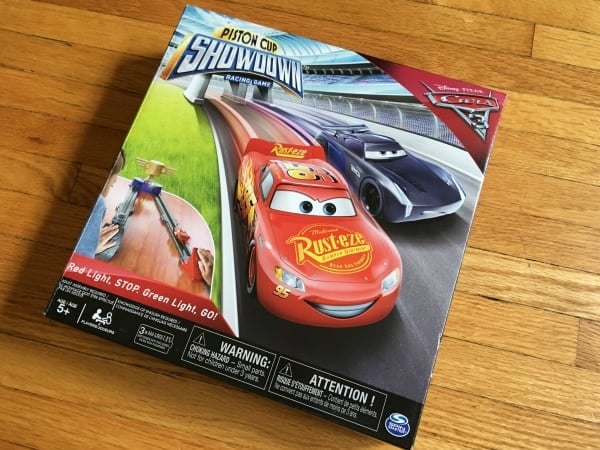 While we loved seeing Cars 3 on the big screen, we're just as excited to be able to watch it in our own living room when it's released on DVD and Blu-Ray this fall. In the meantime, we're happy that Spin Master Games gave us the Cars 3 Piston Cup Showdown for some Cars fun at home!
With Cars 3 Piston Cup Showdown your kids can put themselves right into the middle of the racing action as they "become" either Lightning McQueen or Jackson Storm in a race to the finish to score the coveted Piston Cup.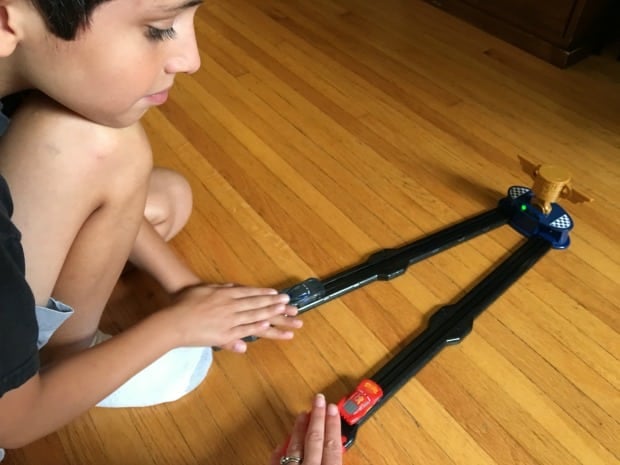 Setting up the game was easy (Little R actually enjoyed the assembly part). The game consists of electronic side-by-side racing with two tracks, one delegated to each car, and a finish line with the Piston Cup perched on top.
Just like in a real race, the players wait as the announcer says "Start your engines". The light at the end of the track will turn green as the announcer says "Go". That means it's time to push on you gas pedal button as fast as you can to move your car down the track.
BUT, keep an eye out for the yellow light that lets you know its almost time for the RED light signaling that it's time to stop. If you press your gas pedal on a red light, you get sent all the way back to the starting line.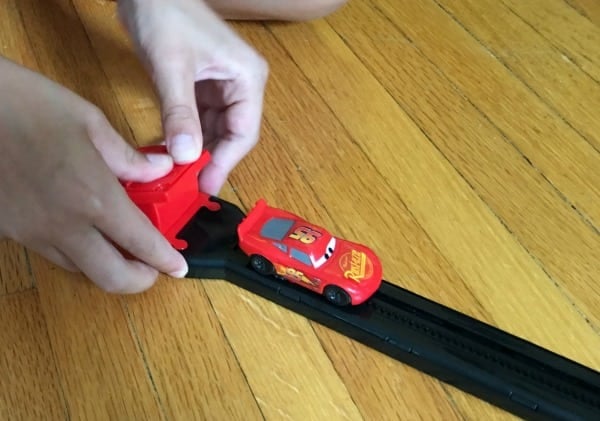 We are having a blast with the Cars 3 Piston Cup Showdown because each game is only a few minutes long, so you can play for just a short while, or keep playing all afternoon!
Spin Master Games has more Cars 3 toys available now at Walmart, Amazon and Toys"R"Us. They include:
Cars 3 Cardinal Cars Fishing Game: Walmart
Cars 3 Risky Raceway: Walmart
Cars 3 Thunder Hollow Mud Madness: Walmart (Exclusive)
About the Author
Latest Posts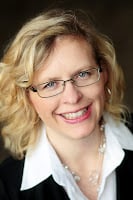 I'm a busy blogger and happy auntie of Little R, who I spend time with several days per week – which ends up being the FAVORITE part of my week! We love to cook together, do crafts, play outside and turn boring errands into fun adventures.