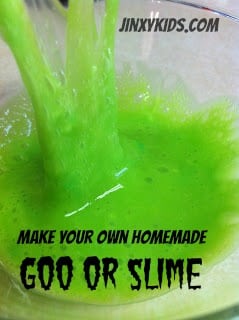 This is a fun craft project (or science project) for an indoor afternoon. You can make your own homemade slime!! (The slime is actually a polymer, with Borax serving as a the crosslinking agent for the glue molecules to string together to form larger molecules – the polymer.) This is quite simple to do. I love the way ours turned out with that funky green color!

Make Your Own Homemade Play Goo or Slime Recipe

To start you will need:
Borax
White Glue
Food Coloring
Water
Measuring Cups
2 Small Bowls for Mixing
Zip-top Baggies
A bowl to put the slime in for playing (glass is the most fun so you can see through the sides)
In one of your mixing bowls, combine 1 1/2 teaspoons Borax with 1/2 cup of lukewarm water. Stir until Borax is dissolved.
In the second bowl, combine 1/2 cup glue and 1/2 cup of lukewarm water. Stir until well mixed.
Transfer the contents of both bowls into the baggie. Add in a few drops of food coloring. (We used equal drops of green and yellow to get that fluorescent type look.) Knead the baggie with your hands until the slime starts to bind together.
Transfer to a bowl for playing and have fun!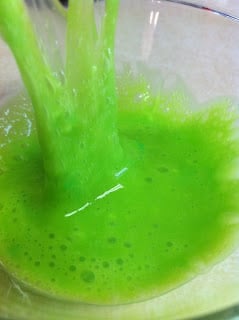 About the Author
Latest Posts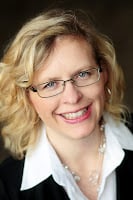 I'm a busy blogger and happy auntie of Little R, who I spend time with several days per week – which ends up being the FAVORITE part of my week! We love to cook together, do crafts, play outside and turn boring errands into fun adventures.