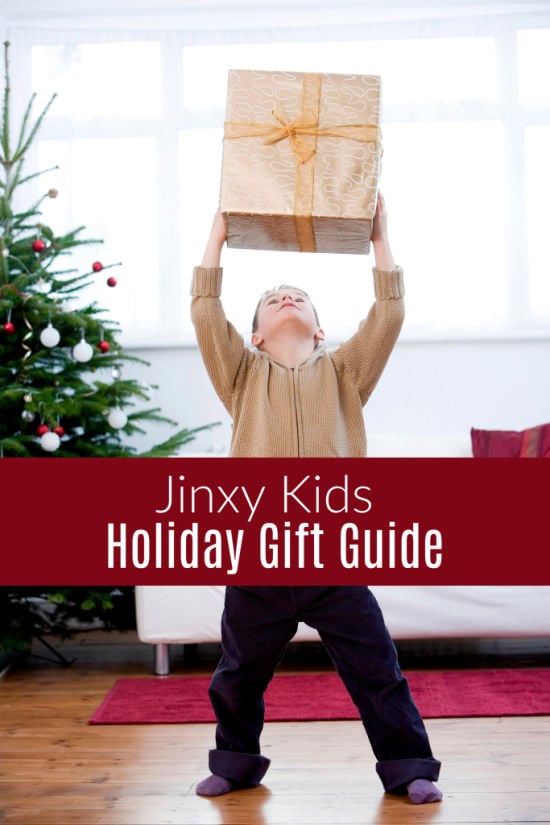 Can you believe Christmas is just a few weeks away? I sure can't…it seems like just yesterday I was putting away the tree from last Christmas! If you need some gifting inspiration for a special child or grandchild in your life, read on for some top picks with this Holiday Gift Guide for Kids!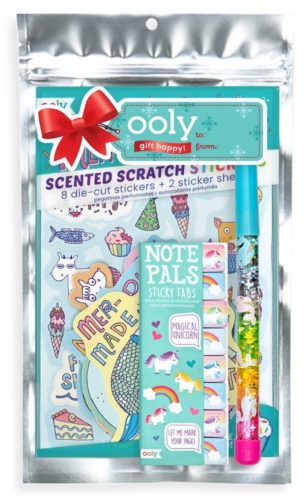 The perfect gift package with scented stickers, a Rainbow Glitter Wand and Note Pals available in a variety of themes including the Unicorn & Mermaid Party, Cat Cafe Party, Monsters, Unicorns, Nom Nom Donuts and Comic Attack.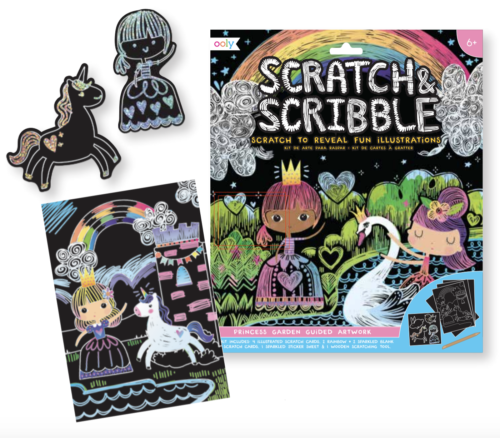 Scratch & Scribble Scratch Art Kits
Go from just plain black to just plain beautiful in no time at all with Scratch and Scribble scratch art kits. Each kit has 4 illustrated Scratch and Scribble cards and an included scratching tool! Pick from fun and exciting designs, including: Fantastic Dragons, Magical Unicorns, Monster Pals, Ocean Life and colorful Safari!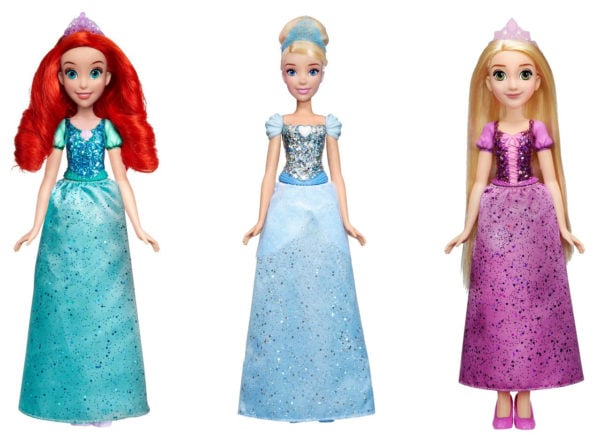 Disney has given their Princess fashion dolls a new twist! Each doll comes in her classic outfit with a special Royal Shimmer glitter print gown. Choose from eleven different dolls (Rapunzel is our favorite!).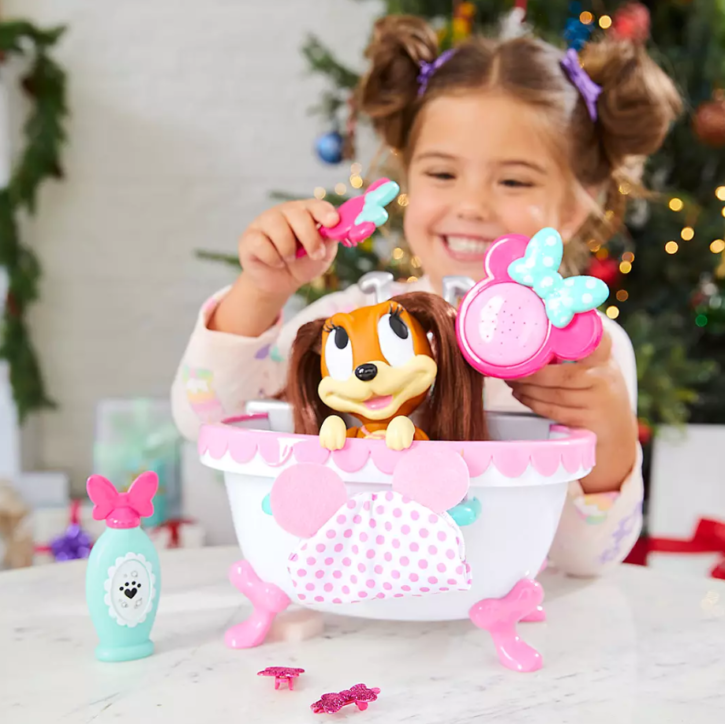 Can you say adorable?! Give Minnie Mouse's pooch Fifi a bath with this fun pet bath play set. It's got a real, working sprayer and faucet. Watch what happens when Fifi changes color in warm water! She even has hair you can brush and style.
I love toys that encourage open-ended play! Explore endless construction possibilities with Magformers Mini House Sets. Your little one can build anything they can imagine when they use the Magformers Magnetic Rainbow shapes, characters and accessories included in Max's Playground Set, Maggy's House Set, Minibot Kitchen and Milo's Mansion Set.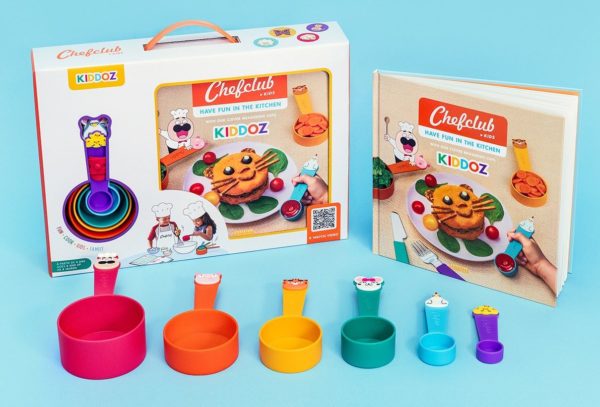 Put those kids to work! (I'm just kidding, but I'm kind of not.) The Kiddoz system teaches kids as young as 4 years old how to cook healthy meals for the whole family in a fun and easy way with little to no adult supervision needed! The kit comes with 6 cute character themed measuring cups and a cookbook filled with 20 illustrated recipes. In addition, Kiddoz comes with shopping lists to accompany every recipe, embedded videos, and a connected app for more healthy recipes and unlimited cooking excitement.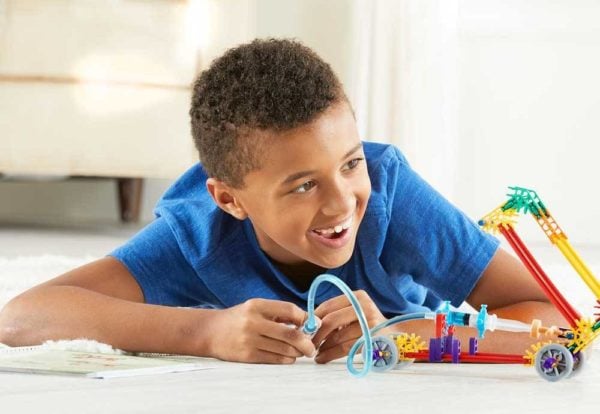 Learn to apply STEM principles just like an engineer! Moving Creations with K'NEX is a kit that includes a step-by-step illustrated guide with 9 different builds, educational science content, 18 STEM experiments and "Think Bigger" challenges to practice the scientific method.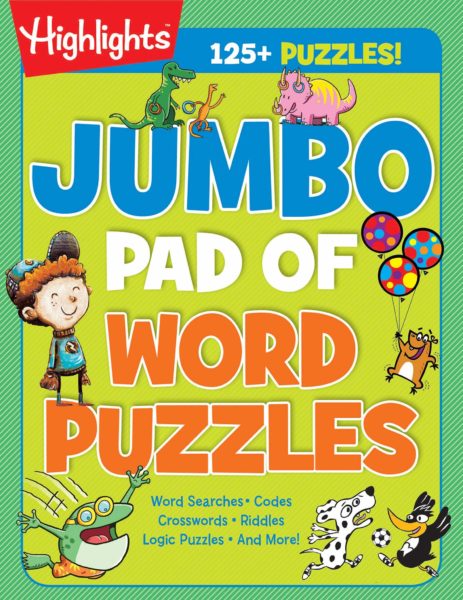 Highlights Jumbo Pad of Word Puzzles
I have a few kiddos that LOVE word puzzles, and this one is perfect for them! This 256-page jumbo pad is jam-packed with more than 120 different kinds of word puzzles, including word searches, crosswords, riddles, codes, and logic puzzles, with tear-out sheets that are easy to share.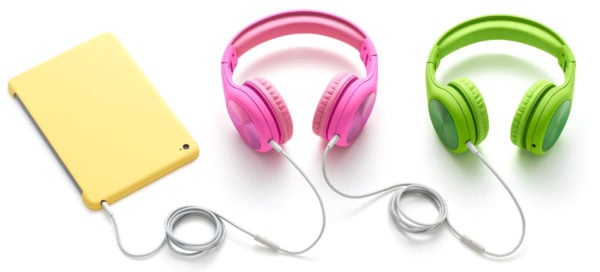 These headphones are made specifically for children with four different styles, each designed for a specific age group. Customize with your child's favorite color so that each child can have their own! Each headphone consists of a SharePort to allow more than one headphone to be connected to one device. In addition, the headphones are made with SoftTouch material to ensure a soft feel and a comfortable fit.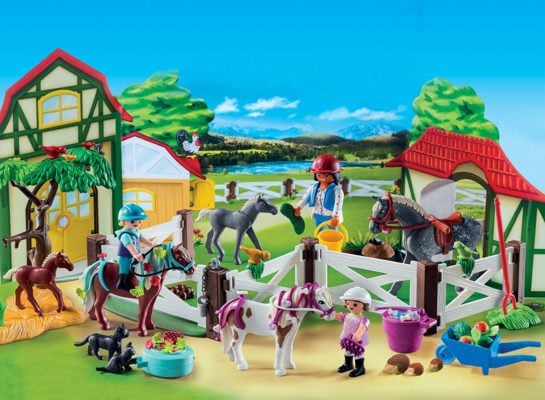 PLAYMOBIL Horse Farm Advent Calendar
Spend a day with the horses! This Horse Farm Advent Calendar contains twenty-four surprise items for each day leading up to Christmas. Once all the pieces are revealed, you can enjoy pampering the horses. Includes backdrop, three figures, one horse, two foals, two ponies, cats, wheelbarrow, fencing, tree, hay, hedgehogs, bucket, and tons of other accessories.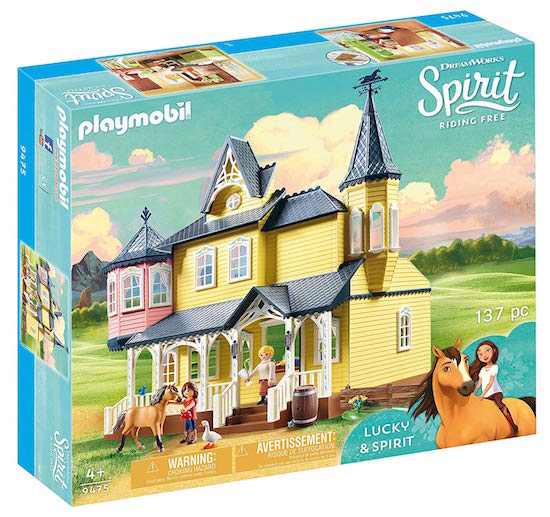 PLAYMOBIL Spirit Riding Free Lucky's House Playset
Another option for horse lovers is the PLAYMOBIL Spirit Riding Free Lucky's House Playset, based on the Netflix series Spirit Riding Free. Come for a visit at lucky's happy home on the frontier. Arriving in miradero from the big city, lucky isn't sure she will ever fit in, but this home is her safe haven. Walk into the kitchen with all the furnishings, where Aunt Cora is cooking dinner on the stove and the table is set for a delicious meal. Lucky shares all about her day's adventures, while Aunt Cora is focused on teaching lucky Etiquette and reminds her to be cautious with her wild escapades. She needs to be a proper lady, after all! Outside, lucky visits spirit before she heads off to school, reminding him of their upcoming adventures. Upstairs, you'll find spacious rooms for the whole family. Lucky keeps a poster of her mom in her room so she'll always remember her. Set includes large house, lucky, Aunt Cora, spirit, pots and pans, dishes, utensils, table and chairs, fencing, friendly Goose, and lots of other accessories.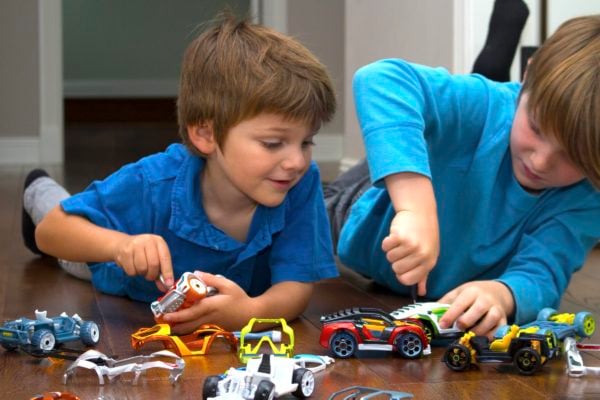 Modarri Customizable Track and Race Cars
Time to take a break from Minecraft or Fortnite? Take your kid's love of toy cars to a new level with these award-winning cards which never need batteries and never break! Modarri cars are durable, finger-powered toy cars with interchangeable high-quality parts, real steering, suspension, rubber tires, and no batteries needed. Your kids will design and build their own models using their imagination and creativity. Three cars together can be designed hundreds of different ways! A Modarri car can be built in less than a couple of minutes using the quick assembly system, which features built-in screws that don't fall out.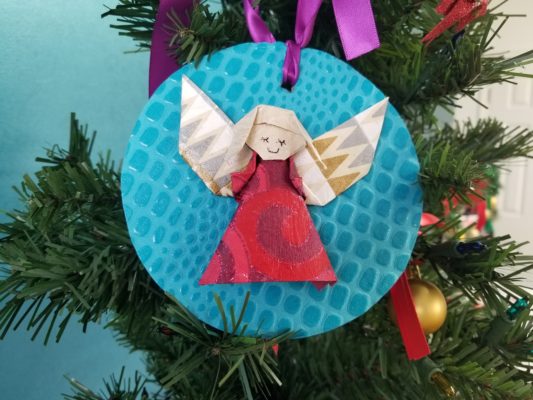 Christmas Ornament Keepsake Kits
What can be better than handmade gifts for the holidays? It only gets better when you get to make it yourself with your loved ones. These DIY Christmas Ornament Keepsake Kits include material for three origami ornaments which are gentle on the environment and look beautiful on any Christmas tree. The high-quality paper is created from recycled t-shirts, and once the ornaments are sealed using the included non-toxic glue, they are made to last. The kits come with step by step instructional videos to help you as you work.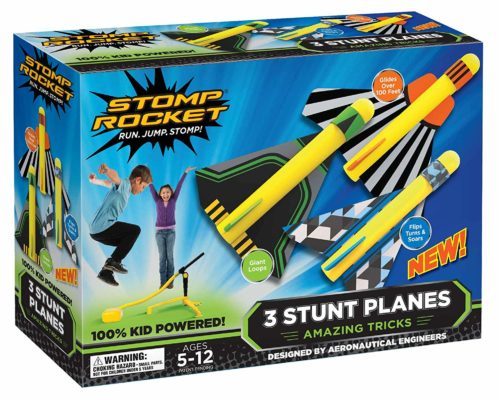 Run, jump, and STOMP to launch three different Stunt Planes! These planers are designed by aeronautical engineers to perform a variety of amazing students. The Looper plane performers giant loops, the Glider plane soars up to 100 feet, and the Wildcat plane performs all kinds of crazy tricks. Kids will develop their understanding of STEM principles like gravity, motion, force, and more while letting their imaginations fly and burning off excess energy.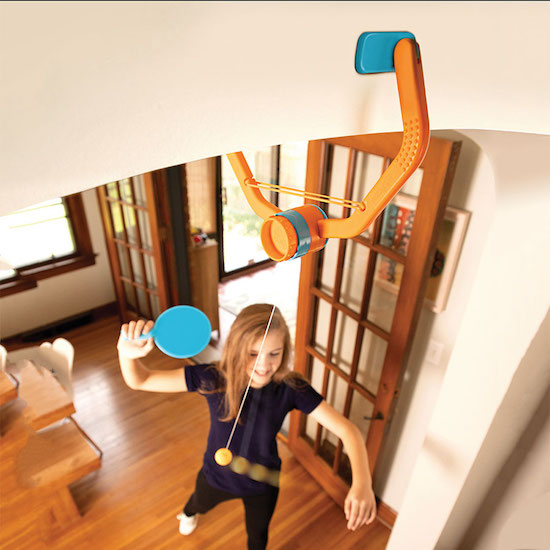 It's ping pong without the table! Attach the clamp to the top of any doorway, turn the dial to adjust the length of the string, and then serve up hours of active fun. Your goal is to hit the ball back to your opponent every time without missing – But more than a game, Door Pong is a fascinating, skill-strengthening activity to enjoy with a friend. It enhances hand-eye coordination, concentration, reflexes, cooperation, and more…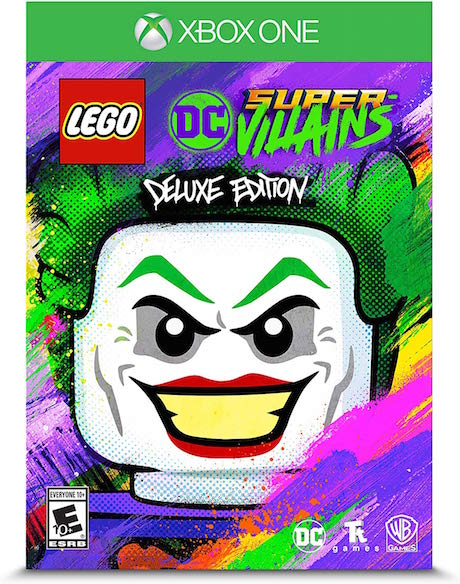 If video games are more your kids' style, LEGO DC Super Villains is lots of fun! Become the best villain the universe has seenin this all-new LEGO adventure! For the first time, a LEGO game is giving players the ability to play as a super-villain throughout the game, unleashing mischievous antics and wreaking havoc in an action-packed, hilarious story written in collaboration withDC Comics. Joined by renowned DC Super-Villains: The Joker, Harley Quinn, Lex Luthor, Deathstroke, Killer Frost, Sinestro, and countless others from the Legion of Doom, players will set out on an epic adventure to ensure their villainy remains unrivaled. It's available for NintendoSwitch, PlayStation 4, Xbox One and PC.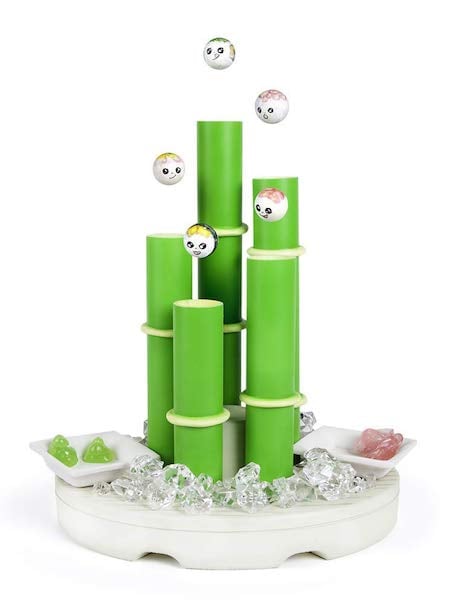 If you have ever desired to be a sushi chef, now is your chance! in this exciting challenge the sushi chef must put together full orders by plucking the flying sushi out of the air with Chop sticks and placing them on the sushi platter before the time runs out. the first player to make $25 worth of sushi orders wins! tips and all play cards add to the fun!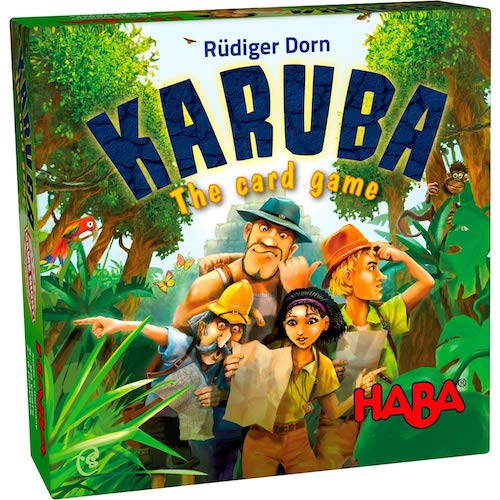 On the legendary island of Karuba there are huge temples and valuable treasures hidden away deep in the jungle. You are the leaders of an expedition, and must skillfully plan the paths for your adventurers. You will only be able to collect all the treasures in the jungle and reach the temples if your adventurers don't block each other, and if you can do better than competing expedition leaders. Karuba – The card game is an exciting variation of the popular HABA family board game.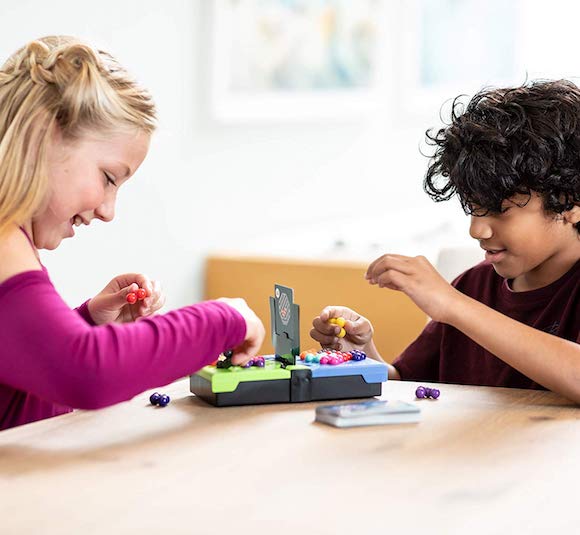 Kanoodle Head-to-Head Brain Game
Who can Kanoodle quicker? Put your pals to the test with this two-person Kanoodle battle! Simply slide a challenge card into the board, place the pieces shown on the card, and then race to fit the remaining pieces into your board—before your buddy does! Think you have the winning configuration? Launch your opponent's Kanoodle with the press of a button for the ultimate checkmate, and claim your victory! Plus, Kanoodling enhances problem-solving, critical-thinking, and spatial-reasoning skills, so this perplexing puzzle challenge is a win-win for everyone!