If you're planning a Unicorn birthday party, this set of free printable Unicorn Party Hats features 6 different designs – each one cuter than the next!
Then keep reading for more fun Unicorn Birthday Party Ideas!
There are so many reasons to love unicorns! They're magical, they can wear any color of the rainbow and they're just so darn cute!
A unicorn-themed birthday party has to be one of the most fun party themes available because there are just so many bright, beautiful and wonderful options for decorations, food and activities.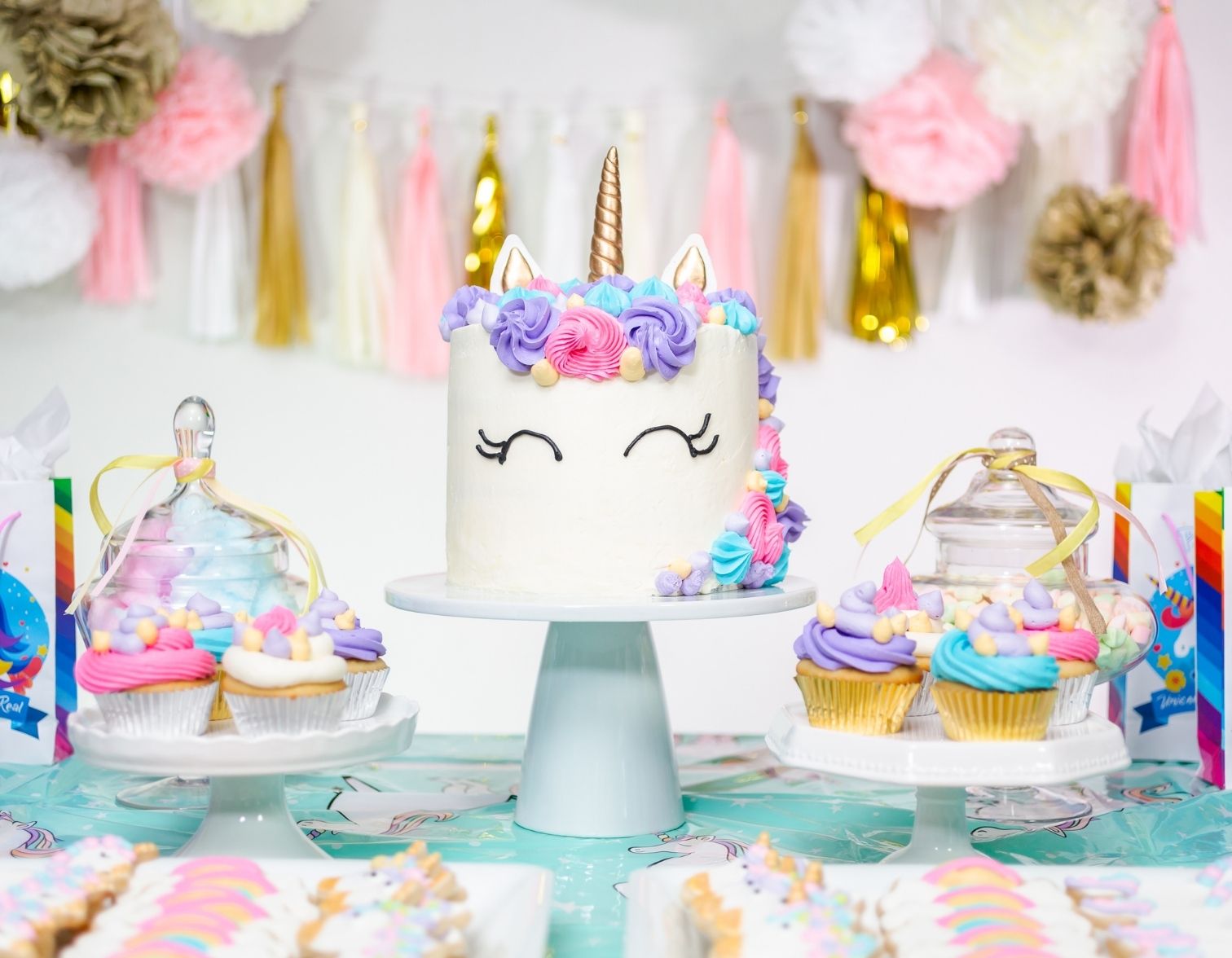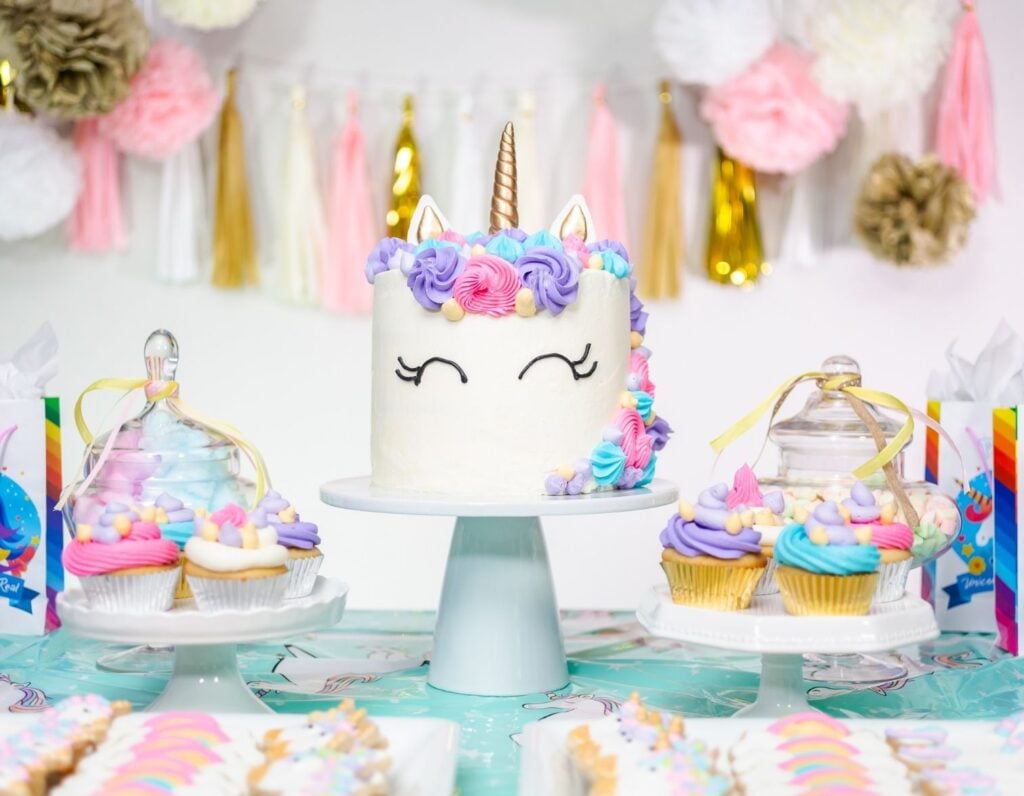 Break out everything rainbow, fluffy clouds and sparkles! To add to your celebration we have these adorable paper unicorn party hats for you to print and assemble.
Be sure to keep reading for even more fun unicorn birthday party ideas!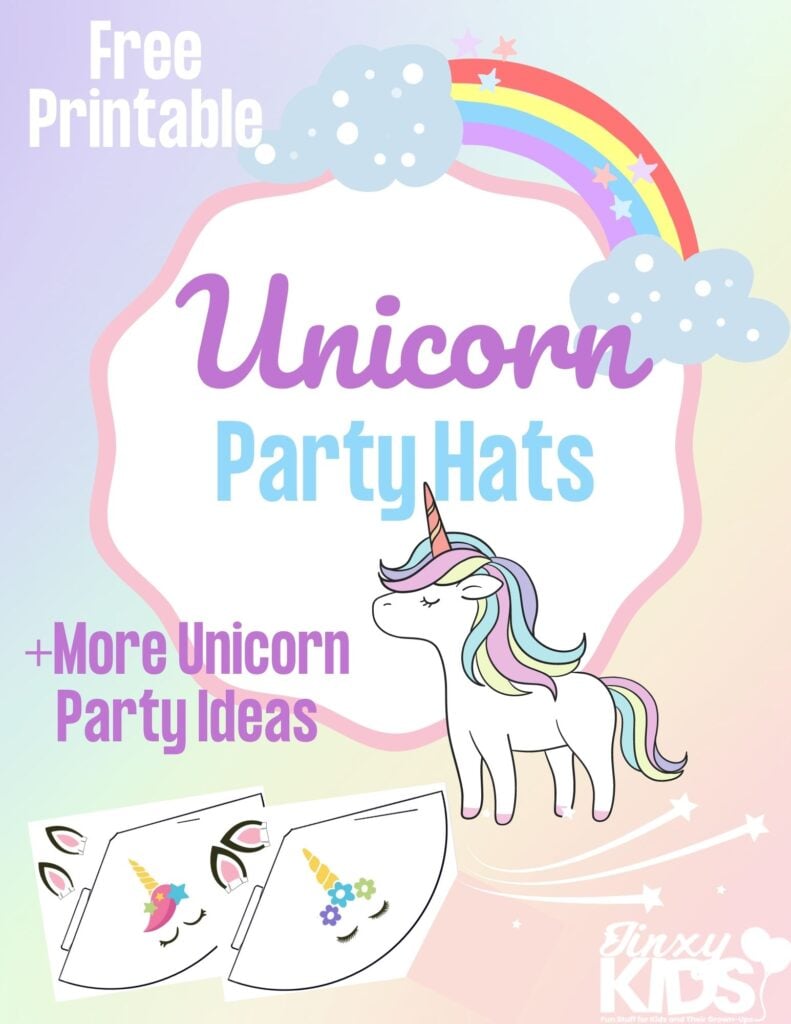 DIY Unicorn Party Hats
Making these birthday unicorn hats is easy. The only supply you'll need is paper and a color printer.
While you can print these hats on ordinary copy paper, printing them on white cardstock or heavyweight paper will make them much more sturdy.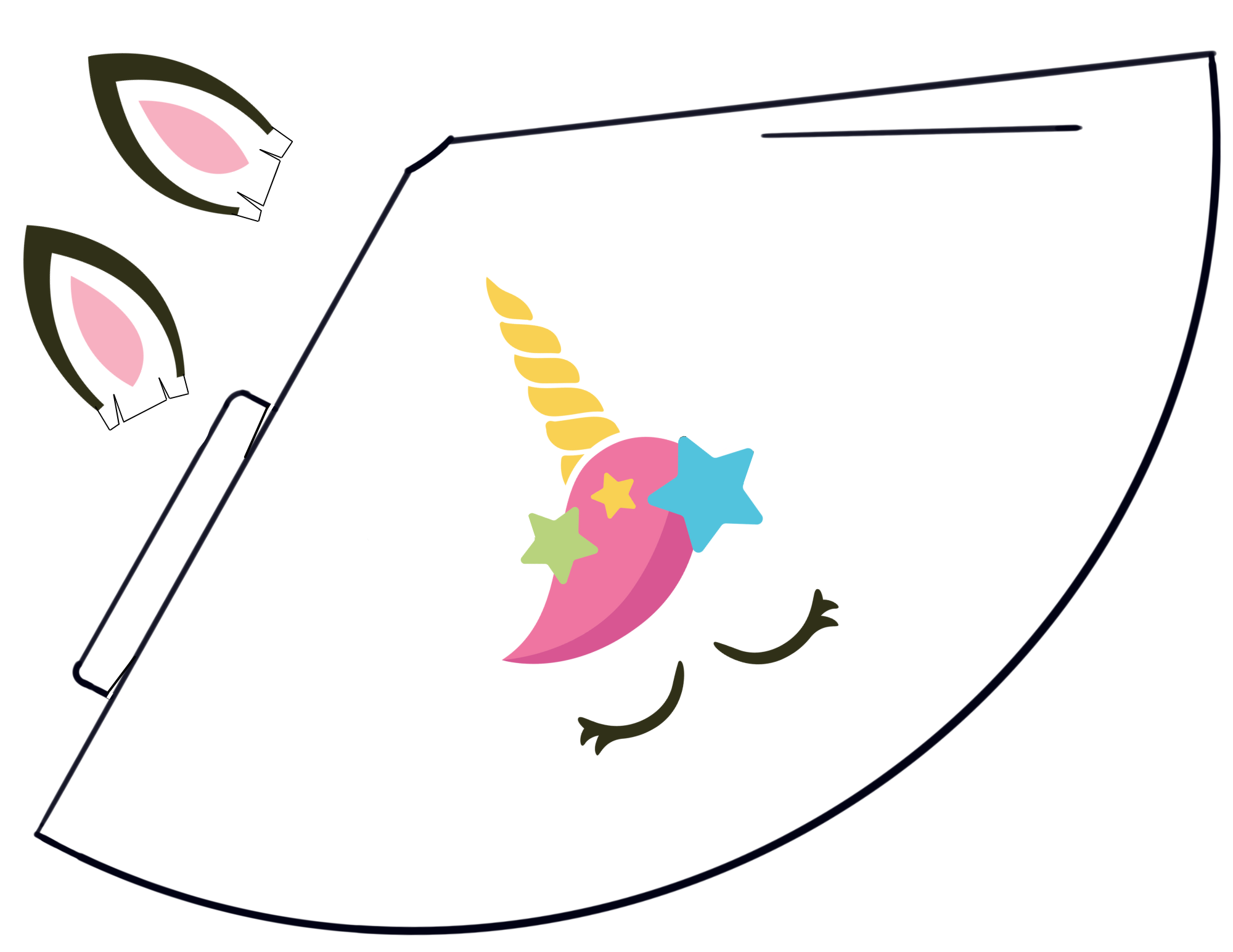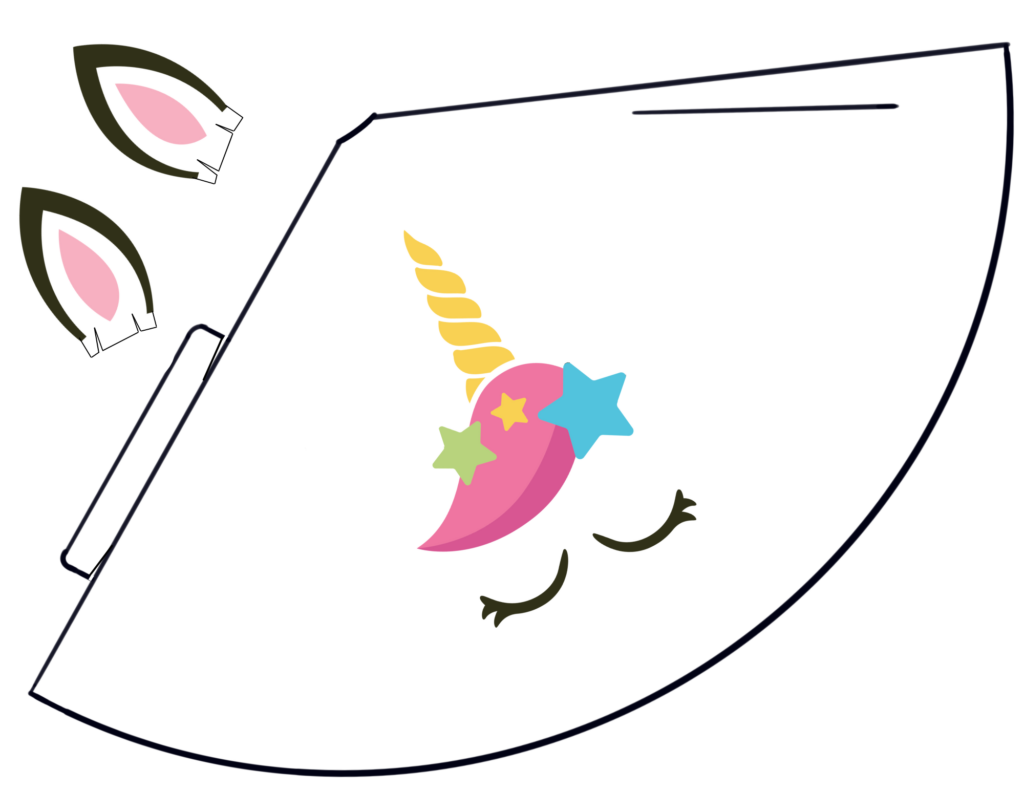 To create your hats, you'll first need to print them out, of course. There are six different unicorn designs. You can print out every design for more unique unicorns or you can print all of one design if you prefer your hats to match.
Once they are printed. Cut them out along the solid lines and cut the slit marked with a straight line on the right side of each hat. You'll need to cut out the ears too.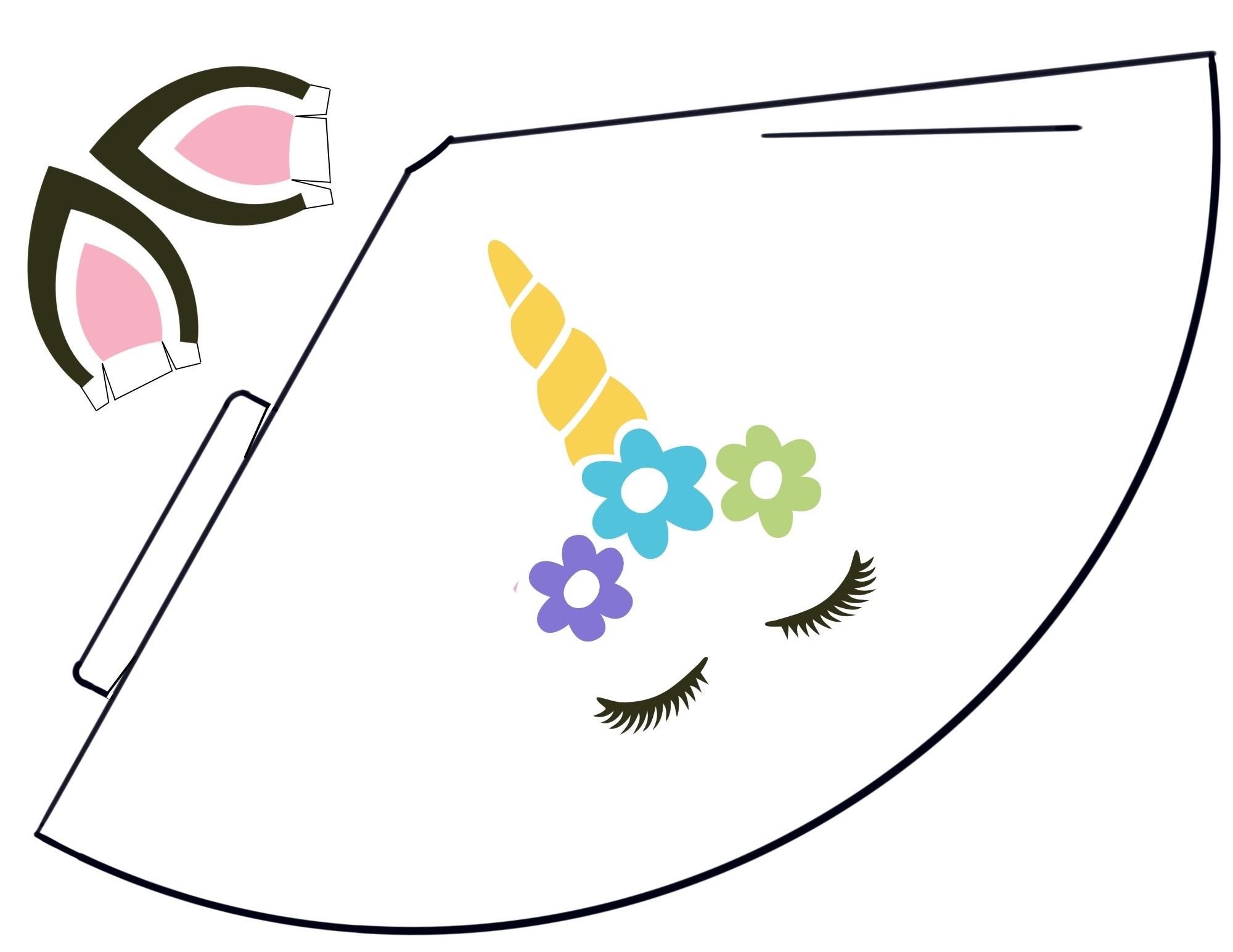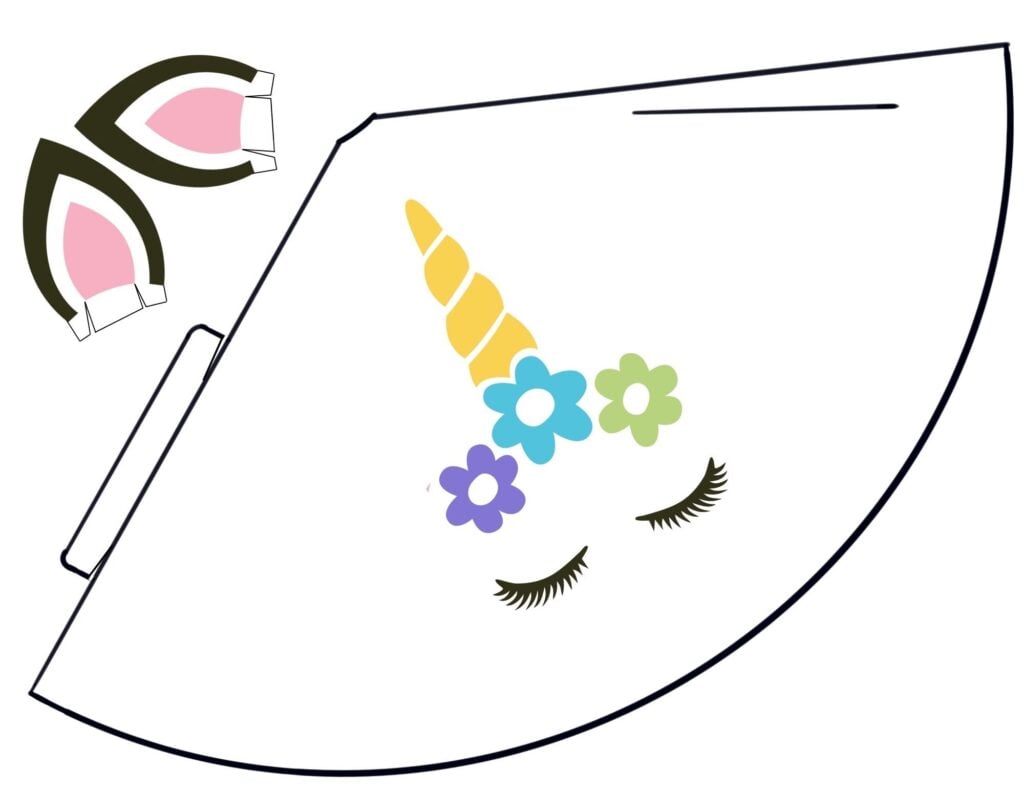 Once everything is printed and cut out, fold your hat into a cone and slide the tab on the one end into the slit on the other end. Secure with glue or tape.
Once the cone is formed, attach the ears with glue or tape. Craft glue is a great choice or, if you have it, you can use a hot glue gun.
If you like, you can also attach an elastic cord to help secure your hats on heads. Just use a hole punch on each side of the hat and then thread through a piece of the cord.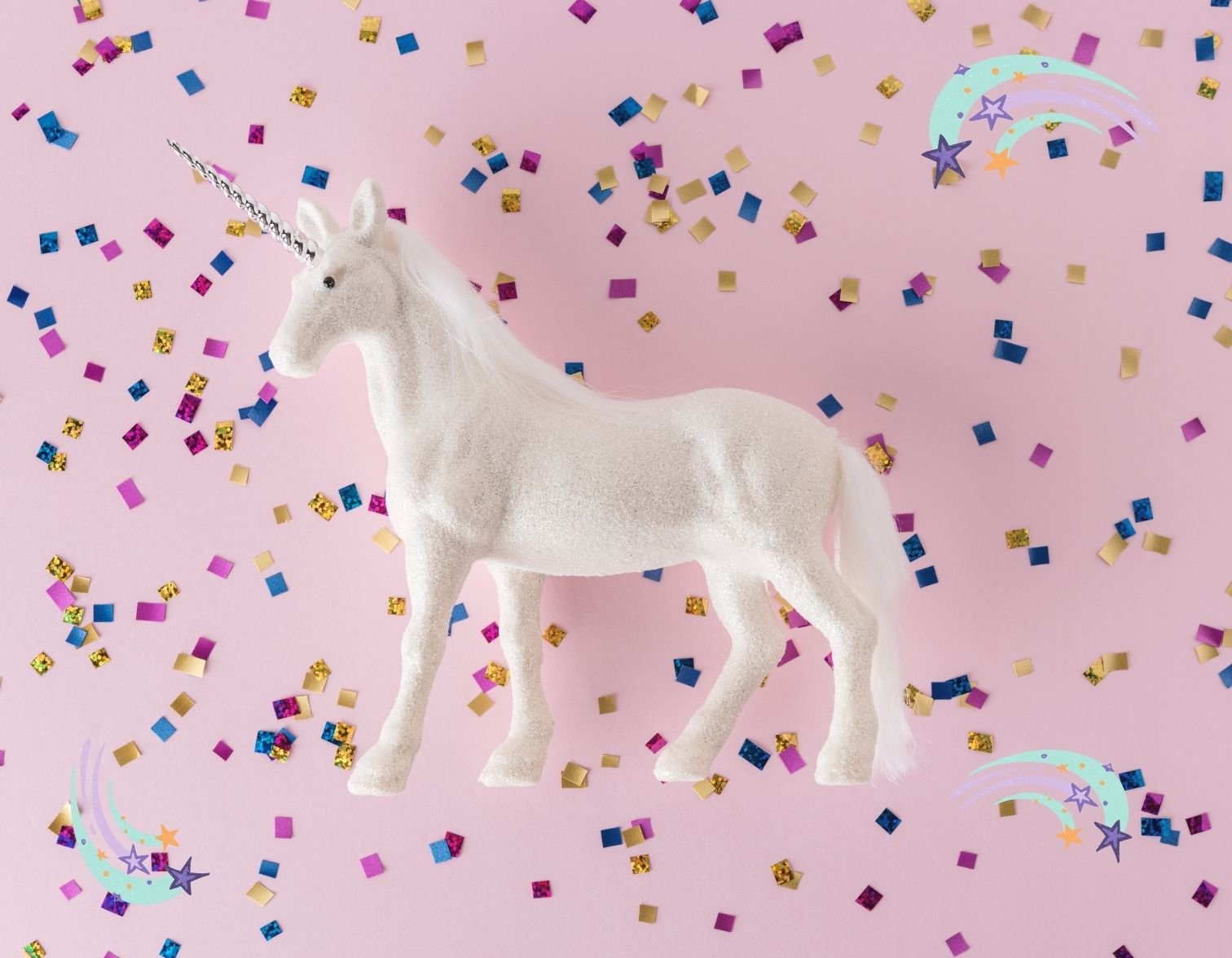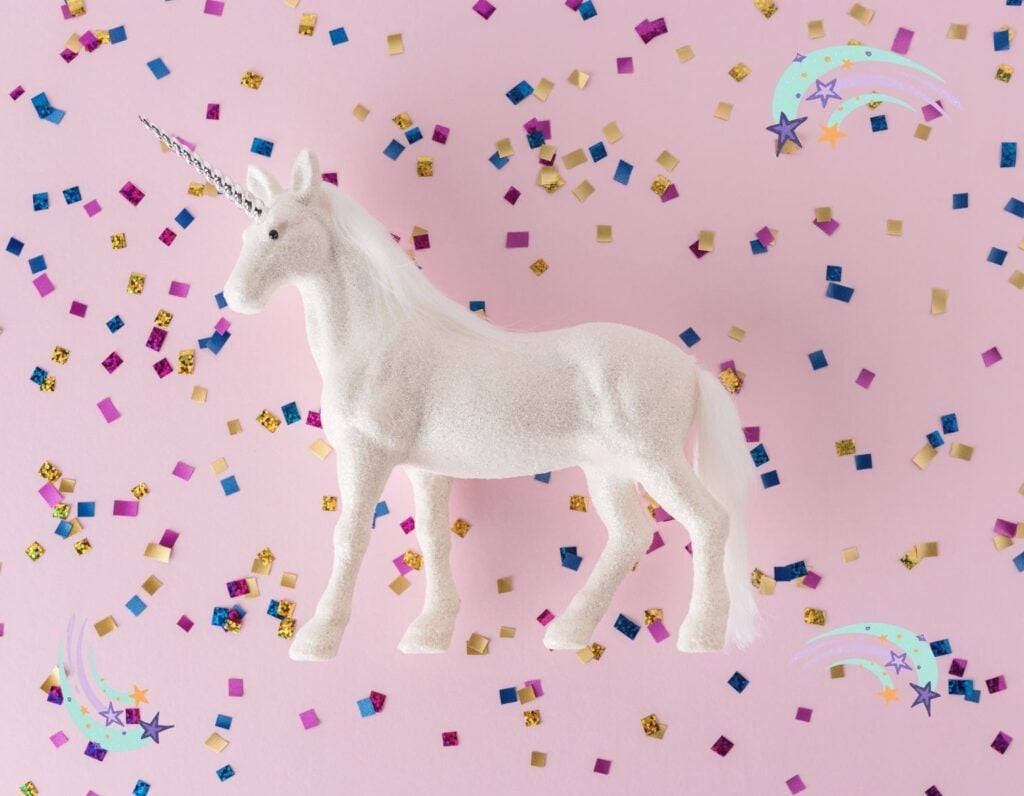 Unicorn Birthday Party Ideas
Now that your birthday party hats are squared away, we have some more fun Unicorn birthday party ideas for you!
We have unicorn decorations, unicorn birthday treats and more unicorn birthday party fun!
Unicorn Birthday Party Food
Unicorn Popcorn: Make a sweet and colorful bowl of snacks complete with gold candy horns and unicorn chocolate chips. You can also package it up in clear cellophane bags tied with bright ribbons as a party favor.
Unicorn Cupcakes: These adorable unicorn cupcakes have such cute little faces and unicorn horns! You can even start with storebought cupcakes and then decorate them yourself to save a step.
Unicorn Ice Cream Cones: Decorate bright and sparkly unicorn cones and then top them with unicorn ice cream for a cute and frosty unicorn dessert.
Unicorn Birthday Cake: Every birthday party needs a cake! Use this tutorial to make an adorable unicorn cake yourself!
Unicorn Birthday Party Favors and Decorations: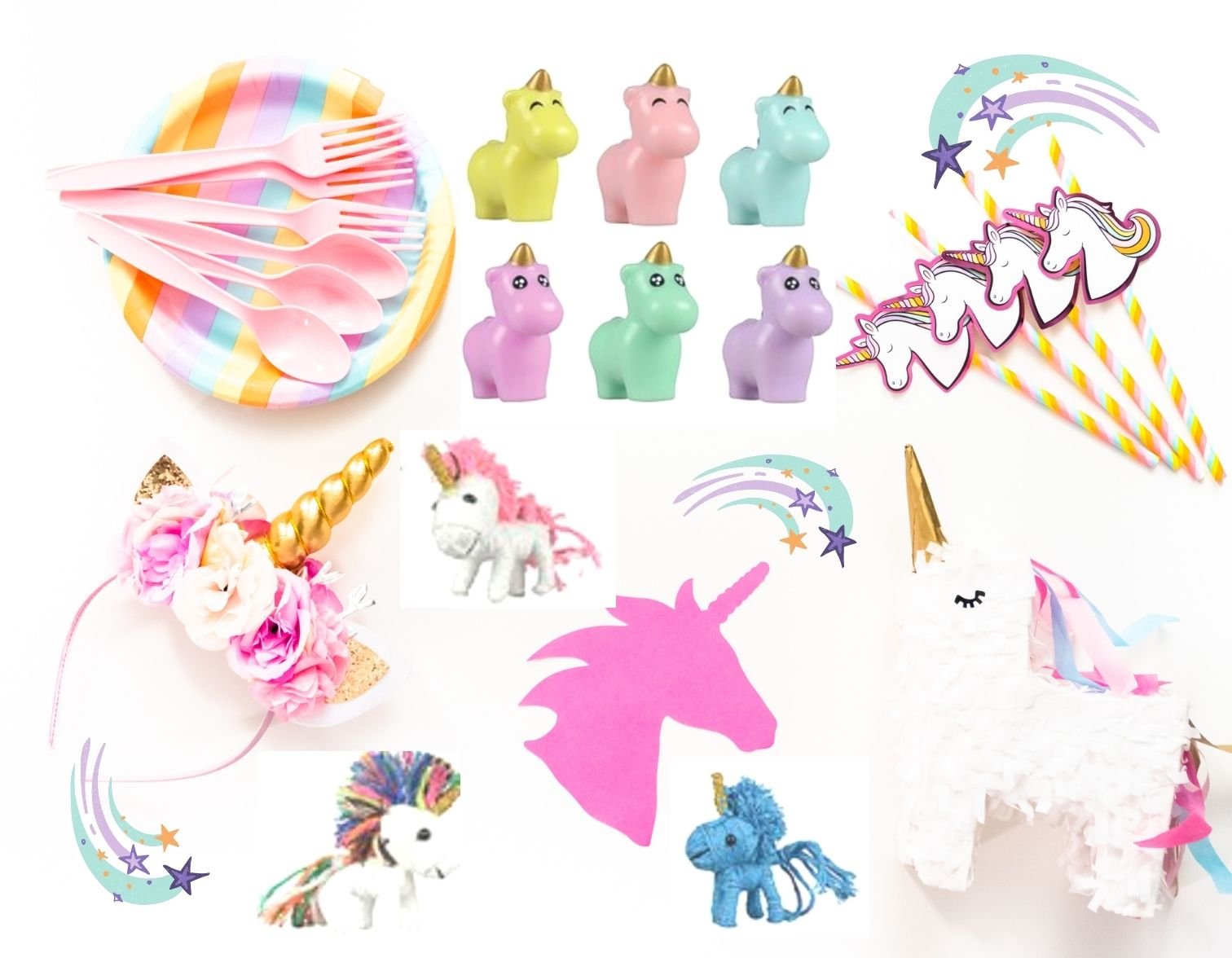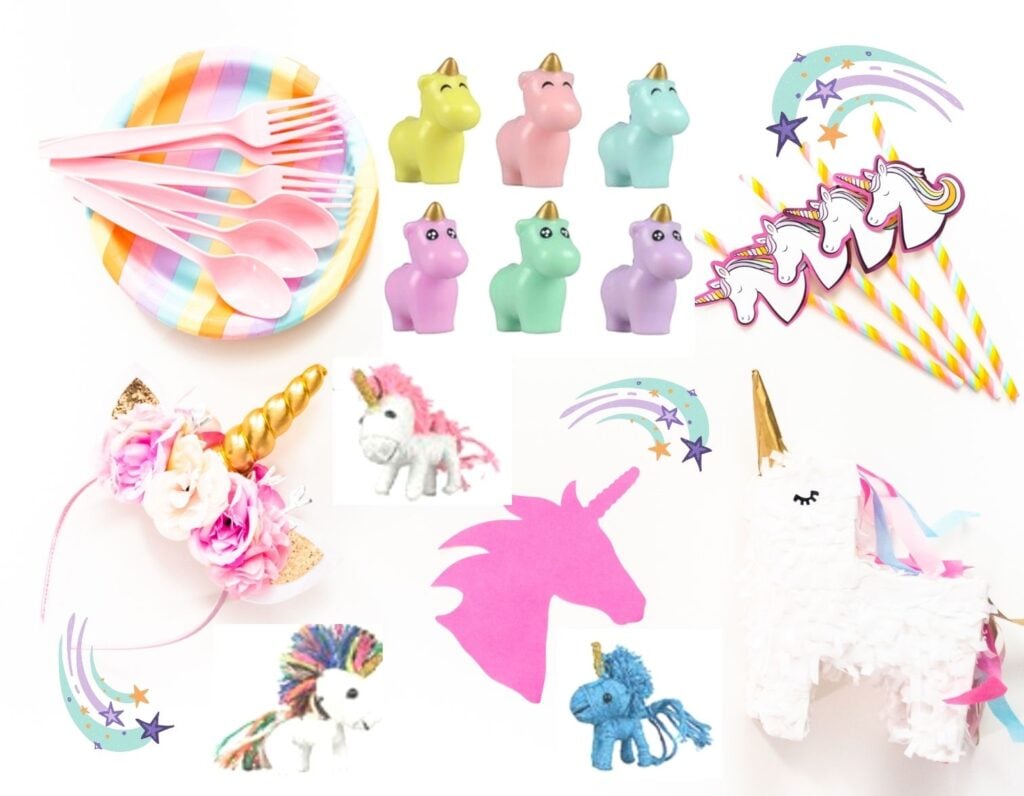 Unicorn Party Favors: We found so many fun little unicorn party favors on Zulily! They have mini unicorn toys, stickers, figurines and more.
DIY Unicorn Mason Jars: It's easy to make these super-cute unicorn jars! You can make them white or choose an assortment of pastel colors to decorate your party. They make the perfect table centerpiece.
Unicorn Birthday Party Games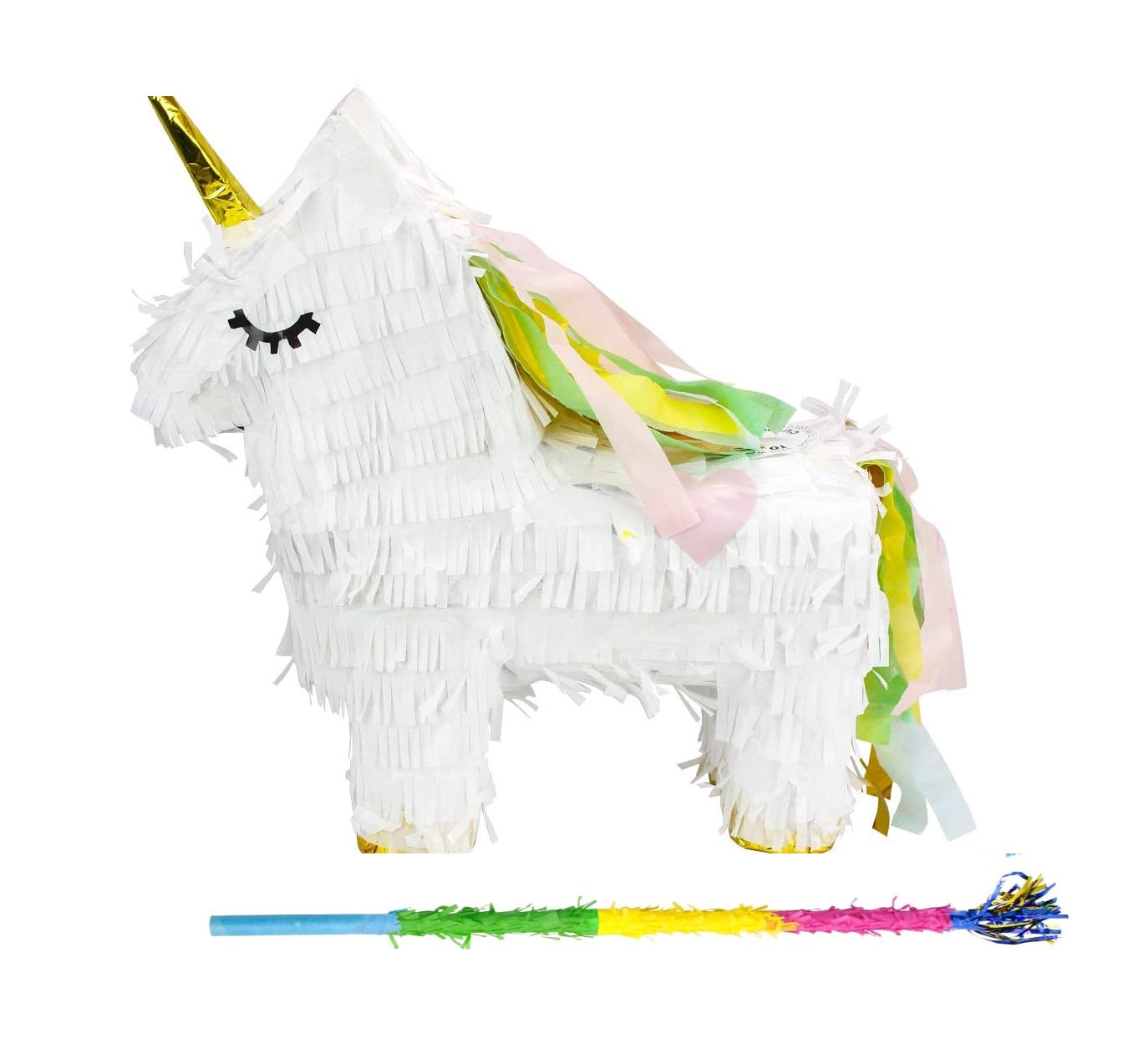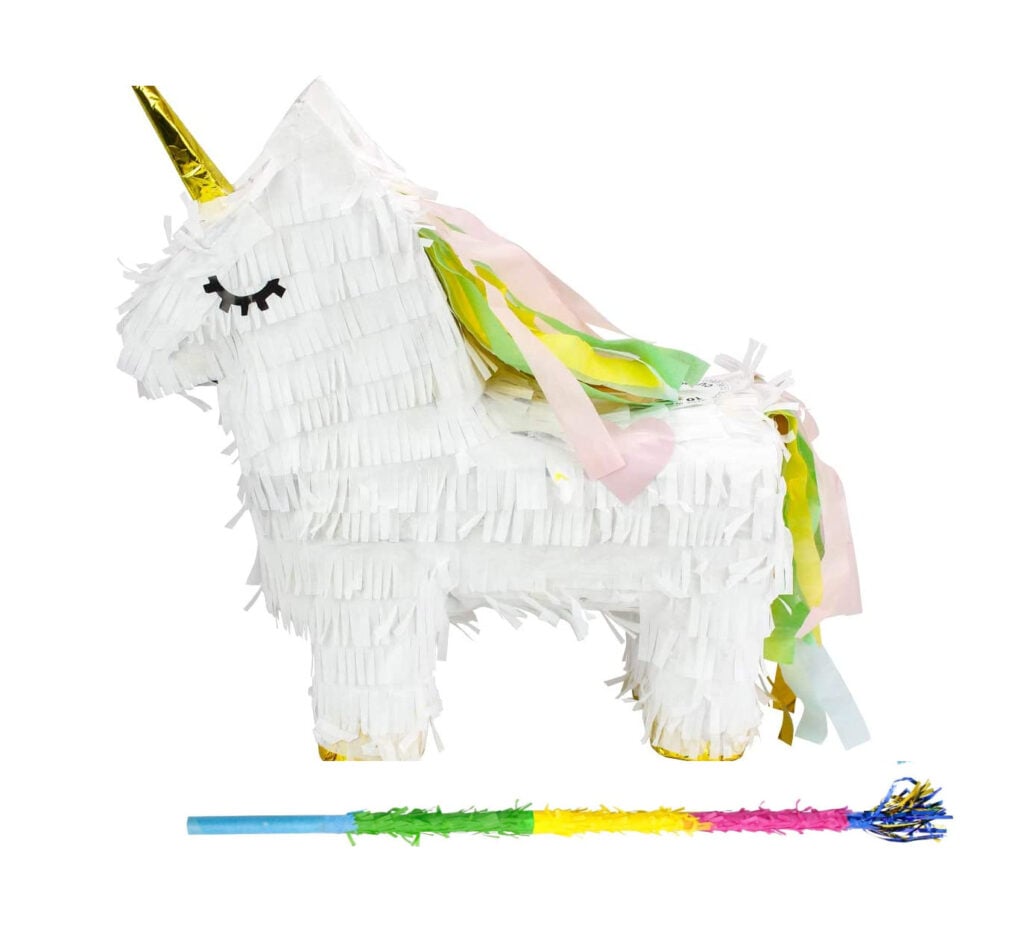 Unicorn Piñata: Every great birthday party needs a piñata, right? I found this awesome Unicorn Piñata that even comes with a piñata stick, blindfold and confetti. Just add some candy and small toys, like the favors I mentioned above, and you're ready to go!
Free Printable Unicorn Bingo Cards – Every party needs games and this Unicorn bingo game is perfect! There are ten different bingo cards.
Unicorn Crafts and Activities:
Paper Plate Unicorn Craft: For a fun Unicorn party activity, kids can make this paper plate unicorn craft! There is a handy template you can print and out and use for the colorful creations.
Unicorn Rocks Craft Activity: I love how sparkly these cute unicorn rocks are! They're made with metallic paint and unicorn temporary tattoos.
DIY Unicorn Bookmarks: These cute paper unicorn bookmarks are a fun craft activity for your party or make them ahead of time as party favors. You could even tuck it inside a fun book like "How to Catch a Unicorn".
Unicorn Paper Bag Puppet Craft: Let kids make a Unicorn paper bag puppet! It's a super simple craft with the free printable unicorn template!
About the Author
Latest Posts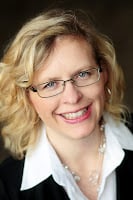 I'm a busy blogger and happy auntie of Little R, who I spend time with several days per week – which ends up being the FAVORITE part of my week! We love to cook together, do crafts, play outside and turn boring errands into fun adventures.