Attention all equestrian enthusiasts, animation aficionados and adventure addicts: "Spirit Riding Free" from DreamWorks Animation is coming to Netflix on May 5! The series, inspired by the Oscar®-nominated film Spirit: Stallion of the Cimarron, follows the heartfelt journey of a gutsy 12-year-old girl named Lucky who befriends a wild mustang whom she aptly names Spirit. With her two best friends (and their horses) by her side, Lucky and her friends explore a world filled with endless rides, magnificent horses and and never ending fun! Together they'll push their own limits, harness the power of friendship and discover what it truly means to be free.
Each episode of Spirit Riding Free will be filled with frontier adventures and fun — from inclement weather like flash floods and blizzards, to human malfeasance from train robbers and banditos, to kid-centric capers like treasure hunts and secret sleepovers. And some stories will even be told from the horses' point of view!
Even the most action-packed episodes will be grounded in the emotional realities of being a kid — stories that will resonate with any kid, anywhere, in any era, whether they go to a one-room country school house or a mega modern high school; stories about fitting in, finding your place, figuring out who you are and who you want to be, and all the other weird, wonderful, alarming, and amazing parts of growing up.
Spirit Riding Free is a coming-of-age story for Lucky, but also, in a very different way, for Spirit. Over the course of the series, each will realize their truest selves. Lucky will learn she is far more than just a city girl with a wild streak, and Spirit will learn that his freedom is only as real as the choices he can make. Together Spirit and Lucky will illustrate both sides of the same theme: only by doing, can we truly become what we are meant to be.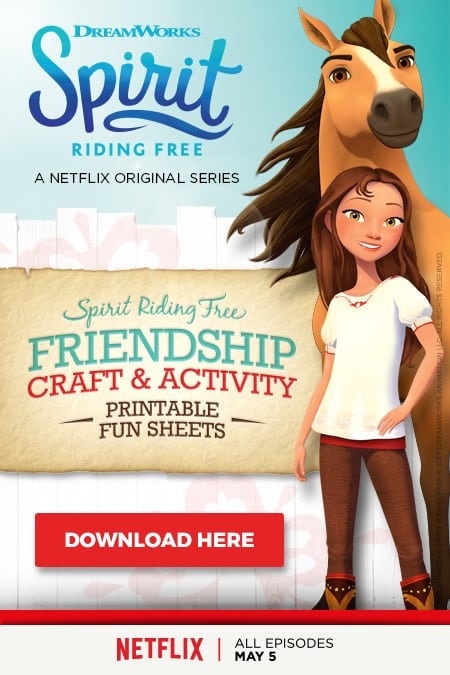 While we're waiting for the chance to watch on Netflix starting May 5, you can download these printable Spirit Riding Free activity sheets and friendship bracelet craft instructions HERE! There is a word find, matching game, coloring pages of your favorite Spirit Riding Free horses and riders and more.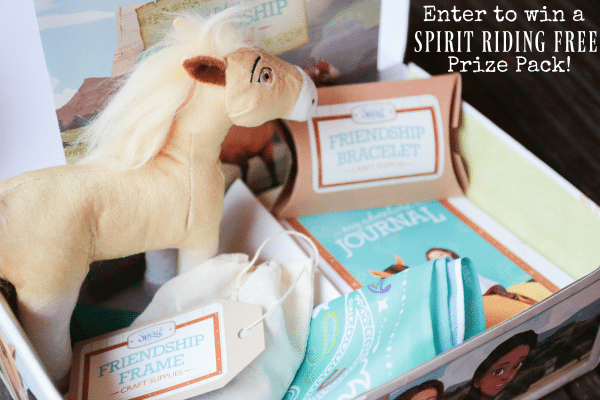 Breyer Spirit Riding Free – Chica Linda and Prudence Toy Gift Set

Spirit Riding Free: Lucky and the Mustangs of Miradero (Dreamworks: Spirit Riding Free)

Just Play Spirit Barn Playset

Spirit Riding Free – Lucky and Spirit – Exclusive Soft to the Touch

Just Play Spirit Fashion Lucky Dolls

Just Play Spirit Riding Free Small Doll & Collector Horse Set – Abigail and Boomerang

Spirit Riding Free: The Adventure Begins (Dreamworks Spirit Riding Free)

Kids DreamWorks Spirit Riding Free – Lucky & Spirit T-Shirt 6 Baby Blue

NEW! COLLECTIBLE! SET OF 2 DreamWorks SPIRIT RIDING FREE Mini Horse Figures Blind Box – Realistic Horses – Perfect for both KIDS and COLLECTORS ALIKE!

Breyer Spirit Riding Free – Paint Spirit and His Stable Horse Painting Craft Kit

About the Author
Latest Posts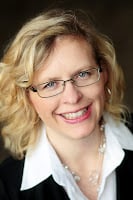 I'm a busy blogger and happy auntie of Little R, who I spend time with several days per week – which ends up being the FAVORITE part of my week! We love to cook together, do crafts, play outside and turn boring errands into fun adventures.