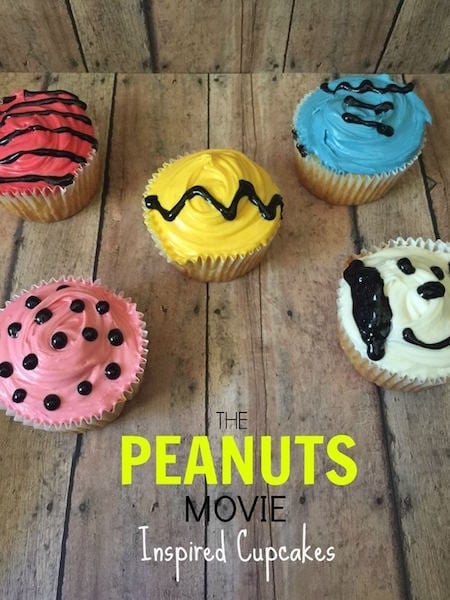 It's here Peanuts fans! THE PEANUTS MOVIE, which everyone loved in theaters, is now available to watch at home on DVD and Blu-Ray! In this fun adventure, good ol' Charlie Brown, Snoopy, Lucy, Linus and the rest of the beloved Peanuts gang appear as you've never seen them before in a brand-new feature film from the imagination of Charles M. Schulz and the creators of Ice Age. You and your kids can join everyone's favorite eternal optimist, Charlie Brown, as he embarks on a heroic quest, while his beagle pal Snoopy takes to the skies to pursue his arch nemesis, the Red Baron. It's a hilarious and heart-warming adventure!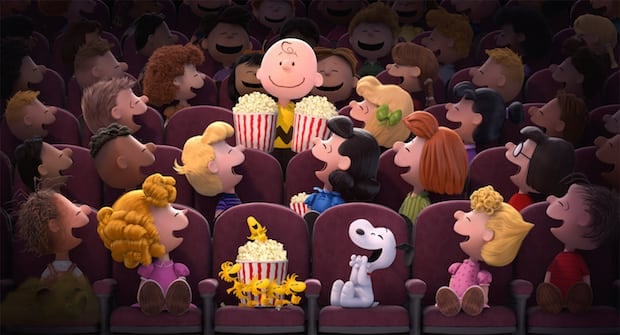 Ready to make a fun movie night (or afternoon) enjoying THE PEANUTS MOVIE at home? Then you will want treats to go with the movie! These cute Peanuts Movie Inspired Cupcakes will taste delicious and add to the atmosphere of FUN!
Peanuts Movie Inspired Cupcakes
Ingredients:
Your Favorite Vanilla Cake Mix
Vanilla Frosting
Food Coloring
Black Decorating Frosting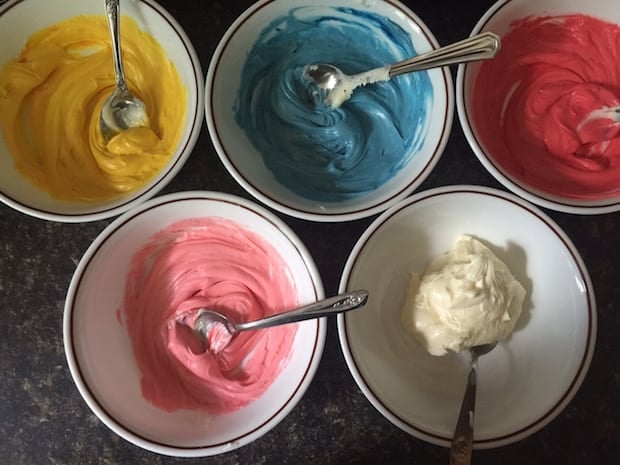 Instructions:
Prepare cake mix according to box instructions.
Line cupcake tins with paper cupcake liners.
Fill each section 3/4 of the way full.
Bake 18-20 minutes.
Allow to cool completely.
Separate frosting into 5 bowls and color one pink, red, blue, yellow, and leave one white.
Frost cupcakes evenly – some with each color.
Now it's time to decorate the cupcakes to match the character's shirts (and Snoopy's face!).
Charlie: Using the Yellow Cupcakes, draw a black chevron pattern on the middle of the cupcake
Sally: Using the Pink Cupcakes, draw black polka dots all over the cupcake
Lucy: Using the Blue Cupcakes, make a ruffled collar at the top of the cupcake and two horizontal lines in the middle with dots on the ends of each lines
Linus: Using the Red Cupcakes, draw horizontal lines
Snoopy: Finally, using the white frosted cupcakes, draw two semi circles on each side for snoopy's ears, two dots for his eyes, an oval for his nose, and finish him off with a smile!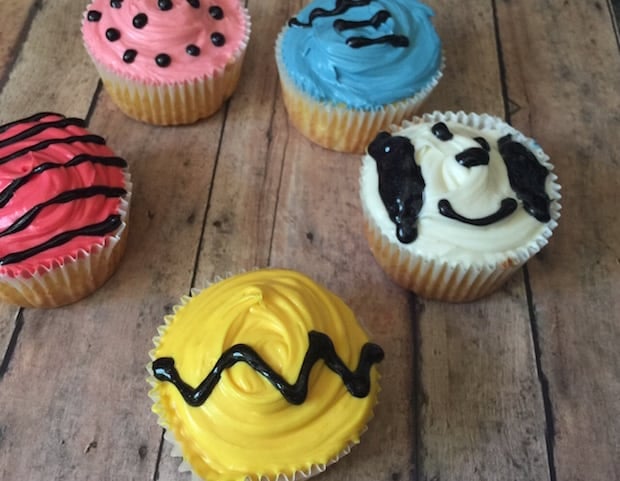 Now it's just time to add the movie! THE PEANUTS MOVIE is directed by Steve Martino (Dr. Seuss' Horton Hears a Who!) and produced and written by Bryan Schulz, Craig Schulz and Cornelius Uliano. Paul Feig (Spy, The Heat) and Michael Travers are also film producers. With the Collector's Edition Blu-ray™, DVD and Digital HD fans can go deeper into the world of THE PEANUTS MOVIE with these fun-filled special features! Watch all-new Snoopy Snippets, check out the delightful documentary about the film's extraordinary journey from the comics to the big screen, learn to draw Peanuts characters, sing along to music videos, choose your favorite songs from Snoopy's Playlist and more!
Plus, just in time to fill Easter baskets, for a limited time you can get a Snoopy Flying Ace plush toy with THE PEANUTS MOVIE DVD, Blu-rayTM and Digital HD combo pack!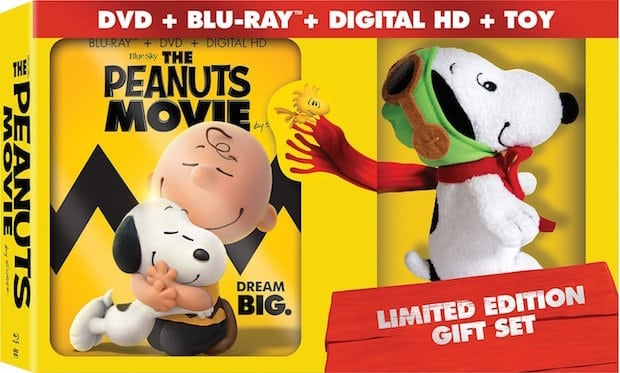 Reader Giveaway: One lucky Jinxy Kids reader will win their own THE PEANUTS MOVIE DVD, Blu-rayTM and Digital HD combo pack! To enter, just complete the entry form below by 11:59pm ET on 4/4/16. Good luck!
The Peanuts Movie Gift Set Giveaway

About the Author
Latest Posts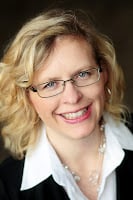 I'm a busy blogger and happy auntie of Little R, who I spend time with several days per week – which ends up being the FAVORITE part of my week! We love to cook together, do crafts, play outside and turn boring errands into fun adventures.