Make this Funny Bunny Craft using craft foam, craft sticks and embellishments. They can help celebrate spring or Easter or accompany reading bunny-themed books.
Bunnies are super cute, but they can also be funny – especially when you make this Funny Bunny Craft!
We love bunnies and by making them on craft sticks, it's easy to make them hop all over the place and, with googly eyes, it's easy to shake them and watch those eyes move!
This craft is easy to make for a wide variety of ages. For the smallest tots you may want to give them a hand drawing on the bunny's face.
While we used ordinary craft glue to put our bunnies together, you can opt to use stick-on eyes and stickers for embellishments to avoid using glue. (But a little glue is easy to wash off little fingers anyway!)
Bunny Cakes (Max and Ruby)

The Tale of Peter Rabbit

The Bunnies' Picnic

Knuffle Bunny: A Cautionary Tale

Bunny Bungalow

The Runaway Bunny

This craft is perfect to celebrate Spring or Easter. They are also a great addition to classroom or homeschool curriculum to accompany rabbit or bunny-themed books such as Bunny Cakes, The Bunnies' Picnic, Knuffle Bunny, The Tale of Peter Rabbit, Bunny Bungalow or any other.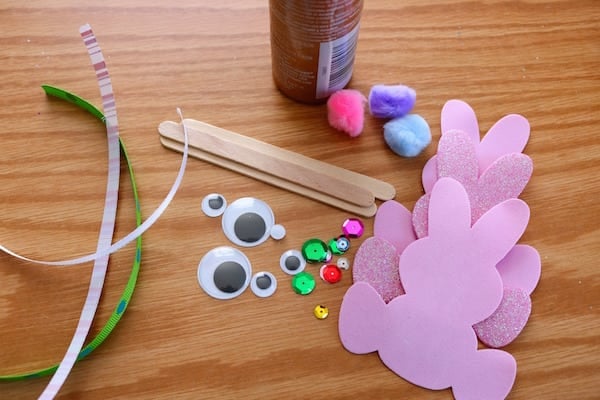 Only a few supplies are needed for this funny bunny craft. You can pick them up at your local craft store (or many can be found at the dollar store) or, to make things easier, we also have links so you can find the supplies on Amazon.
Let's get to the craft!
Foam Sheets

Set of 24 Large Bunny Foam Shapes

Korlon 200 Pcs Craft Sticks

Wiggle Eyes Black 6mm To 13mm

Whaline Bulk Loose Sequins

Assorted Pom Poms for DIY Creative Crafts

Funny Bunny Craft
Supplies:
Craft foam bunny (or cut your own from foam sheets)
craft sticks
ribbon
googly eyes
sequins and other embellishments
pom poms
glue
scissors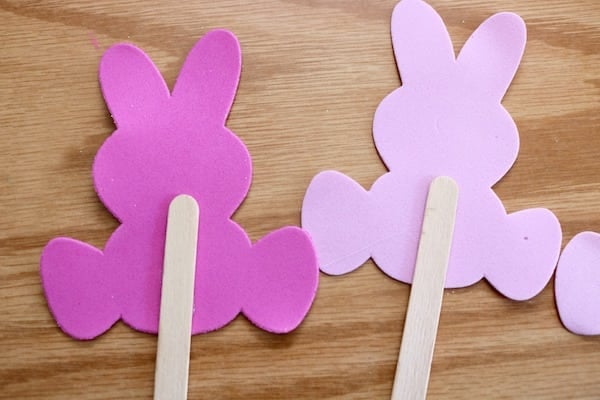 How to make bunnies on a stick!:
Start by cutting the craft foam into bunny shapes or use pre-cut shapes.
Glue a craft stick to the back of your bunny, on the bottom.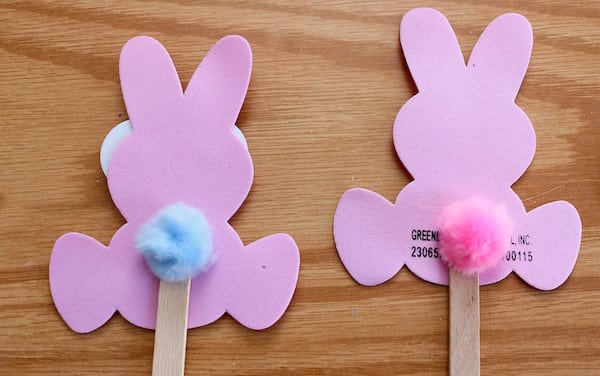 Glue a pom pom onto the popsicle stick for the tail.
Turn the bunny over and decorate front as desired.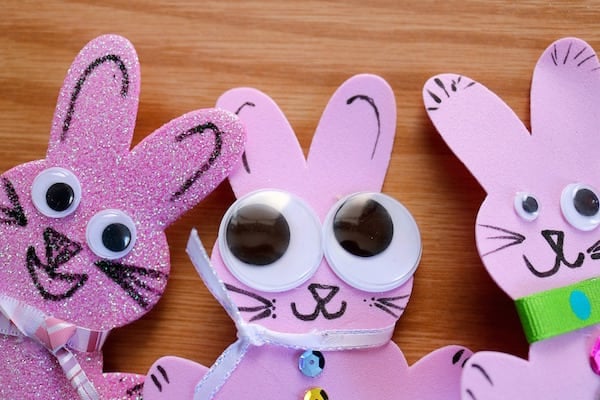 Add funny googly eyes, ribbon ties, sequins, glitter or other embellishments.
Finish your bunny by drawing on a silly face! Well, actually, a funny face, since it's a funny bunny!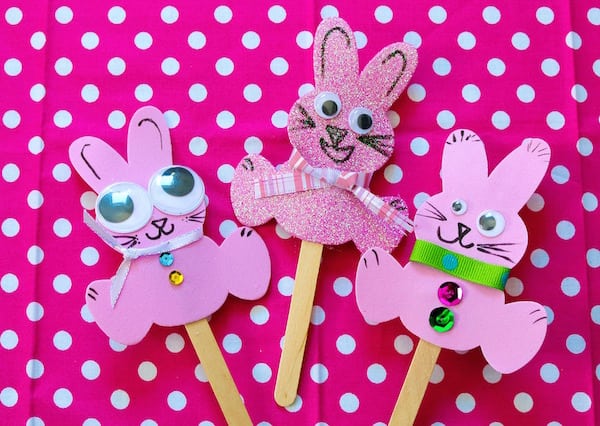 About the Author
Latest Posts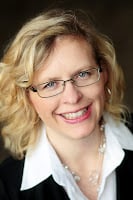 I'm a busy blogger and happy auntie of Little R, who I spend time with several days per week – which ends up being the FAVORITE part of my week! We love to cook together, do crafts, play outside and turn boring errands into fun adventures.