One of the most memorable childhood craft projects any parent has is the iconic handprint turkey papercraft that kids have been making for well over half a century. I know my mom still has the one I made in Kindergarten tucked away in her box of Thanksgiving decorations! While we still love those turkeys, there are a lot more options out there!
Thanksgiving is filled with a big variety of themes for crafts. There are the turkeys, of course, but there are also pumpkins, harvest foods, pilgrims and the big ones – the themes of family and thankfulness! We do have a couple of Thanksgiving craft ideas here at Jinxy Kids with our Turkey Juice Box Craft and Turkey Pinecone Craft.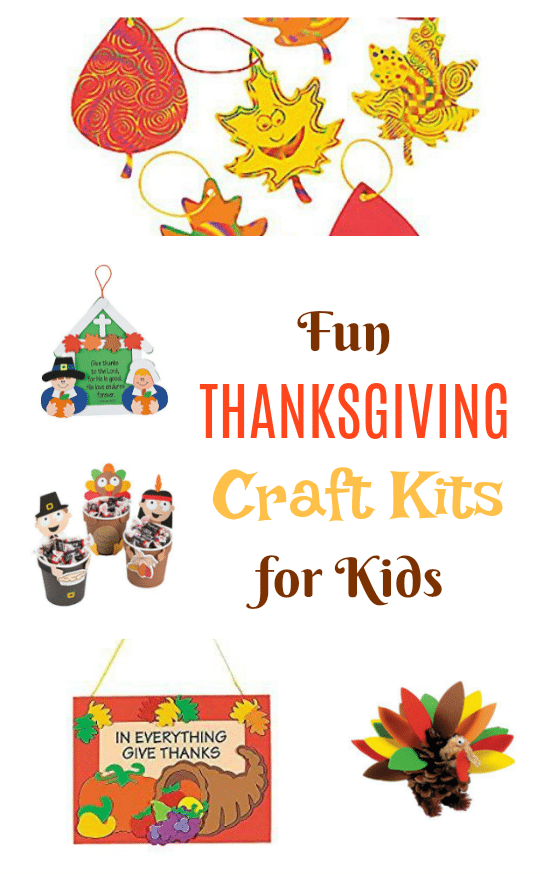 BUT, if you're looking for a craft kit that has everything you need all in one kit to save you the trouble of trying to gather up supplies, we have this big list of fun Thanksgiving craft kits for kids that already have everything you need to sit down and make these fun kids with your kids at home or in the classroom. By saving a trip to the craft store, you have more time to have fun crafting!
Fun Thanksgiving Craft Kits for Kids

Festive Fall Thanksgiving Party Turkey Craft Kit

Festive Fall Thanksgiving Party Turkey Craft Kit Activities, Paper, Pack of 28

Pinecone And Foam Turkey Craft Kit Makes 12

Thanksgiving Turkey Picture Magnet Craft Kits – Includes 12 Individually Packaged Kits

Colorful Magic Color Scratch Fall Leaves – Crafts for Kids & Magic Scratch

3D Pumpkin Wreath Craft Kit – Crafts for Kids & Decoration Crafts 12 Kits

12 Thanksgiving "In Everything Give Thanks" Door Hanger Craft Kits ~ Holiday Activity ~ Classroom ~ Party Favor

Paper Thankful Pumpkin Craft Kit 1 Dozen – HalloweenThanksgivingFall Decor

Thanksgiving Place Card Craft Kit for 12 Guests

Thanksgiving Treat Cup Hugger Craft Kit

Make-A-Turkey Sticker Sheets – Set of 12, Turkey approx. 4″ Tall

Foamies Foam Thanksgiving Turkey Crafting Kit -4 – Supplies For 10

Amscan Festive Fall Thanksgiving Party Make Your Own Hat 12 Piece, BlackWhite, One Size

Give Thanks Sign Craft Kit – Religious Crafts & Crafts for Kids