.
Groundhog Day is almost here! I always think fondly of February 2nd because it was my kindergarten teacher's birthday. All these years later I still think of her every year on Groundhog Day. To celebrate this year, I made this fun Groundhog Day Word Search Puzzle.
FREE Printable Groundhog Day Word Search Puzzle
The Groundhog Day Word Find features 23 words all related to this somewhat unusual holiday. The banks, post office and schools are all open, but it's a holiday nonetheless as we all wait to see if the groundhog sees his shadow when he emerges from his burrow. Legend has it that if he sees his shadow we'll have six more weeks of winter, but if he doesn't then spring should be arriving early.
Groundhog Day can be a fun day to study folklore, folktales and legends and it is also the perfect time to study weather and the seasons. For our Groundhog Day word search we have included words a few weather words such as cold, cloudy, forecast and spring, animal words including mammal and rodent, and words related to Groundhog Legends like Punxsutawney Phil, prediction and sign.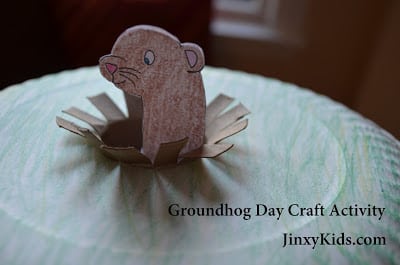 You can print the Groundhog Day Word Search Puzzle HERE and then be sure to also check out our Groundhog Day Craft Activity where kids can make their own groundhog that sticks his head up out of the ground to look for his shadow!
Scholastic Reader Level 1: Groundhog Day
Kids Happy Groundhog Day T-Shirt
Groundhog Day (Rookie Read-About Holidays
Groundhog Weather School: Fun Facts About Weather and Groundhogs
I Love Groundhog Day Mug
Groundhog Day Activity Book for Kids: Mazes, Coloring and Puzzles for Kids 4 – 8
Mini Groundhog Day Buttons
Groundhog Day (Robin Hill School)
Awesome Groundhog Day Tee Shirts
Groundhog's Runaway Shadow
Spirit of Punxsutawney:Groundhog Day
Beads w/Groundhog Day Medallion
Marmot Groundhog Woodchuck Stuffed Animal Plush Yellow Bellied
Groundhog Day Coloring Book: Groundhog Day Book
Holidays for Children: GROUNDHOG DAY
Happy Groundhog Day Mini Buttons
The Groundhog Day Book of Facts and Fun
Punxsutawney Phil 2004 Ty Beanie Baby – Groundhog Day
Groundhog Day!: Shadow or No Shadow
Just 12 Groundhog Day Cupcake Toppers on lollipop stick, Groundhog table decoration
Happy Groundhog Day ~ Edible Image Cake Topper
&