Hooray for Valentine's Day! We are all ready to celebrate this year with some super fun DIY Gumball Machine Valentines! Why do we love these Valentines? For starters, they're super cute. Next up, they are SUPER easy to put together. AND by adding some gumballs, it's a valentine and a treat all in one!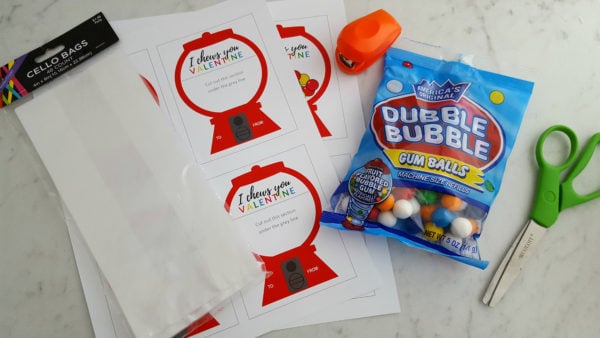 We have two options of how to make this gumball valentine. The first (and our favorite) is to use heavy cardstock to print out the gumball machine and cut away the "glass" area to reveal the real gumballs behind it. If you don't want to do that part, however, you can print our second option which has a drawing of gum balls. You could use regular copy paper for that version in a pinch, but just a warning it won't be a very sturdy valentine!
Let's get on with making our valentines! To start you'll need a few supplies:
Neenah Bright White Cardstock, 8.5"x11"
Bulk Buy: Darice Clear Treat Bags 4″
Dubble Bubble Gumball Refill
DIY Gumball Machine Valentine Craft

Supplies:
Gumball Machine Valentine Printable (best printed on cardstock)
Treat Bags (4″ x 9")
Scissors
Stapler
Small Gumballs
Directions for the cut out version: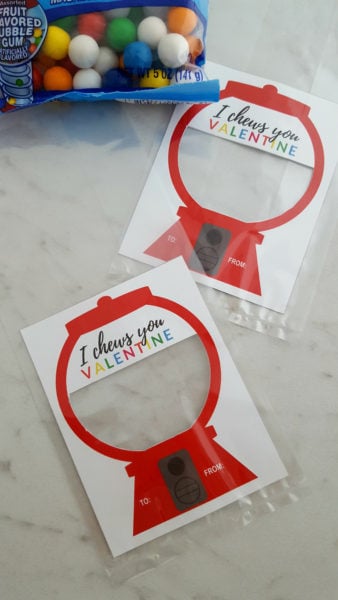 Step 1: Use scissors to cut along the outer edge of the grey square border on each valentine.
Step 2: Slightly bend the center of the valentine where it says "cut out this section under the grey line," and make a cut. Push the scissors through that center cut and cut out the center section.
Step 3: Write names in the "To" and "From" section.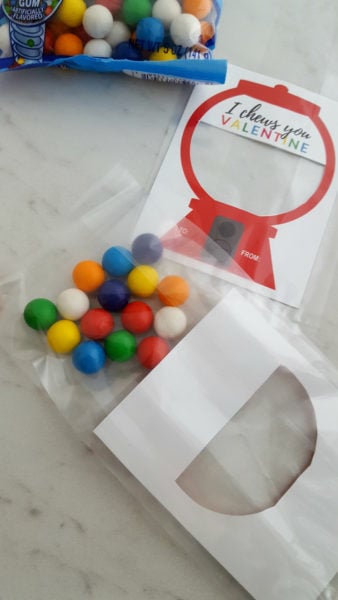 Step 4: Place the valentine in a treat bag. Turn the valentine over face down and place fifteen or so small gumballs inside at the top of the bag.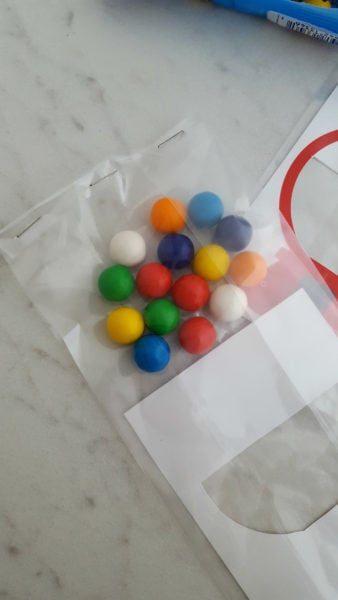 Step 5: Fold over just the very top edge only and staple three times (left, right and center).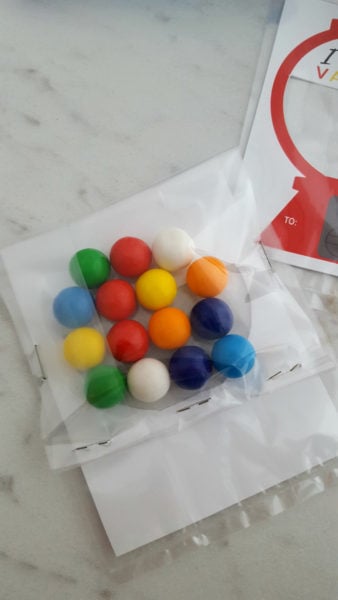 Step 6: With the gumballs pushed all the way up to the top, place your hand over the valentine and use your other hand to fold down the top section, including the gumballs. The gumballs should now be directly behind the section that was cut out. Staple once on each side of the valentine (left and right) to secure the bag of gumballs in place.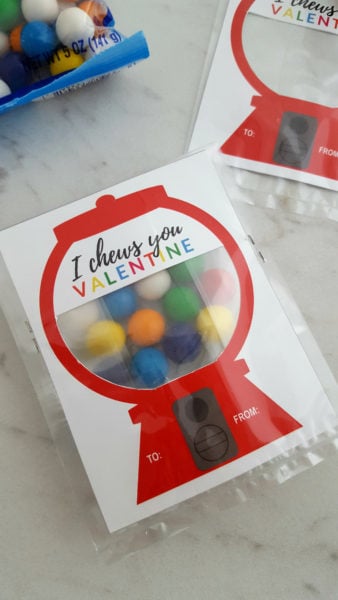 Ta-da!
Directions for the version that is not cut out: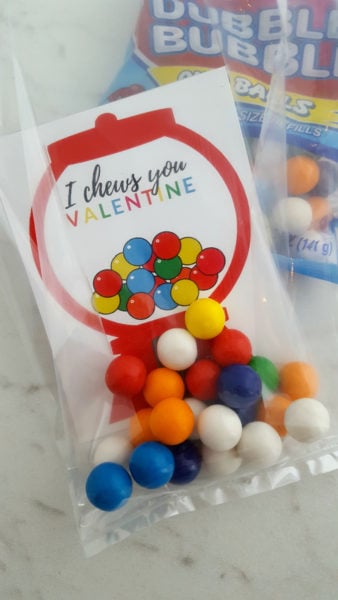 Step 1: Cut along the grey square border.
Step 2: Place the valentine in a treat bag. Fill the bag with fifteen or so small gumballs.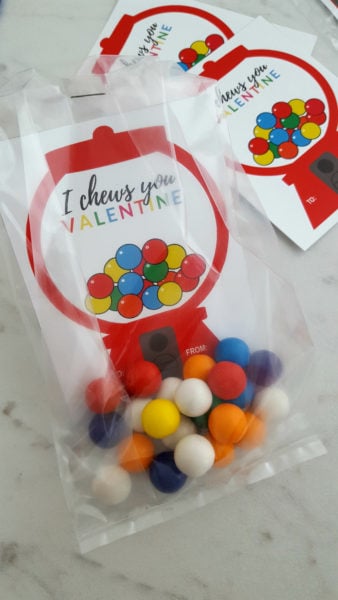 Step 3: Secure the bag either by stapling the top or by using a hole punch and running a ribbon through the hole, then tying a bow to complete. Remember to fill out the "To" and "From" sections!