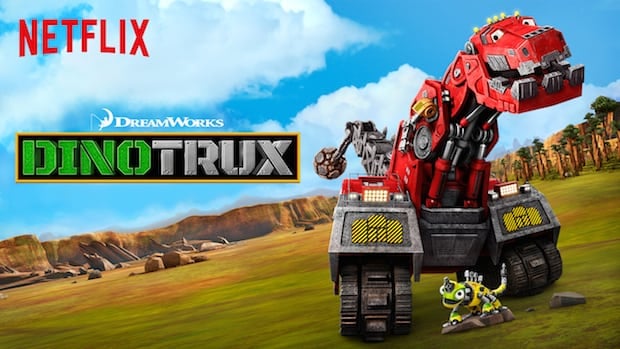 Today is the day!! Today, Friday, August 14th, the Dinotrux Netflix original series is debuting exclusively on Netflix! Your kids will love this world of giant creatures that are half dinosaur, half truck and all awesome! The series is based on the award-winning children's books by Chris Gall, Dinotrux is the first exciting "action show" tailor-made for younger kids with strong messages about independence and cooperation to go along with its unique blend of action, comedy, adventure.

The super-fun cast of characters includes Ty Rux, a massive Tyrannosaurus Trux, and his best friend Revvit, a razor-sharp Reptool. Along with friends like Skya the Craneosaur and Garby the Stegarbasaurus, the Dinotrux and Reptools join forces for the first time ever to build a bigger, better world and battle back against the biggest and baddest Dinotrux of all: D-Structs, who threatens to wreck everything they've built.

For some extra Dinotrux fun, check out all these fun printable Dinotrux activity sheets!
Watch the new series with your kids and then let us know who is their and YOUR favorite new Dinotrux character!
Dinotrux Umbrella

Dinotrux: To the Rescue! (Passport to Reading Level 1)
Dinotrux Insulated Lunch Bag [Revvit]

Dinotrux Shirt Toddler Boys Long Sleeve Tee (3T)
Dinotrux Coloring Book Set with Over 40 Stickers and Jumbo Toddler Crayons
Dinotrux Stickers Sheets [3 Pack]

Dinotrux Little Boys' Short Sleeve T-Shirt Shirt, Royal, Small/4
Dinotrux Grab & Go Sticker Book

Heys Dinotrux Kids Luggage Case

Dinotrux TY Rux Vehicle
Dinotrux Reptool Revvit
Dinotrux Sounds and Phrases, Dozer
Dinotrux Ty Rux Vehicle
Dinotrux Ton-Ton Vehicle
Dinotrux School Backpack

Dinotrux Construction vs. Destruction Mega Pack Diecast Figure 5-Pack
Dinotrux D-Structs Vehicle
Dinotrux Diecast, Revvit & Tortool (2-pack)
Dinotrux Diecast Garby Vehicle
DinoTrux Backpack with Lunch Kit
Dinotrux Mega Chompin' Ty Rux
DinoTrux Boys' Toddler Boys' 4-Piece Cotton Pajama Set with Dino, Red/Grey, 4T
Dinotrux Go to School (Passport to Reading Level 1)
Dinotrux Rock & Load Skate Park Playset
Dinotrux Smash & Slide Construction Site Playset
RoomMates RMK3109SCS Dinotrux Peel and Stick Wall Decals
Dinotrux: Dare to Repair!
Dinotrux Matching Game
Dinotrux Diecast, Scraptors (2-Pack)
Kurt Adler 1 Set 3 Assorted Dinotrux Ornaments With Tyrannosaurus Trux, Reptool And Dozeratops