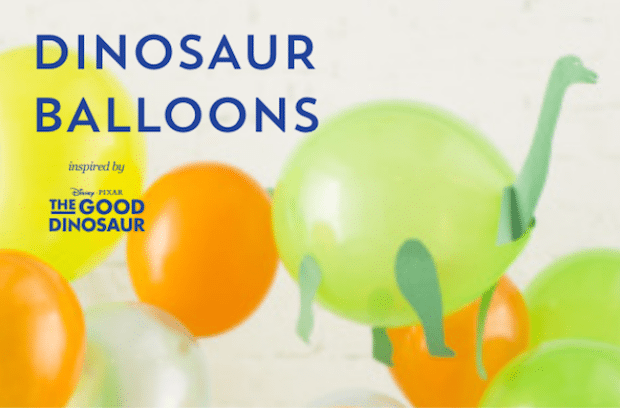 The Good Dinosaur is already a family favorite and is becoming even more loved now that it is available to watch at home on DVD and Blu-Ray.
To add to that fun, we have some fun The Good Dinosaur Crafts and Activities! Whether you're looking to fill a rainy day afternoon or if you're planning a The Good Dinosaur birthday party, these The Good Dinosaur Crafts and Activities will provide lots of Arlo fun!!
The Good Dinosaur Crafts and Activities
First up are the Dinosaur balloons above. Just draw dinosaur heads, legs and tails on construction paper and tape to colorful balloons. These balloons also make great decorations for a birthday party! See directions here.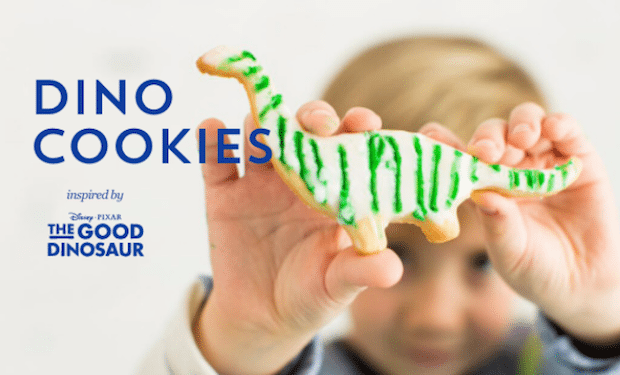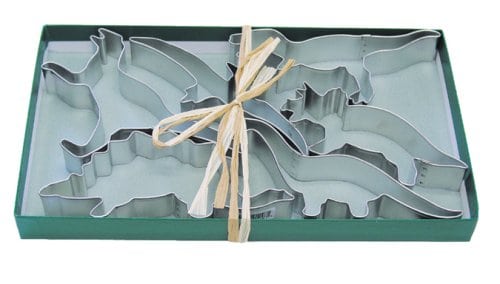 Dinosaur cookies make yummy party treats or everyday snacks. You can make and decorate dinosaur cookies using dinosaur cookie cutters, or you can make our Arlo's foot cookies below. They can be made without cookie cutters.
All you do is form them by making small balls of dough to form the dino foot pattern. (Plus I think the sugar cookie recipe we use to make them is DELICIOUS!)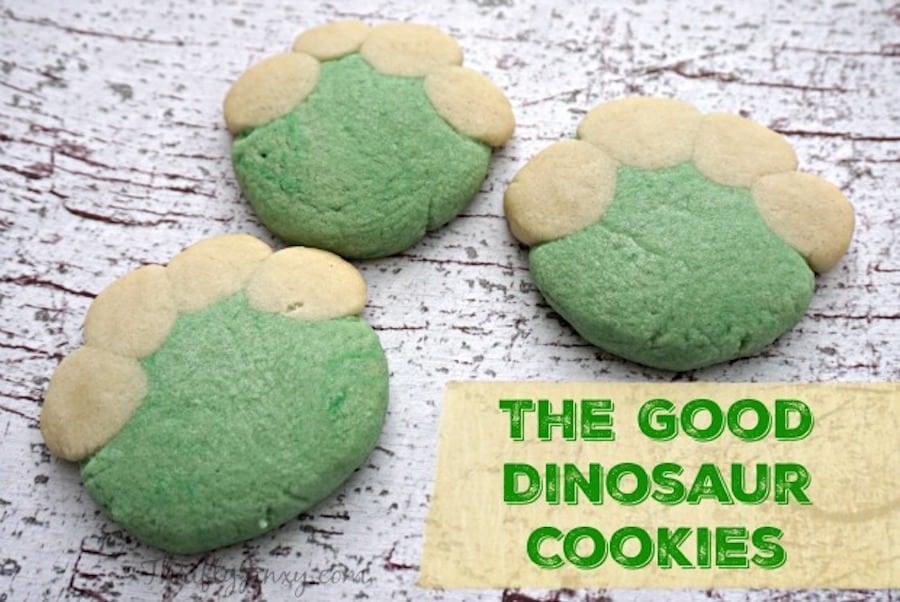 Turn your little ones into dinosaurs by helping them to make their very own dinosaur tails! Let them draw their own spot shapes on felt and then help them to cut them out and hot glue them to their tails. Attach them at the waist using an elastic band. Find the full Dinosaur Tail instructions here.

I'm so in love with these The Good Dinosaur hand puppets! It may just be because I'm a big fan of papercrafts, but it also may be because they are so super easy to do. Just print out the Spot and Arlo printables HERE and then fold them up to make your The Good Dinosaur Hand Puppets?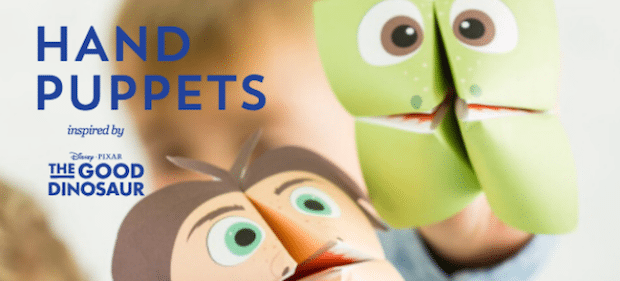 And last, but certainly not least, we also have a whole bunch of The Good Dinosaur Printable Activity Sheets! They include The Good Dinosaur Coloring Pages, The Good Dinosaur Hexaflexagon Paper Craft and a The Good Dinosaur Memory Cards Game!
GoodDinoCrafts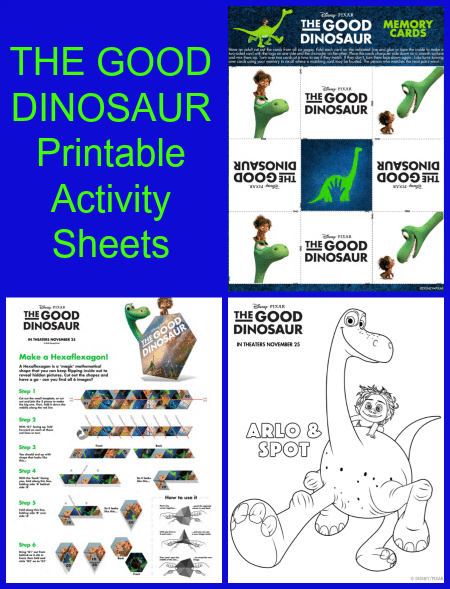 And of course you will want to watch The Good Dinosaur too! You have a few choices available including
The Good Dinosaur on DVD
and the
Blu-Ray+DVD+Digital HD collection,
which has lots of great extra features like fun features to learn about real-life dinosaurs, insight about making the film and even deleted scenes!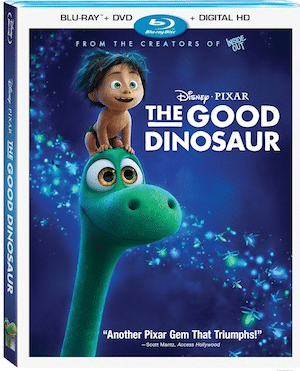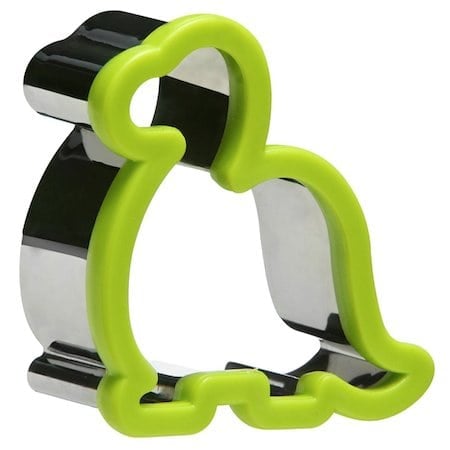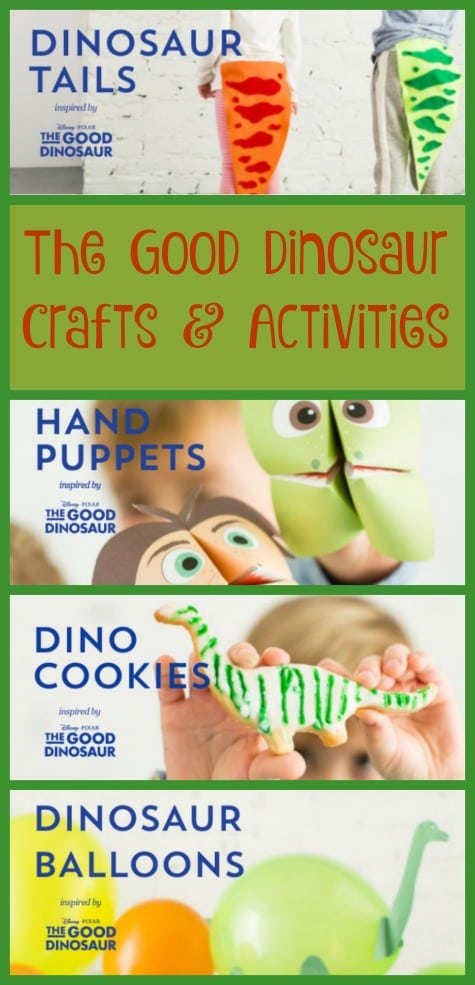 About the Author
Latest Posts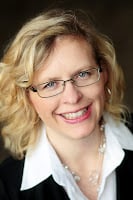 I'm a busy blogger and happy auntie of Little R, who I spend time with several days per week – which ends up being the FAVORITE part of my week! We love to cook together, do crafts, play outside and turn boring errands into fun adventures.