How about a Star Wars party?!?! Whether you're throwing a May the 4th party, planning a birthday party for a Star Wars fan, having a Star Wars family movie night, or just want a super fun and yummy treat, we have the perfect Storm Trooper Cupcake Recipe! (And yes, I now realize it is supposed to be STORMTROOPER CUPCAKE as in Stormtrooper is all one word!)
Our recipe starts with a homemade chocolate cupcake, but you can make things easier by using a box mix if you like. We leave it up to you as to the type of frosting you want to use, but our favorite is this easy buttercream frosting recipe.
Bakerpan Food Coloring Markers, Fine Tip, Black, Set of 3 (Black)

Wilton 415-5080 Star Wars Standard Baking Cups (50 Pack), Multicolor

Golda's Kitchen 100 Count Baking Cups, Standard Sized, Black

To make the Storm Trooper faces for these cupcakes, we simply draw on full size marshmallows with a black food writer pen that you can get at a baking store, on Amazon or at BakeDeco. (It's under $10 for a set of multiple pens.)
I also recommend making your cupcakes in solid black cupcake liners or make them extra fun with Star Wars themed cupcake liners.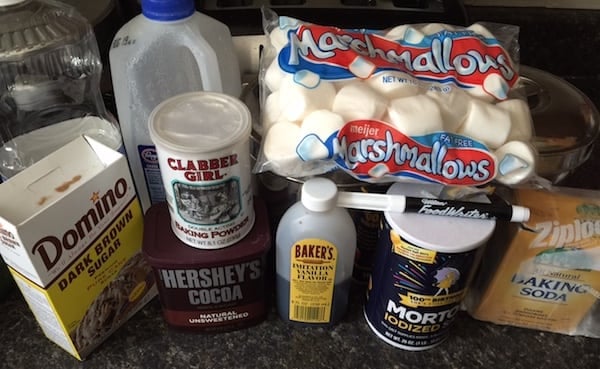 Storm Trooper Cupcake Recipe
Ingredients:
1 Cup Sugar
1 Cup Flour
1/2 cup Unsweetened Cocoa
3/4 teaspoon baking powder
3/4 teaspoon baking soda
1/2 teaspoon salt
1 egg
1/2 cup Milk
1/4 Vegetable Oil
1 teaspoon Vanilla Extract
1 Cup Boiling Water
Store Bought Frosting or this Easy Buttercream Frosting Recipe
Marshmallows
Edible Writing Pen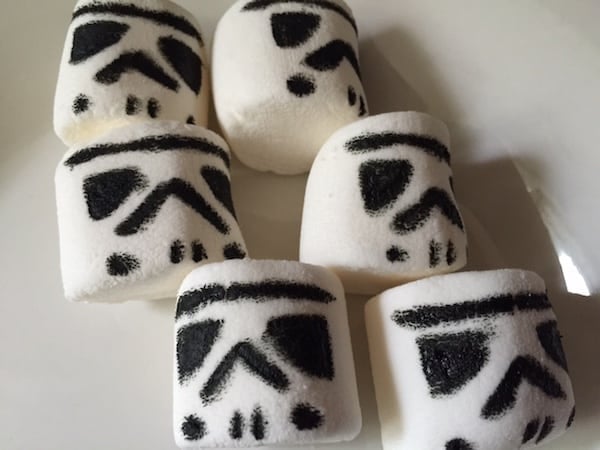 How to make Stormtrooper Cupcakes:
Preheat oven to 350 Degrees
Line cupcake tin with paper liners
In a large bowl, combine dry ingredients: sugar, flour, cocoa, baking powder, baking soda, and salt
Mix on medium speed, adding eggs, milk, oil, and vanilla
Slowly stir in boiling water
Fill each cupcake paper 3/4 of the way full
Bake approximately 20 Minutes or until a toothpick inserted in center of cupcake comes out clean
Allow to cool completely
While cupcakes are cooling, use writing pen to draw Storm Trooper faces on the marshmallows following our design above
Frost cooled cupcakes with the icing of your choice
Place a marshmallow on top of each cupcake
ENJOY!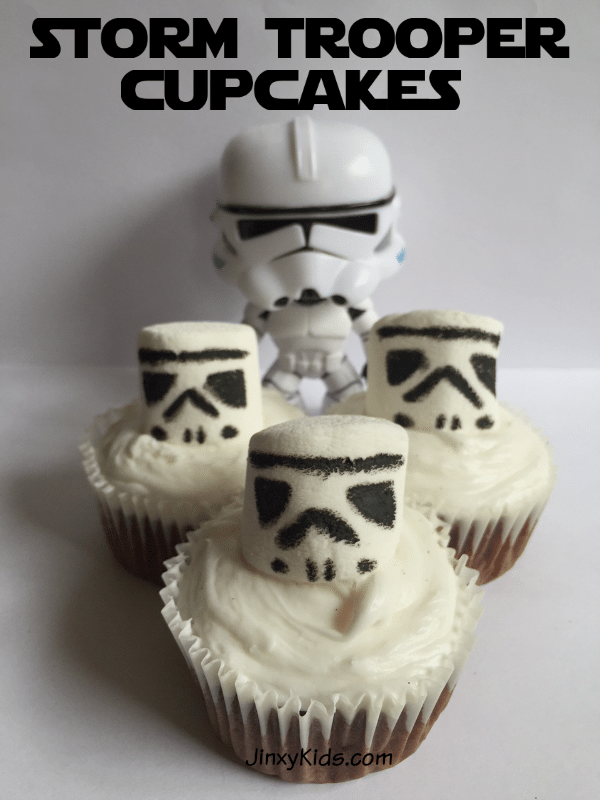 Yield: 12
Storm Trooper Cupcakes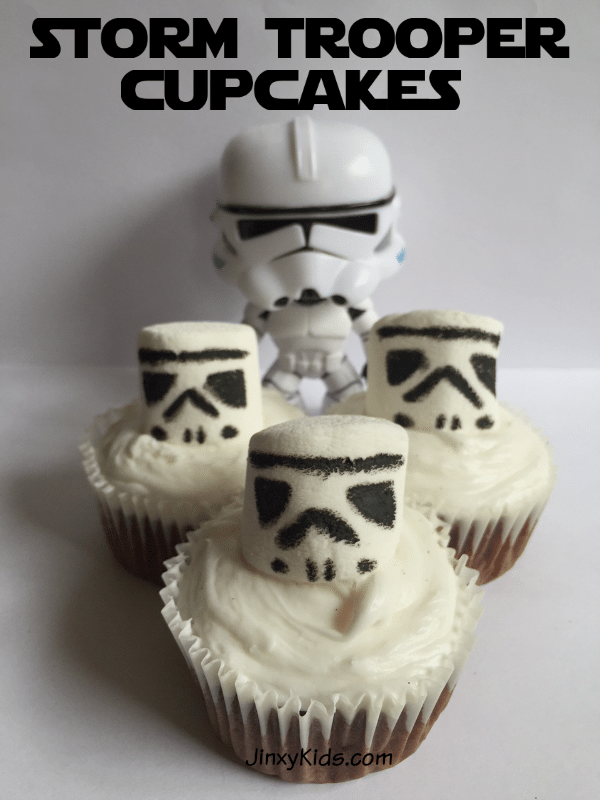 Celebrate May the 4th or any Star Wars occasion with these fun-to-make Stormtrooper cupcakes!
Ingredients
1 Cup Sugar
1 Cup Flour
1/2 cup Unsweetened Cocoa
3/4 teaspoon baking powder
3/4 teaspoon baking soda
1/2 teaspoon salt
1 egg
1/2 cup Milk
1/4 Vegetable Oil
1 teaspoon Vanilla Extract
1 Cup Boiling Water
White Frosting
Marshmallows
Instructions
Preheat oven to 350 Degrees
Line cupcake tin with paper liners
In a large bowl, combine dry ingredients: sugar, flour, cocoa, baking powder, baking soda, and salt
Mix on medium speed, adding eggs, milk, oil, and vanilla
Slowly stir in boiling waterFill each cupcake paper 3/4 of the way full
Bake approximately 20 Minutes or until a toothpick inserted in center of cupcake comes out clean
Allow to cool completelyWhile cupcakes are cooling, use writing pen to draw Storm Trooper faces on the marshmallows following our design above
Frost cooled cupcakes with the icing of your choice
Place a marshmallow on top of each cupcake