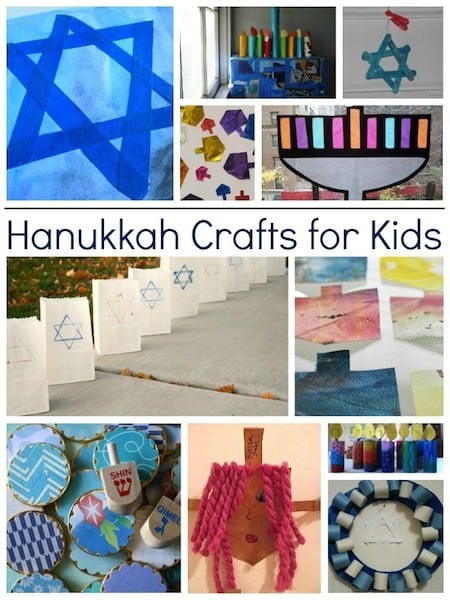 We are quickly approaching the beginning of Hanukkah, but there is still time to make some fun crafts with your kids! This collection of Kids Hannukah Crafts includes decorations, menorahs, printable activity pages and more.
Kids Hanukkah Crafts
1. Hanukkah Luminaries from Makes and Takes
2. Star of David Ornament from Little Learners Lounge
3. Cardboard Tube Chanukah from Joyful Jewish
4. Edible Memory Game from Scrumdilly-Do
5. Stained Glass Hanukkah Menorahs from Upper West Side Mom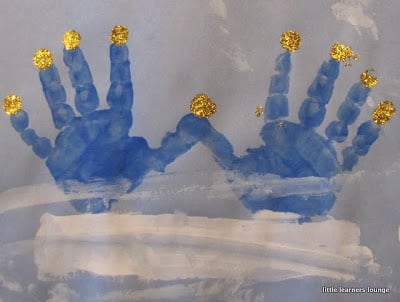 6. Recycled Menorah from Dim Sum, Bagels and Crawfish
7. Free Printable Hanukkah Coloring Page from Detroit Mommy Bloggers
8. Handprint Menorah from Little Learners Lounge
9. Hanukkah Wreath Craft from Clubhouse Academy
10. Hanukkah Craft for Toddlers from Melissa and Doug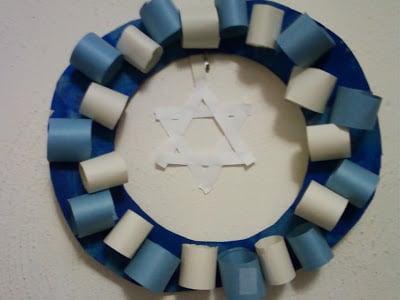 11. Recylced Dreidel "Paper Dolls" from Bringing Chesed Home
12. Foil Dreidel Collage from Boy Mama Teacher Mama
13. Hanukkah Dreidel Wall Art from Meri Cherry
14. Hanukkah Stamping from 3 Dinosaurs
15. Free Chanukah Printable Pack from Creative Learning
Hanukkah Banner Craft Kit, Colorful Scratch Dreidels Set of 2, and The Story of Hanukkah Reader Set for Kids

Create Your Own Hanukkah Foam Decorations Kit –

Ddreams Chanukah (Hanukkah) unpainted/DIY/craft kit (Jewish Judaica) of menorah, glow in the dark paint, brush and wooden dreidel

Hanukkah Foam Mosaic Kit

Hanukkah Foil Art Chanuka Activity Pack

Hanukkah Water Fun Coloring Activity Book Kit With 2 Paint Brushes!

Izzy 'n' Dizzy Hanukkah Scratch Stencil Art Kit – 4 Pack – 8

About the Author
Latest Posts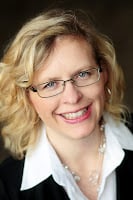 I'm a busy blogger and happy auntie of Little R, who I spend time with several days per week – which ends up being the FAVORITE part of my week! We love to cook together, do crafts, play outside and turn boring errands into fun adventures.