Wonder Crate is the subscription box that inspires kids to dream big while learning about one great role model at a time.
In today's time, let's face it. Our kids spend an enormous amount of time glued to the TV, cell phone, tablets, etc. They are constantly bombarded with outside influences and begin to look up to these characters as heroes.
While I am not totally against a little television, cell phones, and social media, I do want my child to have other influences. The influence of real true-life people that have made a difference in our world can help inspire them to be their best. This is one of the reasons I am loving the Wonder Crate Kids Subscription Box!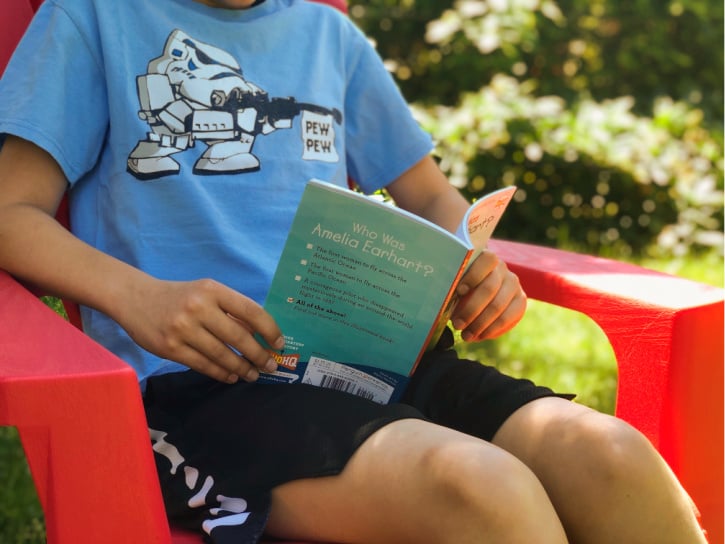 The kid's subscription box from Wonder Crate is a great way to introduce kids to real-life heroes that have impacted our world! And, it does it in a fun way with interesting books and activities. Not only is learning about our real-life heroes fun, but the World Crate subscription boxes also inspire THEM to dream big, have courage, and to help make the world a better place!
I am also not alone in singing the joys of Wonder Crate! After reading a few Wonder Crate reviews, I can see that other parents are as thrilled as I am!
So, about now, you are probably wondering what exactly is "Wonder Crate" and how does it work. Keep reading below to learn more about this amazing kids subscription box and why you should sign up for your child!
As a parent, you know kids are constantly being inspired by outside sources. Those sources include YouTube, social media, reality stars, and/or celebrities rather than figures who are truly making a difference in the world. Carrie, the founder of Wonder Crate, was worried about that and took matters into her own hands and that is how Wonder Crate was born.
Wonder Crate is a subscription box that inspires kids to dream big, one great role model at a time. The boxes introduce kids to real people that used their courage, perseverance, and passion to make the world a better place and let them know that they can too!
Wonder Crate is recommended for ages 8-12 and Wonder Crate Jr. is recommended for ages 5-7.
What's Included in a Wonder Crate Subscription Box?
Each monthly subscription box from Wonder Crate contains a book AND activities to educate, inspire, and empower kids!
Books to inspire – Tales of true heroism from a best selling book series to inspire children.
Activities to empower – Fun activities to spark curiosity and connect children to their own possibilities.
Two series to educate – Choose Wonder Crate Kids OR Wonder Crate Jr. to build character and compassion, one real hero at a time.
How a Wonder Crate Subscription Works
Wonder Crate offers 5 series to inspire your kids. So, the first step is to choose your series. You can choose from –
Combo Series (ages 8-11) – Introduce your child to a sampling of all the series. The Combo Series is the most popular, especially if you cannot decide.
Innovators (ages 8-11) – Introduce your child to forward-thinking, innovative role models that have given us new ideas and inventions.
Artists (ages 8-11) – Introduce your child to creative, forward-thinking role models that have created works of art.
Activists (ages 8-11) – Introduce your child to brave, forward-thinking role models that have been instrumental in political or social change.
Junior (ages 5-7) – introduces kids to inspirational role models, sparks curiosity, and connects them to their own possibilities.
Wonder Crate Plan Options + Free Shipping
The next step is to choose a plan for your series. All plans come with FREE shipping and a 100% cotton reusable tote bag. And, if you would like, you can upgrade the tote bag to a retro tin lunch box at check out.
Plans start as low as $29.95/month and are available in 1-month, 3-month, 6-month, and 12-month terms. Shipping is FREE within the continental US. For Canada, all boxes are $10 and for the rest of the world, the shipping is $20.
Wonder Crate ships by the 15th of each month. Wonder Crate Jr. ships by the 5th of each month. Single boxes ship the next business day.
Want to give Wonder Crate as a gift? They are also offering special holiday shipping! All orders received by December 20th will ship in time for Christmas.
Are you ready to Sign Up for a Wonder Crate Kids Subscription Box?
I love how Wonder Crate takes books and activities and introduces kids to important and meaningful real-life heroes. In a world where we are bombarded daily with not so savory heroes, it is important to make sure our kids know who our true heroes are!
I also love the different series Wonder Crate offers. So, whether you have a budding artist, an innovator, or a child interested in social activities, there is something to grab their attention! Each Wonder Crate subscription box offers a FUN-FILLED learning path about these wonderful people that have made an impact in our world and perhaps will light a fire inside them to do the same.
Go ahead and sign up today for a fun-filled World Crate subscription box! I promise you can't go wrong! And, if you are looking for THE perfect gift for birthdays or holidays, well, here you go! A Wonder Crate Kids Subscription Box is the perfect gift while also opening up a whole new inspiring world for them!
About the Author
Latest Posts