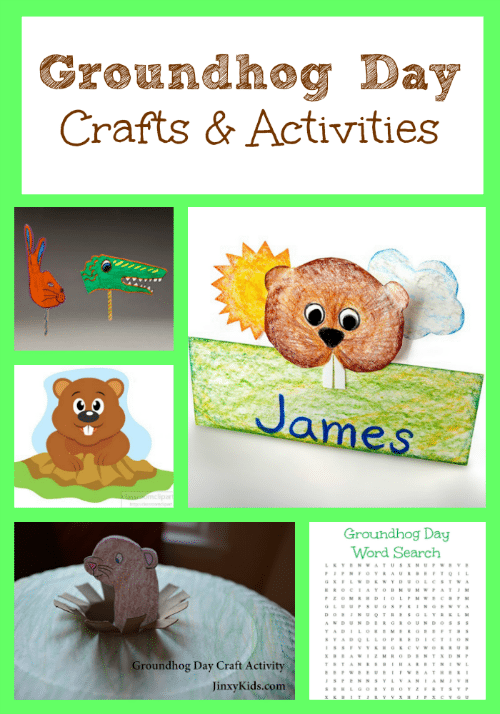 Groundhog Day is coming up soon on February 2nd. To celebrate this unusual holiday, we have collected these fun Groundhog Day craft and activity ideas to keep the little ones occupied and learn a bit about the legend of the groundhog who tells us whether we'll have an early spring or six more weeks of winter.

Groundhog Day Craft and Activity Ideas

Paper Plate Groundhog Hole – Start with a paper plate and toilet tissue tube to make your own groundhog who pops out of his hole.
Groundhog Day Nameplate – Let your kids make their own predictions about the weather and display them using the "sun" and "cloud" displays on the groundhog's arms.
Groundhog Day Word Search Puzzle – This fun, FREE Printable Groundhog Day Word Search puzzle contains 23 words relating to the holiday, its legend and the weather.
Groundhog Puppet – You only need a few simple supplies to make this adorable groundhog puppet that pops out of its hole.
Shadow Activity – This activity encompasses the science and art portion of S.T.E.A.M. and because it's done in the dark kids love it.
Shadow Puppets – Trace the shadows your hands throw on the wall. Then let the kids get really creative and create a play using their hand puppets.
Scholastic Reader Level 1: Groundhog Day
Kids Happy Groundhog Day T-Shirt
Groundhog Day (Rookie Read-About Holidays
Groundhog Weather School: Fun Facts About Weather and Groundhogs
I Love Groundhog Day Mug
Groundhog Day Activity Book for Kids: Mazes, Coloring and Puzzles for Kids 4 – 8
Mini Groundhog Day Buttons
Groundhog Day (Robin Hill School)
Awesome Groundhog Day Tee Shirts
Groundhog's Runaway Shadow
Spirit of Punxsutawney:Groundhog Day
Beads w/Groundhog Day Medallion
Marmot Groundhog Woodchuck Stuffed Animal Plush Yellow Bellied
Groundhog Day Coloring Book: Groundhog Day Book
Holidays for Children: GROUNDHOG DAY
Happy Groundhog Day Mini Buttons
The Groundhog Day Book of Facts and Fun
Punxsutawney Phil 2004 Ty Beanie Baby – Groundhog Day
Groundhog Day!: Shadow or No Shadow
Just 12 Groundhog Day Cupcake Toppers on lollipop stick, Groundhog table decoration
Happy Groundhog Day ~ Edible Image Cake Topper
&