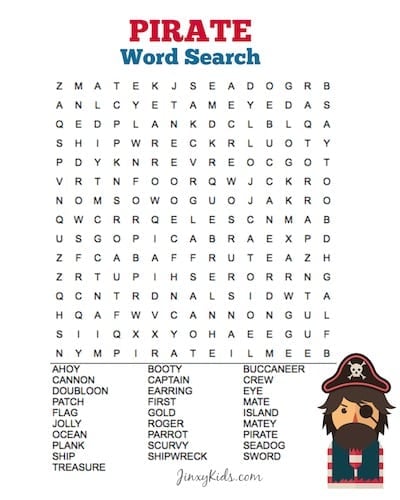 Talk Like a Pirate Day is coming soon on September 19th! It's one of our favorite silly days and even if it's not an "official" holiday, it's still worth a bit of celebrating. Whether you're a teacher looking to use the day for some word fun in your classroom, looking for a homeschool activity, or just want for some pirate fun with an educational twist for your kids, we have a puzzle for you to help your kids to get in the spirit!
In honor of Talk Like a Pirate Day, we made free printable Pirate Word Search puzzle.  It has 25 words all about pirates, their ships and their crew.  Just click the image above or HERE to print.
Looking for more Talk Like a Pirate Day fun? Check out the fun Pirate Activities for kids below.