Make lasting family memories while teaching your kids valuable cooking skills and give them confidence with Raddish Cooking Kits for Kids!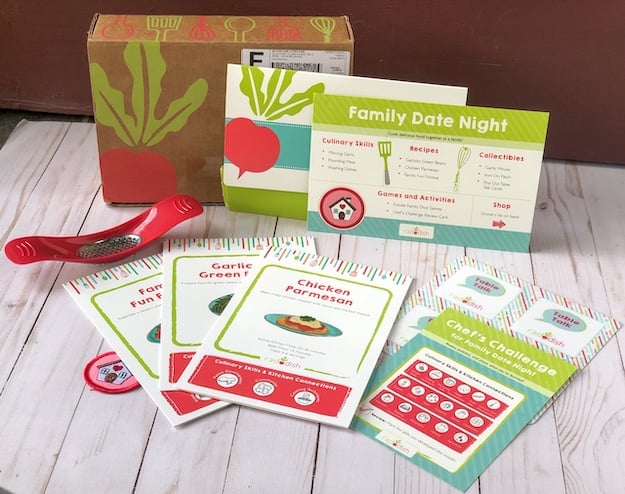 Have you heard of Raddish Cooking Kits for kids? Children have a natural curiosity and always want to be involved in whatever we are doing and that includes cooking. As a busy parent, it is sometimes inconvenient to have them underfoot.
But, what if you could make cooking a bonding time for the family while also allowing them to learn valuable cooking skills? That is exactly what Raddish Cooking Kits for children allow you to do!
And, as any parent of a picky eater will tell you, you can spend time cooking a yummy dish only to have your child refuse to take a bite of it. One of the things I have learned in the past is if you allow them to help make the recipe, they are much more willing to actually eat it. It is another reason I am loving these fun kits from Raddish!
My family has truly enjoyed the Raddish cooking kits for kids. While there are still times we need to get the meal on the table in a hurry, we look forward to our special time of being TOGETHER in the kitchen with the kids whipping up a delicious meal for the family!
The whole experience is amazing! From the time spent, the special moments, and watching the kids learn skills and gain confidence in cooking. Cooking skills is something they will carry with them into adulthood and, of course, the fun family memories will last forever!
I am so excited about Raddish and their cooking kits and would love to tell you more. Read on to learn more about why you and your kids will love it too!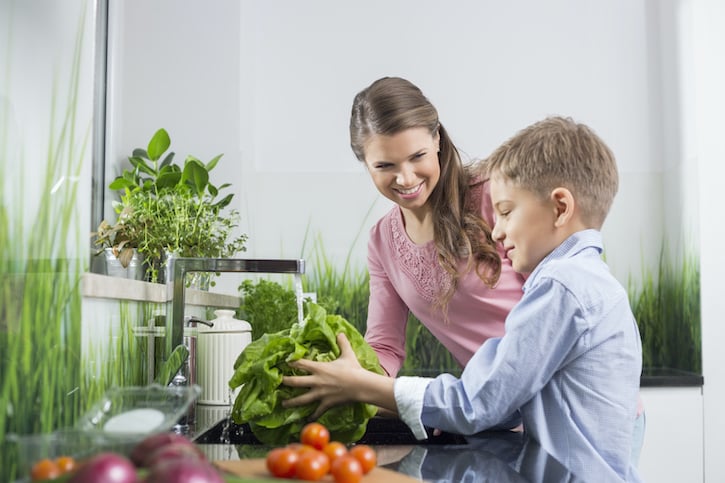 What is Raddish?
Raddish is a cooking club designed for kids ages 4 to 14. Their fun cooking kits for kids are not only fun but delivers a culinary lesson and mealtime solution. And, if you have a picky eater, helping in the kitchen may entice them to eat what they have helped prepare!
Younger kids in the age range 4 to 6 can enjoy being in the kitchen and working alongside a parent or other adult while kids in the range of 7 to 12 can explore their culinary curiosity and take on small roles to help prepare the family meal. Older kids 13+ may be able to work independently. This, of course, depends on their skill level.
Each Raddish Cooking Kit for Kids features a surprise theme
The kids, and parents too, enjoy a fun new surprise theme with each Raddish kit. The themes generally fall into one of four categories: Seasonal Spotlights, Global Cuisine, Creative Cookery (science- or imagination-based), and Holiday Celebrations. Since each Raddish kit features a surprise theme, you cannot choose your theme in advance. The fun part is, the themes never repeat so it is always something new!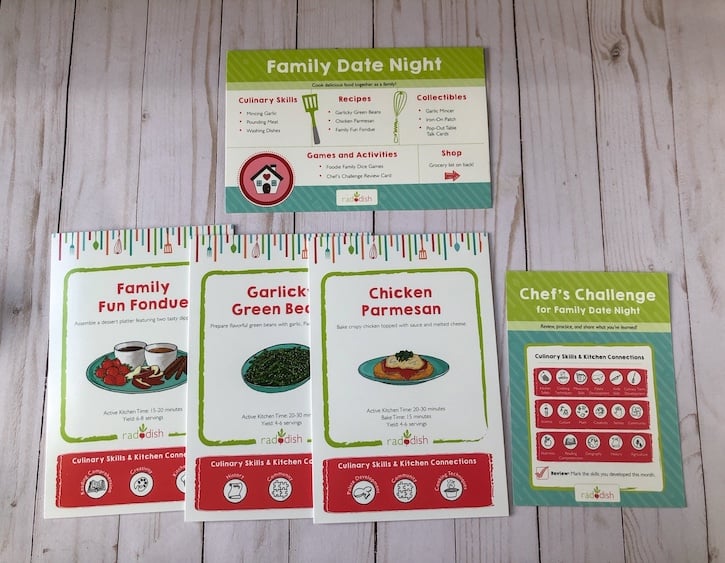 What's Included in Raddish Cooking Kits for Kids?
Each monthly themed kit includes the following:
3 illustrated recipe guides – Illustrated, laminated, and step-by-step recipes – perfect for any age.
3 culinary skill cards
a creative kitchen project
kid-friendly tools and collectibles such as Table Talk cards, a culinary tool, and an iron-on Raddish patch
1 free Raddish apron with the purchase of a 6 or 12-month membership (additional aprons may be purchased during checkout)

Online Bonus Bites are Available!
Raddish has an extensive online library full of fun and helpful resources you can access. In their online library, you will find:
Free Recipes – Illustrated and printer-friendly posted every month!
Cooking Videos – Skill videos and cook-alongs from their test kitchen!
Dietary Modifications – Gluten-free, dairy-free, egg-free, vegetarian and vegan substitutions.
Lesson Plans – Interdisciplinary, hands-on enrichment for homeschool study.
Musical Playlists – Monthly kit themed playlists available on Spotify.
Parent Resources – Holiday gift guides, picky eaters, and parenting… they've got you covered!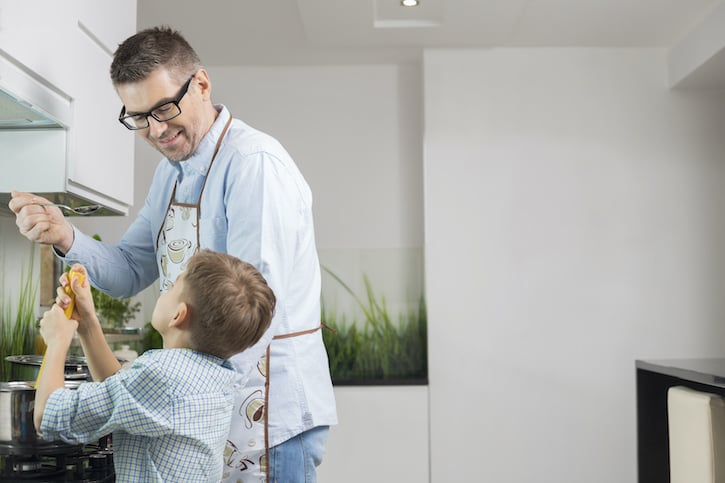 How a Raddish Subscription Works
The subscription process is easy and simple. Simply sign up for your Raddish kids cooking box subscription. From there, a new fun kit will be delivered to your doorstep each month. But wait! Prior to your kit arriving, Raddish will email you a shopping list so that you will be ready to get in the kitchen and start cooking!
Kids will learn new cooking skills in the kitchen while the whole family builds fun memories of cooking together.
Raddish Plan Options + Free Shipping
They have plans starting as low as $24 per kit. You can choose – Monthly, 6-months, or 12-months. Their memberships renew on the 1st of the month after term. If you decide the kits are not for you, you can cancel the renewal at any time.
Shipping is FREE on all U.S. orders. And, International shipping is available for $7 USD/Month.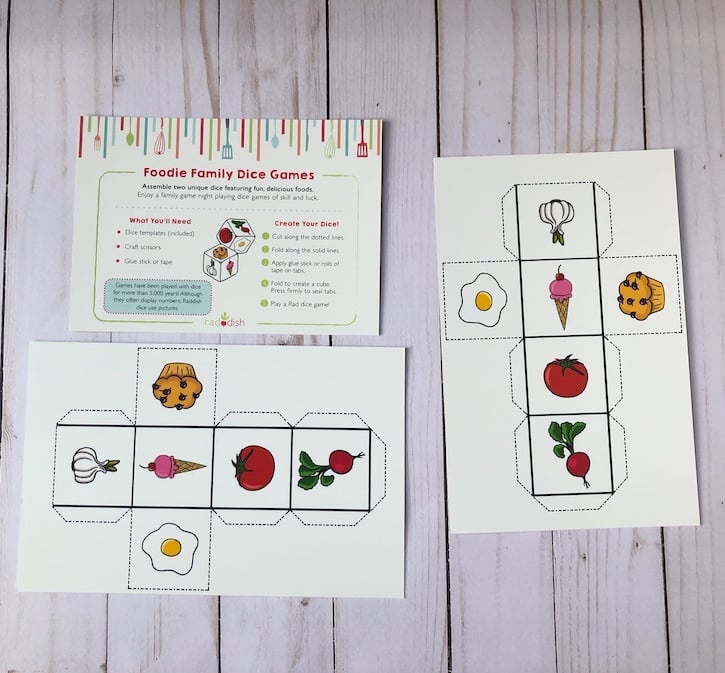 Surprise Your Child with a Subscription for Raddish Cooking Kits for Kids!
As I said, my family is truly enjoying the fun Raddish subscription box. The themes are fun and exciting. And, while the kids are gaining kitchen experience and skills, the whole family is enjoying bonding and making special memories.
Raddish is great for families with young kids. A Raddish subscription would also make a wonderful gift. Grandparents, are you listening? 🙂
Would you like to make lasting memories while teaching your kids valuable cooking skills? If so, go ahead and sign up for a Raddish Kids Cooking Subscription today! And, remember, shipping is FREE in the USA. You can choose to only try one month BUT if you want to try 6 months, you can get $15 off a 6 mo subscription with code ATHOME
I am sure the kids are waving their hands saying, "yes, please"!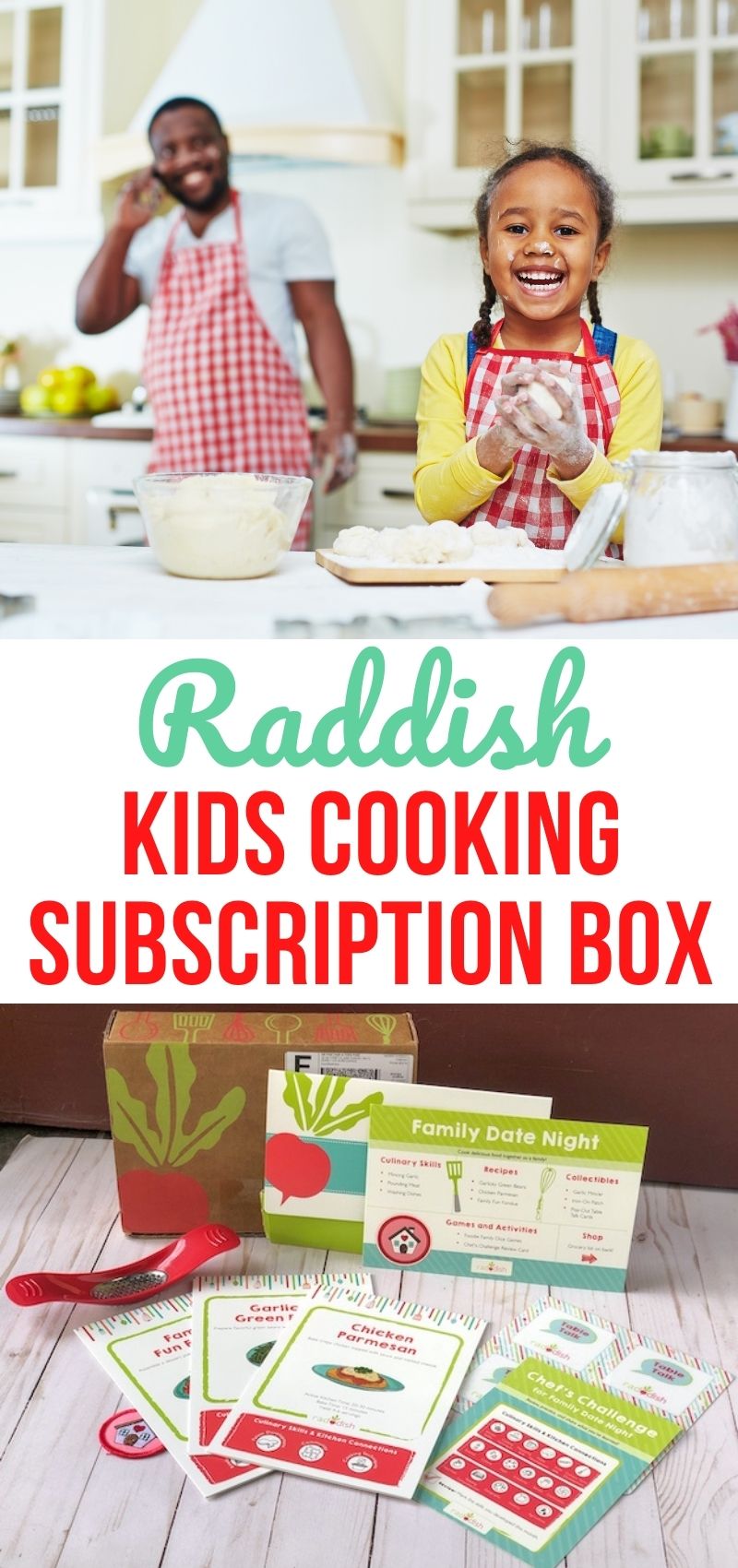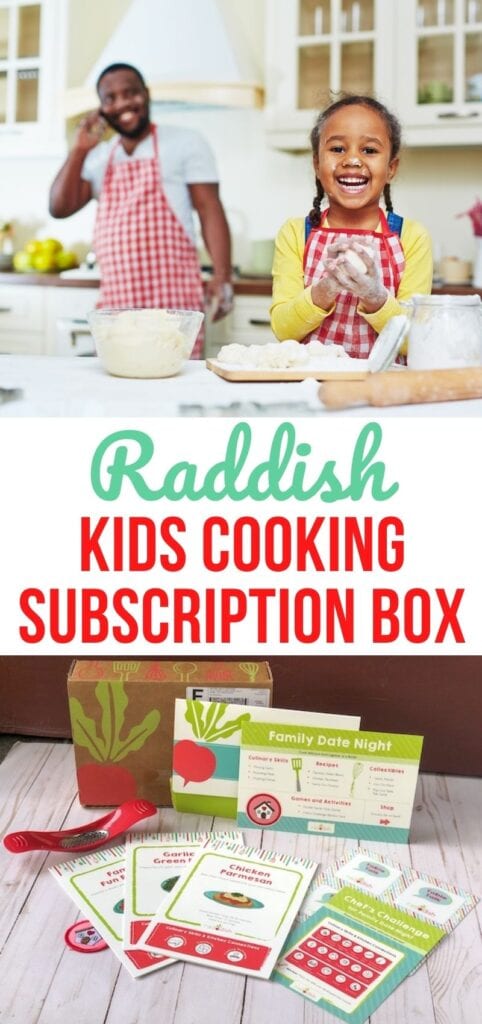 About the Author
Latest Posts