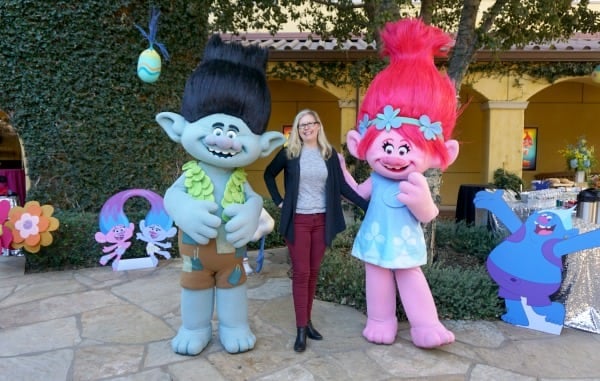 Good news for Trolls fans! DreamWorks Trolls: The Beat Goes On! is premiering January 19 exclusively on Netflix, picking up right where the film left off. The Netflix original series brings us right into Troll Village for new, upbeat adventures with Poppy, Branch and all of the other Troll friends. Last month I had a chance to visit DreamWorks Animation Studios to have a sneak peek behind the scenes to see the massive amount of creative work that goes into bringing this fun series to our screens.
DreamWorks TROLLS THE BEAT GOES ON Behind the Scenes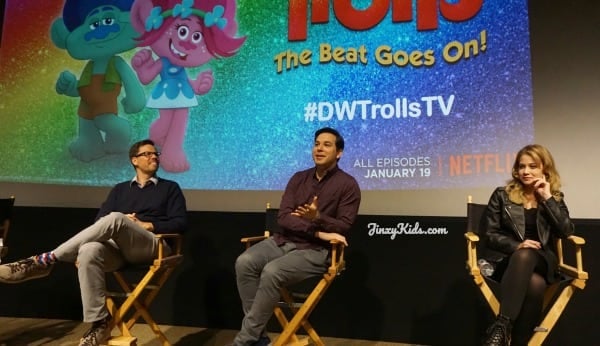 DreamWorks TROLLS THE BEAT GOES ON Producer Matthew Beans
We first had a chance to talk with Executive Producer Matthew Beans and the stars of the cast, Skylar Astin as Branch and Amanda Leighton as Poppy. Matt started his career writing for the Emmy-winning Adult Swim hit, "Robot Chicken". He first came to DreamWorks in 2014 to staff write for "Dawn of the Croods".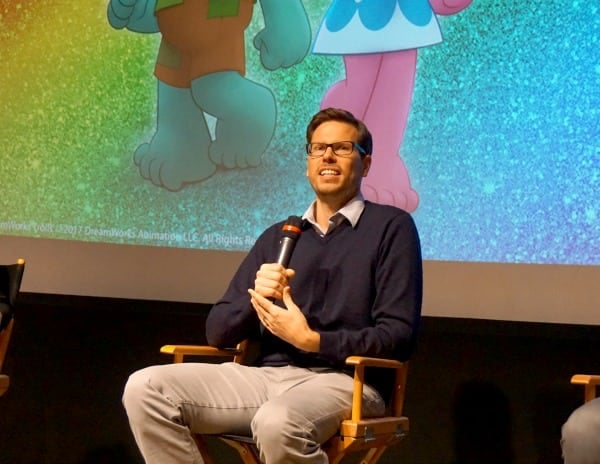 Matt gave us an overview of DreamWorks Trolls: The Beat Goes On!, saying "It picks up where the movie left off, which leaves us with a lot of territory to explore. You probably remember from the movie, only the first 20 minutes or so happened in Troll Village.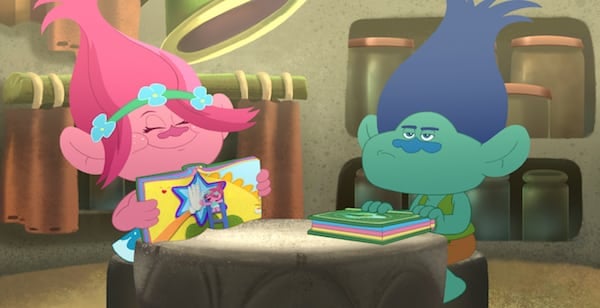 We deep dive in the series into exploring what goes on in that world, mostly surrounding what Poppy has to do as queen, which usually has to do with making sure that the status of fun in Troll Village is kept to a premium, while caring about all of her friends and their needs. Branch is kind of the misfit outsider who really helps as a useful narrative tool – to have a character who has been hidden underground for ten years and really has no idea what is going on, so he can always ask the question the audience is asking, which is "What is this super crazy thing?" and then we get to define it. It's really all about the Trolls in Troll Village and what their day-to-day life is like."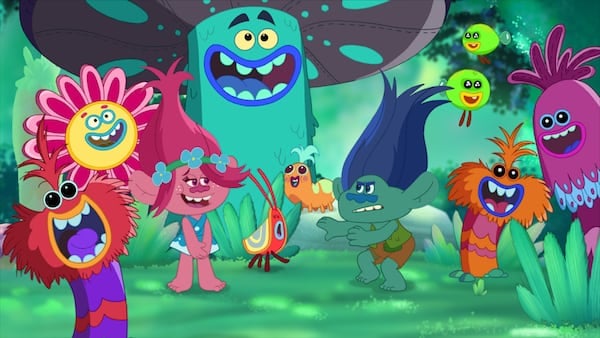 Matt also explained to us about the series being in 2D animation. He said, "The 2D look had a lot to do with a pallet that we could deliver quickly, but it still met the visual feast you get in the feature. So obviously your'e not going to be able to accomplish some things like textures in 2D animation, but we can really give you our own kind of texture.
You'll notice in a lot of the foliage you can see a lot of outlines where we put our own texture. Where the movie may have had pieces that looked like felt with tiny little fabric details, which we can't do here, but we can evoke our own details, like this feeling of warmth and that you can actually reach to feel and touch it. Color is a big thing as well. 2D hand drawn has the warmth that I think the feature has, so our fans will get a similar enough experience to believe that they are in the same world."
Amanda Leighton as Poppy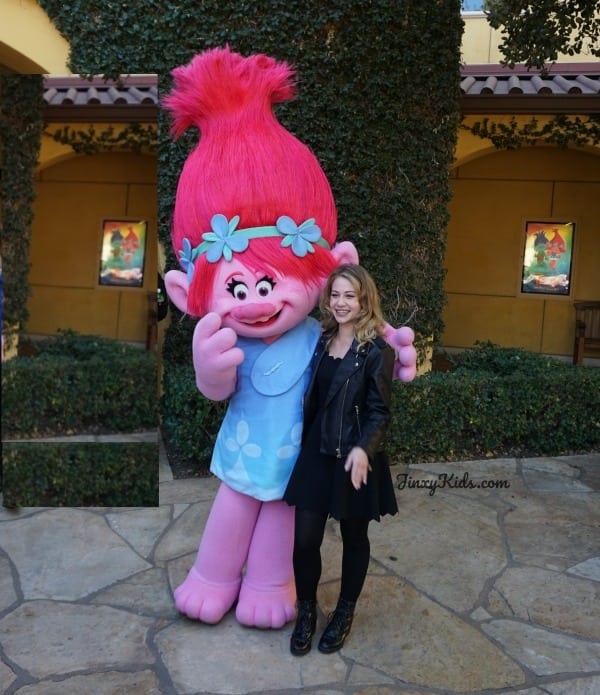 Amanda Leighton told us, "I play Queen Poppy . She is a new queen and figuring out how to make the village happy. She is super optimistic and fun and cares about her friends."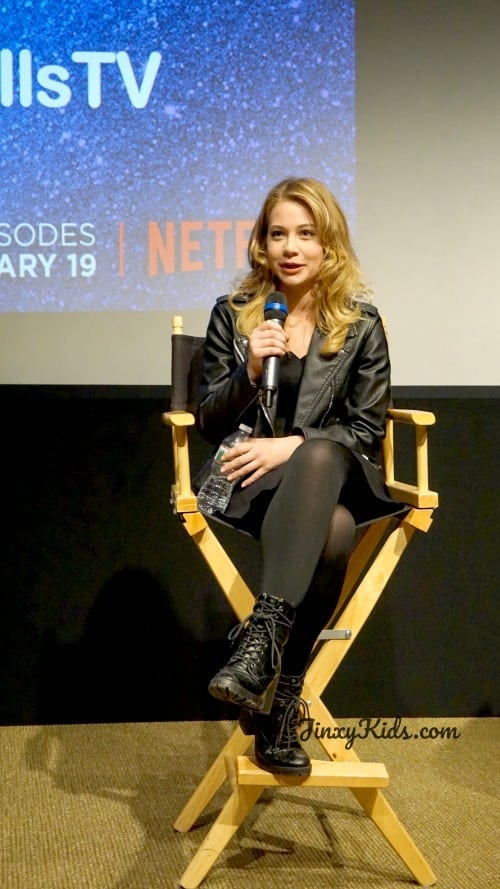 When asked how she prepared for the role, Amanda said, "It's funny because when I first auditioned for the role, Trolls wasn't out yet. There were no commercials or anything. For voice over auditions, you're presented with like one scene and you get a little picture of a character and I got a bit of the voice of Anna (Kendrick) from the film. So I have a voice, a picture and a script. It's kind of like filling in the blanks and trusting yourself and seeing who the character is and trying to stay true to who that person is."
Skylar Astin as Branch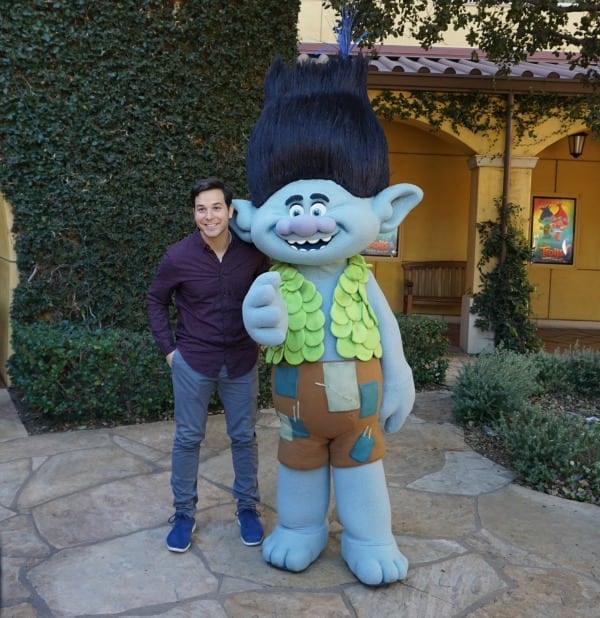 Skylar Astin said "I play Branch who is kind of the curmudgeon of the group. He doesn't always go along with the journey and always learns something very positive along the way, which I always appreciate it. I think beneath his exterior and being gruff, all work-no play, he has a heart of gold."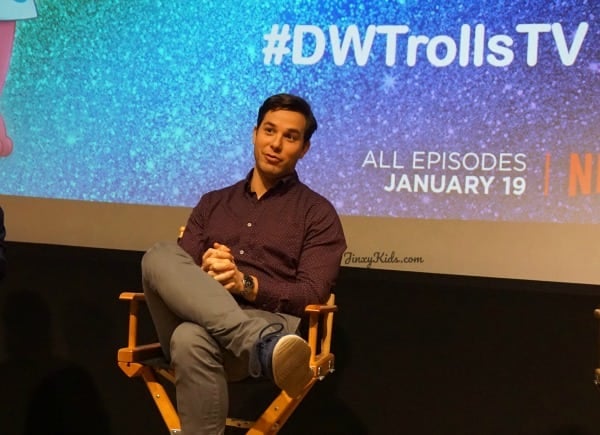 In bringing his character to life, Skylar said, "Matt (Beans) really helped me when I asked 'what kind of voice do you want?" and he said 'Yours. Let's start there.' That's what I did and it turns out I'm a super negative person. I think accessing that dry, witty, sarcastic-at-times part of my voice and personality. After the first couple of sessions we went back because it was almost getting a bit too dry or undercutty and then he found his own passion in certain things. We have come to such a great place now and it has really hit a groove.
The Music of DreamWorks TROLLS THE BEAT GOES ON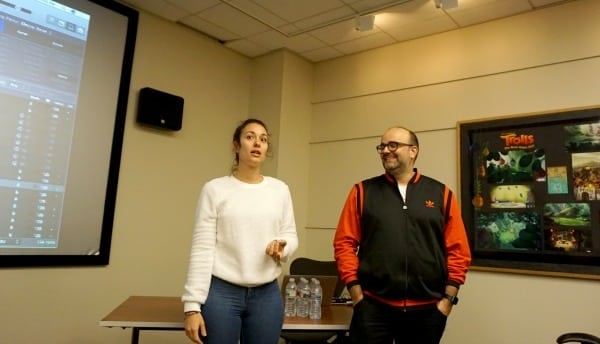 Next up we spoke with Executive Music Producer Alana Da Fonseca and Composer Alex Geringas. They both have a lot of impressive music credits under their belt! Alana is a two time American Music Award-winning, platinum selling songwriter, producer, engineer and vocal arranger who has worked with many of today's top artists including Daft Punk, Sean Paul Julian Casablancas, Ke$ha and Miley Cyrus among others. Alex is an Emmy-nominated and Grammy Award-winning Songwriter and Composer. You have definitely heard his work in movies with films like "Ice Age: Collision Course," "The LEGO Ninjago Movie," and "Pitch Perfect 3″ and other DreamWorks series "DreamWorks Home Adventures with Tip & Oh" as well as themes for "DreamWorks Voltron Legendary Defender."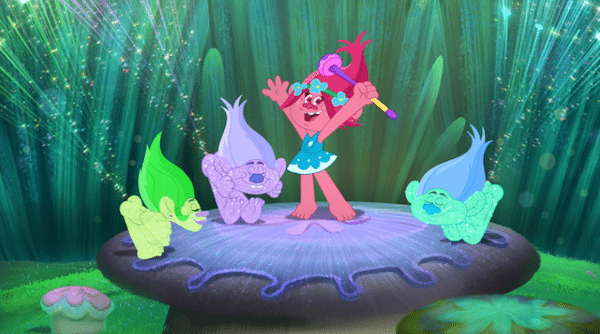 Alana and Alex explained that when they set out to create a song for Trolls: The Beat Goes On! they are given a brief or a script.For example, there will be a scene with a parade and everyone is super happy and excited. So, they got some information about what they wanted to hear, including marching band instrumentation and acapella vocal stylings. They take that and run with it to create a whole new song based on those specifications.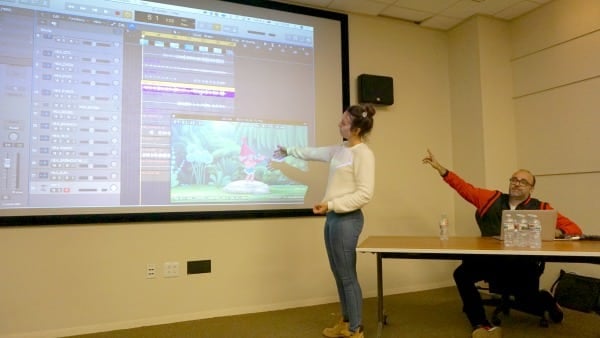 We walked through the process in our session and it was amazing to see how they were able to record a vocal clip, add in some music created on the keyboard, blend in some other samples and make a fun and extremely catchy song. I found it so impressive that they do this multiple times for every episode of DreamWorks Trolls: The Beat Goes On! because the series is chock-full of music! And it's not only the big musical numbers that need to be written, but the entire score for each episode. If you have ever watched and listened to a show like Trolls with just the characters speaking and no background music setting the mood, it is a much less fun and interesting experience.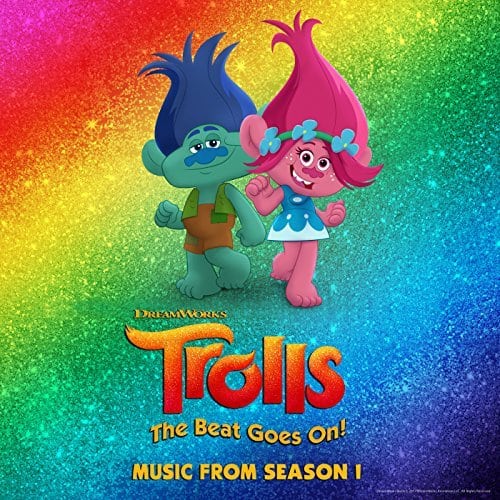 The music from season 1 of Trolls: The Beat Goes On! is available for pre-order on iTunes, Amazon and Google Play.
Creating DreamWorks TROLLS THE BEAT GOES ON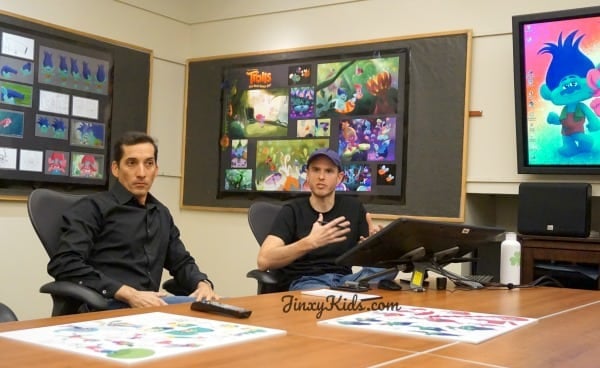 Next up we spoke with Frank Molieri, Supervising Producer, and Jim Mortensen, Supervising Director, who shared some of the details that make DreamWorks Trolls: The Beat Goes On! unique. Jim's responsibility is to manage the team that takes the script and makes a storyboard out of it and is responsibility for an episode all the way from that point through the animatic process.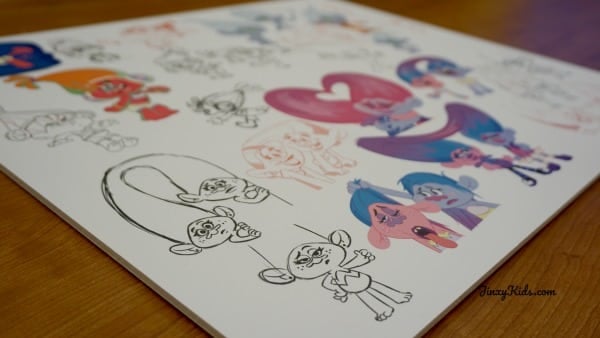 Jim walked us through the process of how a storyboard artist uses Storyboard Pro to take that script and add the visual component of the story process. They add elements such as expressions, actions, and other visual elements that bring the story to life. At that point the storyboards go to Animatics. The editors will take Skylar and Amanda's voice record and put the panels to time. The Animatic will be screened in front of the executives to see if it gets a laugh. If it doesn't get a laugh, they try again and make some revisions. Then once the episode is "locked" they send it over to Frank Molieri's team.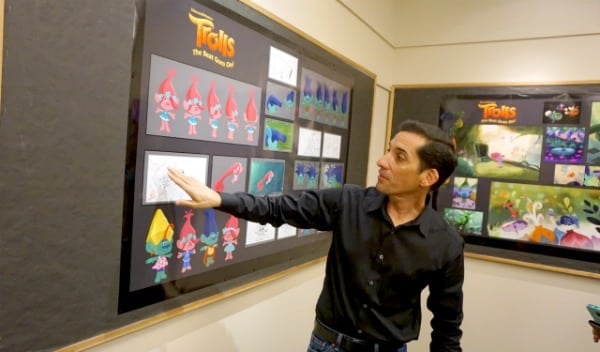 Frank's team takes over and starts addressing things like the art direction and the timing to give each moment the unique twist that Trolls requires. They then send it off to their partner studios where it gets animated. When they get the animation back they make adjustments, do a "sound effects pass", add music from the composer and the voices. During a final mix they make sure all the levels and then send it to quality control and finally they send it out to Netflix.
In the DreamWorks TROLLS THE BEAT GOES ON Recording Booth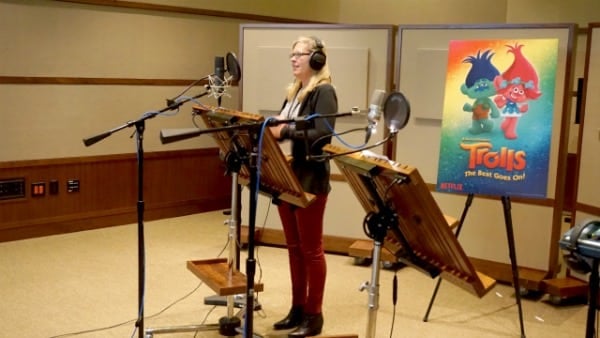 After learning so much about what goes into creating every episode of Trolls, I was excited to have a chance to see what it's like to be a part of the process. I headed into the recording booth and did a voice over for Poppy in this scene with Branch.
I was given a script with both my lines as Poppy, as well as Branch's lines. Then, while listening to a recording of Branch saying his part, I had to fill in with Poppy's words. Recording a voice over is super fun, but it's tricky to get the timing just right! How do I sound as Poppy?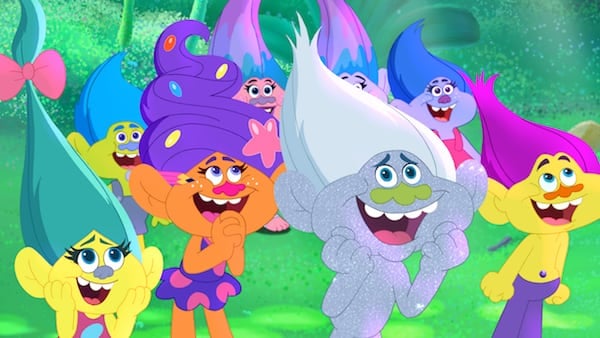 DreamWorks Trolls: The Beat Goes On!
Premieres January 19, 2018
Picking up where the film left off, the Netflix original series is an all-new chapter in the the endlessly upbeat adventures of the Trolls as Poppy, Branch and all of Troll Village keep the party going in their fantastical forest home. Executive produced by Matthew Beans (Robot Chicken), the series features Skylar Astin (Pitch Perfect 1 and 2) and Amanda Leighton (This Is Us, The Fosters) as the voices of Branch and Poppy with original songs written and produced by Alana Da Fonseca (Pitch Perfect 3). The series will premiere exclusively on Netflix in the U.S., Canada, Latin America, UK, Australia, New Zealand, Ireland, the Nordics, Benelux and France. Watch the Trolls: The Beat Goes On!
Visit netflix.com/trollsthebeatgoeson for more information.

About the Author
Latest Posts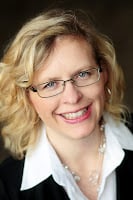 I'm a busy blogger and happy auntie of Little R, who I spend time with several days per week – which ends up being the FAVORITE part of my week! We love to cook together, do crafts, play outside and turn boring errands into fun adventures.