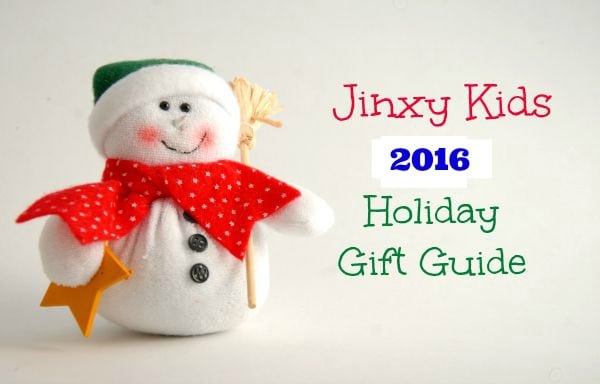 The 2016 Holiday Season is quickly headed this way and Jinxy Kids is getting ready by accepting 2016 Holiday Gift Guide Submissions.
Fun toys, clothing, gear and other children's products featured in our featured in our 2016 Holiday Gift Guide will each be highlighted in a dedicated post with product information, image(s) and a "where to buy" link. These posts will remain a permanent part of our web site. They will also be promoted to our Twitter followers (88K+) and Facebook fans (5K) and included in our email newsletter.
Want to have YOUR product featured in the Jinxy Kids 2016 Holiday Gift Guide? We request a product sample (minimum $50 value*) or, if you prefer not to send product, you may be included for a $25 insertion fee.

(*If the value of your product is under $50, we can make arrangement for partial payment or request multiples of the product.)
We also offer the option of including a reader giveaway along with your featured post to further promote your product. The giveaway can include optional entries such as liking your products Facebook page and following your brand on Twitter. Minimum giveaway prize value is $40, or we can host a giveaway for a smaller prize for an additional $20 fee.
(Email thriftyjinxy @ live.com with subject line "Jinxy Kids 2016 Holiday Gift Guide")