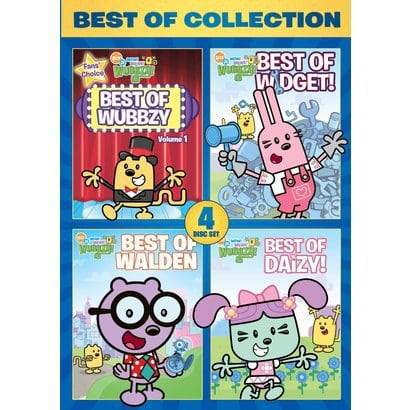 Hey, Wubbzy Fans! It's the best ever "Best of" Wow! Wow! Wubbzy! collection yet. If you have enjoyed, or if you've missed, the recently released series of Wubbzy! DVDs, you can now get them all in one boxed set. Whether your child's own personal favorite is Daizy, Walden, Widget or Wubbzy himself, you'll find them featured in this set.
With the Wow! Wow! Wubbzy!: Best of Collection you get the biggest and best Wubbzy DVD box set to date! The ultimate episodic assortment, the Wubbzy Best of Collection features four jam-packed discs in one complete compilation that will bring nonstop fun, fun, fun and important life lessons to families everywhere! The Wubbzy Best of Collection from Anchor Bay Entertainment will "wow" Wubb lovers nationwide starting October 1.
With 28 episodes and more than four and a half hours of engaging entertainment chockfull of singing and dancing, Wow! Wow! Wubbzy: Best of Collection (SRP $19.98) is the must-have addition to any preschooler's DVD library – and a perfect gift for this holiday season! Each of the four fun-filled discs in the debut set stars a different Wuzzleburg friend: Best of Wubbzy centers on everyone's favorite bendy-tailed guy; Best of Widget features the busiest builder and fix-it whiz around; Best of Walden celebrates the town's smartest little scientist; and Best of Daizy honors the sweet girly girl next door. And the fun doesn't stop there –the Wubbzy Best of Collection includes coloring and activity sheets – and toe-tapping music videos, too!
Produced by Bolder Media, Inc. in association with Starz Media's Film Roman Animation Studio, Wow! Wow! Wubbzy! has been a hit with young viewers and families since its 2006 premiere on Nickelodeon®. The top-rated series, which airs daily on Nick Jr®, supports preschool social skills including listening, compromising, helping and appreciating others, and the use of humor as a coping skill.
Reader Giveaway: One lucky Jinxy Kids reader will receive the Wow! Wow! Wubbzy!: Best of Collection. To enter, just complete the entry form below by 11:59pm ET on 11/18/13. Good luck!