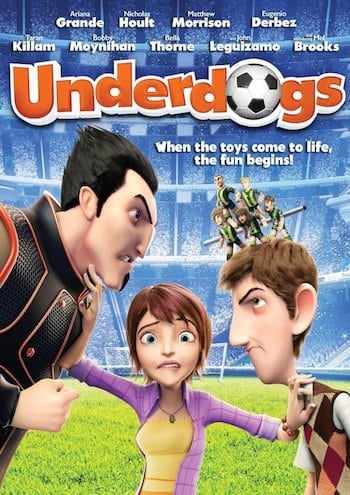 Underdogs is coming to DVD, Digital HD and On Demand from Starz Digital, on July 19, 2016. I have to be honest that we hadn't heard of this movie, but now that we have heard more about it, we're looking forward to watching! The story sounds both fun and uplifting and it has a super interesting cast of voice actors! Here are some details:
Featuring an all-star cast of voice talent headlined by Grammy® nominated pop superstar Ariana Grande and Emmy® and Golden Globe® nominee Matthew Morrison ("Glee"), the inspiring family-friendly comedy, Underdogs, arrives on DVD from Anchor Bay Entertainment and The Weinstein Company, as well as on Digital HD and On Demand from Starz Digital, on July 19, 2016. Directed by Argentinean Academy Award winner Juan José Campanella (The Secret In Their Eyes), the heartfelt story about what it truly means to be a hero also features Nicholas Hoult (Mad Max: Fury Road, X-Men franchise), Eugenio Derbez (Miracles from Heaven), Taran Killam (12 Years a Slave, Ted 2), Bobby Moynihan ("Saturday Night Live", Inside Out), Bella Thorne ("Scream" the TV series, The DUFF), John Leguizamo (Ice Age franchise, "Bloodline") and Mel Brooks (Hotel Transylvania 2).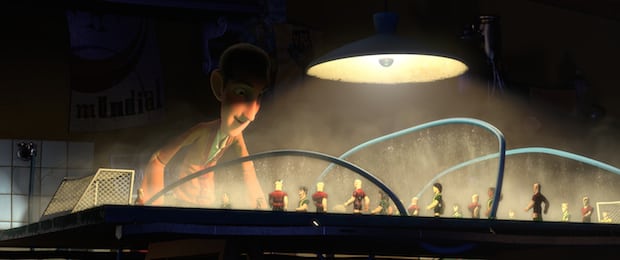 Underdogs follows Jake (Morrison), a shy, but talented, foosball player. His passion for the game is rivaled only by his love for free-spirited Laura (Ariana Grande). With her encouragement, he beats the town bully, Ace (Nicholas Hoult), in a foosball game. But everything changes when Ace becomes the world's best soccer player and returns years later to turn their village into a new sports stadium. He starts to destroy everything and kidnaps Laura in the process. Just when it looks like all hope is lost, the toy figures from Jake's foosball table come to life! He and the players embark on a wild adventure to save Laura and reclaim their village. With the help of his team, his town, and a little bit of magic, Jake will try to save the day.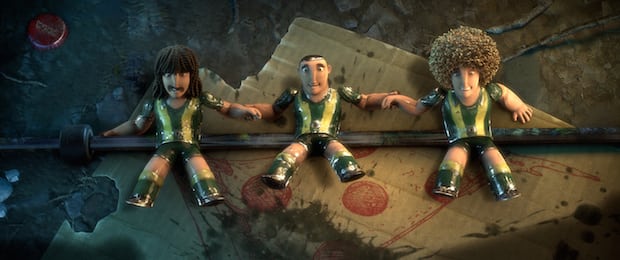 This release includes eight bonus "In the Recording Booth" featurettes with Matthew Morrison, Ariana Grande, Bella Thorne, Taran Killam, Nicholas Hoult, John Leguizamo, Bobby Moynihan and Eugenio Derbez, Underdogs will be available on DVD for the suggested retail price of $19.98.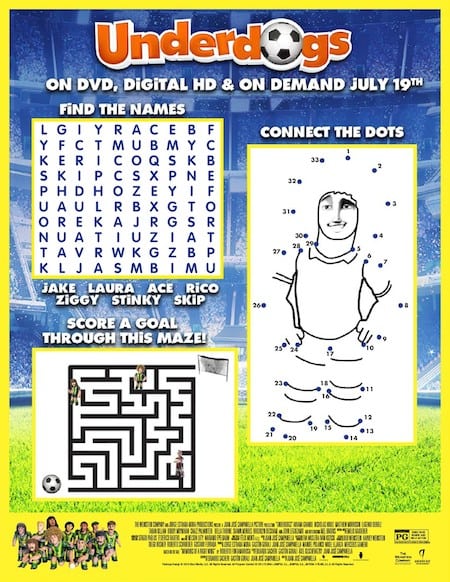 For some more Underdogs fun, you can grab this Underdogs Printable Activity Sheet. It includes a maze, word find and dot-to-dot puzzle!
Reader Giveaway: One lucky Jinxy Kids reader will win their own copy of Underdogs on DVD. To enter, just complete the entry form below by 11:59pm ET on 8/2/16. Good luck!