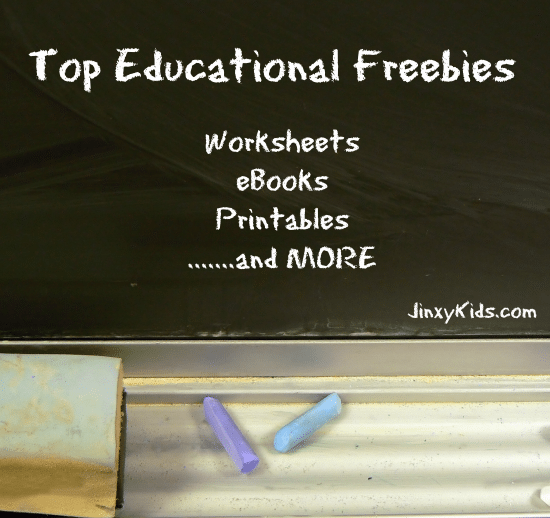 We're starting a new feature here at Jinxy Kids with a weekly list of the Top Educational Freebies! Each week we'll have things like printables, eBooks, online programs and lots more. Thanks to How to Homeschool for Free for compiling the list!
Free Printable Word Search Puzzles – Right here at Jinxy Kids we have free printable word search puzzles on all sorts of topics from sharks, to U.S. Presidents to major holidays.
Free BOB Book Printables – Printable FREE worksheets to go with the set of Bob Books (sets 1 -5)
WannaBe eBook Series – Christian-based occupation unit-study series geared towards ages 8-13. Free for a limited time.
Groundhog Day Unit Study Resources – Groundhog Day is Feb. 2nd and there are lots of great activities to do with the kids!
Free App Friday – 25 FREE educational apps for kids available on 1/31/14!
Graphing Through The Super Bowl – a printable graph for kids to fill out during the Super Bowl!
Football Fun Free Printables – 15 more great worksheets for the Big Game weekend!
Multiplication Practice Worksheet For Numbers 3-12 – Free printable worksheet for kids to practice their 3-12 multiplication facts
Black History Month Calendar Connection Cards – 29 fact cards to learn about 27 African-Americans who have contributed to our country in some incredible ways! (Written for 3rd – 6th grade level)
Homeschooling With Netflix – a great resource on Facebook that lists all of the videos on Netflix that can be used for educational purposes! If you're not a member of Netflix then you can try it out for one month for free here!
HUGE Winter Olympics Printables Pack – for ages 2-9 and over 120 pages!
ALEKS Math Program – FREE 2-month free trial for homeschoolers! (Designed for grades 3-12)
FREE Children's Kindle Books – the top 100 completely FREE Kindle Books for kids!
Number Bond Worksheets – use these worksheets to help your kids learn their addition and subtraction fact families!
Free Printable Logical Fallacy Poster – you can print it on your own printer for free or they can print and mail one to you for $20.
Free Spelling Practice With Spelling City – they have word lists for all grade levels, or you can input your own word list for extra spelling practice!