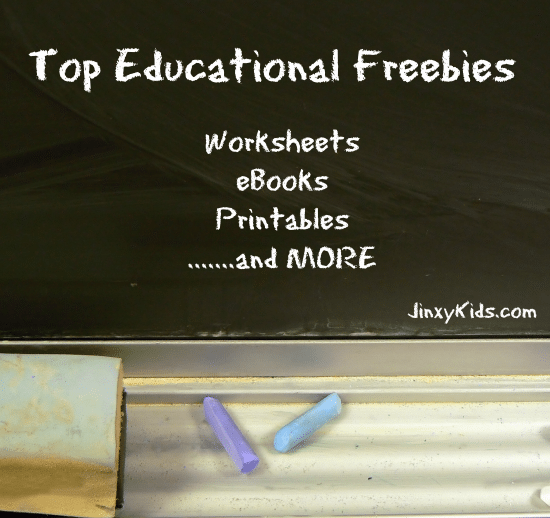 Since it was so popular the first week (last week) we're bringing back this new feature here at Jinxy Kids – a weekly list of the Top Educational Freebies! Thanks to How to Homeschool for Free for compiling the list!
Angles Chart and Flashcard Set – free set teaching angles of a circle and flashcards to help kids to memorize them
Olympics Winter Games Coloring Book – FREE from Educents!
FREE App Friday at Smart Apps For Kids – 20 free apps available on 2/7/14 only
Winter Olympics Games Book – FREE My Country 2014 Winter Olympic Games Activity Book
Biography Research Paper Resource Pack – for ages 9-13
Several FREE Writing lesson printables (scroll down for the Young Writer's Survival Kit) from Melissa Forney
Free Mad Minutes Math Game For 2nd Graders
Free Doctor Pretend Play Printables – an eye chart, checkup report and more (for younger kids)
Visual Latin – 2 intro lessons + 2 FREE lessons of Latin
Handwriting Practice Sheets – lots of free printables for every age
Free Valentine's Day Printable Cards – choose from dinosaurs, fairies, oceans, or owls
Free Piano Lessons with Zebra Keys
Free Kindle Books For Children – The top 100 completely FREE Kindle Books for kids!
Reading Eggs – 14 Day free trial membership to Reading Eggs
Disclosure: This post may contain affiliate links that help support our site with no additional cost to you. See our complete disclosure policy here.