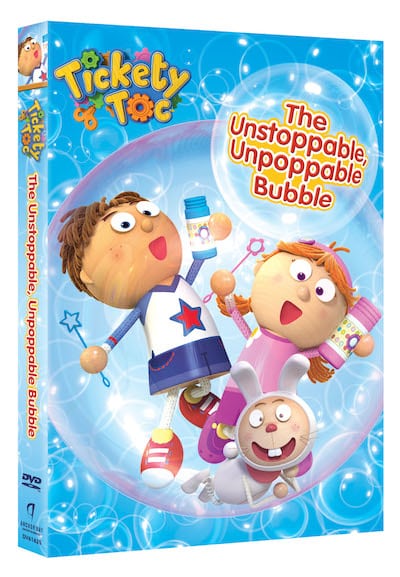 Good news!  There is a brand-new Tickety Toc DVD now available at stores and online nation-wide.  "The Unstoppable, Unpoppable Bubble" features six episodes of the hit Nick Jr. show that are bursting with fun for young fans.  Plus there is a special bonus!  It includes an adorable paint booklet so preschoolers can enjoy art time, as well as viewing time, along with their favorite Tickety Toc characters!
In "The Unstoppable, Unpoppable Bubble", our comedic heroes Tommy and Tallulah test McCoggins' new unpoppable bubble formula! But soon an unpoppable bubble becomes so large it engulfs the whole town! Will the town be rescued from the extra-large and extra-strong bubble? Will Tommy and Tallulah make it out of the bubble in time to chime? In this and 5 other exciting adventures, the Tickety Town team, along with your own preschoolers, will learn the importance of teamwork, community and social responsibility.
To celebrate its latest Tickety Toc DVD release, Anchor Bay Entertainment is "serving up" a new partnership with Cedar's Mediterranean Foods, Inc.  As part of this timely – and tasty – new promotion, if you purchase an 8-ounce package of Cedar's All Natural Hommus, 18-ounce package of Cedar's Taboule Salad, or a 30-ounce package of Cedar's Spinach Dip, you will receive an instant $2 discount off of "The Unstoppable, Unpoppable Bubble" or "Chime Time Adventures."  For a limited time, you can also grab a printable coupon here:
Reader Giveaway: One lucky Jinxy Kids reader will win the Tickety Toc "The Unstoppable, Unpoppable Bubble" DVD, along with a coupon for one free Cedar's product. To enter, just complete the entry form below by 11:59pm ET on 1/28/14. Good luck!