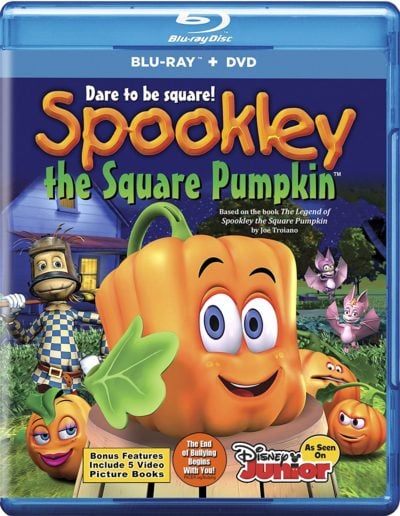 I just love kids' Halloween movies! I'll admit that I'm a bit of a wimp when it comes to scary movies, so kids' movies are a great way for me to still get into the Halloween spirit while snuggling on the couch with my kiddos.
For the first time ever, Spookley the Square Pumpkin is now available to own in HD! It's available in a new Blu-ray combo pack (which also includes the DVD version) and also on Digital HD from Cinedigm. This animated television special has been broadcast on Disney Junior for years now and is a Halloween tradition for many families.
The movie is based on The Legend of Spookley the Square Pumpkin, a book written and created by Joe Troiano that tells the story of a square pumpkin living in a round pumpkin patch on Holiday Hill Farm. Although Spookley initially faces ridicule from his fellow patch-mates, he goes on to save the day during a terrible storm. As a result, all the pumpkins in the patch learn that the things that make you different make you special.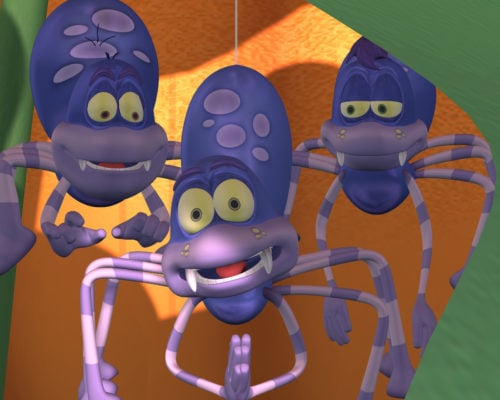 In a world where the only good pumpkins are round pumpkins, Spookley is teased because of his square shape. Shunned by the other pumpkins, Spookley is befriended by Edgar, Allan and Poe, three hilarious spiders, who convince him that, square or not, he has a right to be the Pick of the Patch. But Big Tom and Little Tom, the pumpkin bullies in the patch, continue to tease and taunt Spookley. Encouraged by kindly Jack Scarecrow and his bat sidekicks, Boris and Bella, Spookley tries his best, but he isn't sure he has what it takes until a mighty storm threatens Holiday Hill Farm. When the storm blows the round pumpkins across the patch towards the raging river, Spookley realizes it is up to him and his square shape to save the day.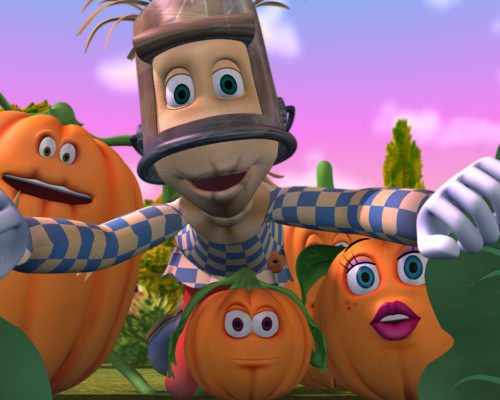 To go along with this positive message, this year Spookley the Square Pumpkin also returns as the "Official Spokes-Pumpkin" of National Bullying Prevention Month through a partnership with PACER's National Bullying Prevention Center. PACER, a non-profit organization based in Minneapolis, provides innovative resources for students, parents, educators, and others, and recognizes bullying as a serious community issue that impacts education, physical and emotional health, and the safety and well-being of students. For more information on Spookley's activities with PACER, visit PACER.org.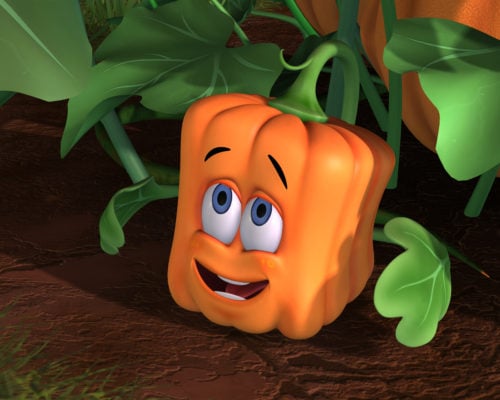 The Blu-ray combo pack includes 5 exclusive video picture books (not available in HD):
The Legend of Spookley the Square Pumpkin
The Legend of Beacon the Bright Little Firefly
The Legend of JellyBean and the Unbreakable Egg
The Legend of Lyla the Lovesick Ladybug
The Legend of Mistletoe and the Christmas Kittens
You can also visit the official Facebook page as well as the official website to keep up with all things Spookley.
Enter our reader giveaway HERE!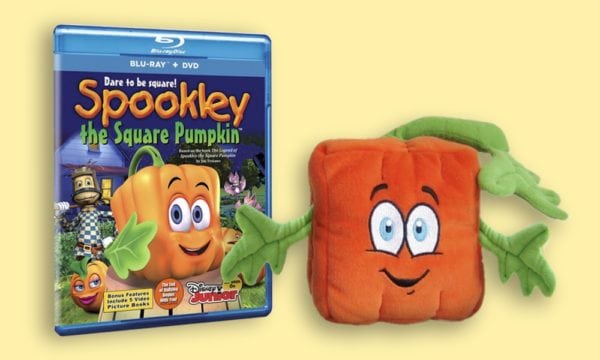 Pages: 1 2