We are so excited about HOTEL TRANSYLVANIA 3: SUMMER VACATION is coming to theaters THIS weekend and also excited to let you know about a great option for everyone, including those with special needs, to see it at a sensory-friendly screening at Regal theaters on Saturday, July 14th.
For those on the autism spectrum, a traditional movie theater setting can be a challenge with the loud volume, the darkness, and staying quiet and in one spot for a long period of time can be difficult.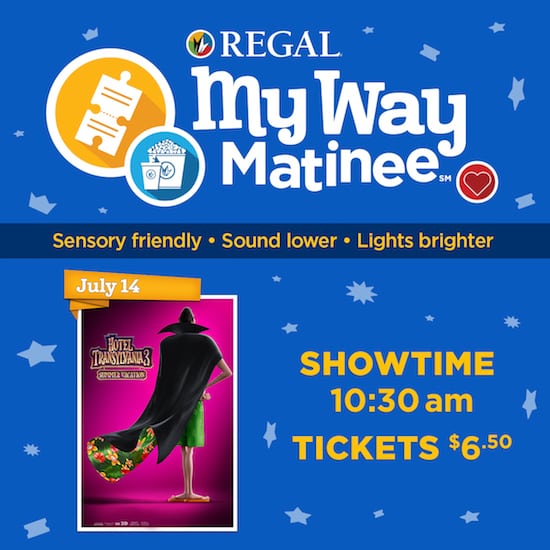 My Way Matinee gives everyone the opportunity to experience the movie with the sound turned down and the lights turned up. Plus those in the audience can sing, dance and shout during the show.
Catch the My Way Matinee Hotel Transylvania 3 Screenings at Regal this Saturday, July 14, at 10:30 a.m. All tickets are $6.50 for sensory-friendly events. You can find a full list of participating Regal theaters here.
About HOTEL TRANSYLVANIA 3: SUMMER VACATION, in theaters July 13:
In Sony Pictures Animation's Hotel Transylvania 3: Summer Vacation, join our favorite monster family as they embark on a vacation on a luxury monster cruise ship so Drac can take a summer vacation from providing everyone else's vacation at the hotel. It's smooth sailing for Drac's Pack as the monsters indulge in all of the shipboard fun the cruise has to offer, from monster volleyball to exotic excursions, and catching up on their moon tans. But the dream vacation takes a dangerous turn when Mavis realizes Drac has fallen for the human captain of the ship, Ericka, who holds a mysterious secret that threatens them all.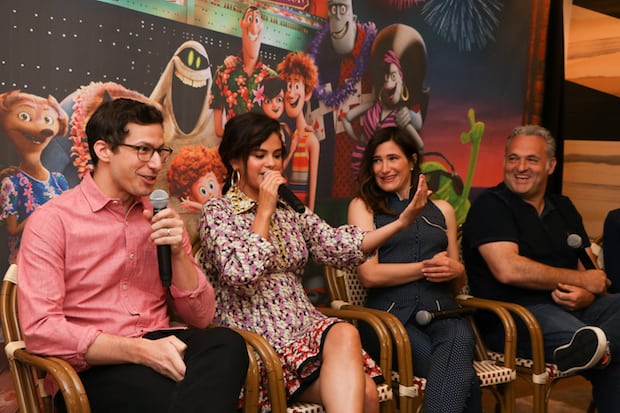 For more Hotel Transylvania 3 fun, check out our coverage of the Hotel Transylvania 3 Press Conference with the cast including Selena Gomez, Andy Samberg, Kathryn Hahn and Director Genndy Tartakovsky.