As  the weather turns cooler, it's a good time to cuddle up inside and read a few more books! That means it's a good time to add a few new books to your family's library this fall!  We've pulled together six books from Schiffer Kids that we think your kids will have a lot of fun reading while they learn along the way!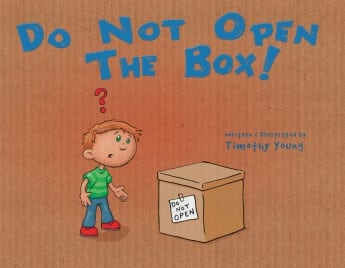 Do Not Open the Box by Timothy Young
Benny spots a big cardboard box with a note taped to it saying, "Do Not Open." His imagination runs wild, and it's almost too much for a curious boy to bear. He thinks about all of the things, good and bad, that could be inside that box. A birthday robot? A wolverine? An entrance to another world? What should he do? This endearingly illustrated tale of a classic childhood dilemma has a surprise ending and offers a peek into a young boy's mind as he weighs tantalizing possibilities against the risks of breaking the rules.
Timothy Young has had a lot of fun jobs; he's been an animator, puppet maker, toy designer, sculptor, art director, illustrator, and graphic designer. He has designed for Pee-Wee's Playhouse, the Muppets, Disney, the Simpsons, and Universal Studios. Now he is the author/illustrator of six published picture books including I Hate Picture Books! and The Angry Little Puffin. He lives with his family on the Eastern Shore of Maryland. Find out more about him and his books at www.creaturesandcharacters.com.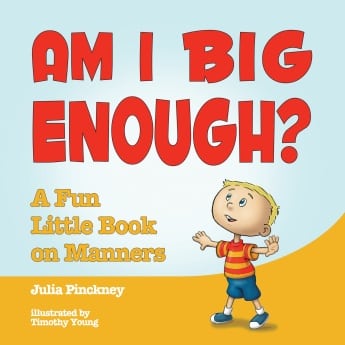 Am I Big Enough?: A Fun Little Book on Manners by Julia Pinckney, Illustrations by Timothy Young
Finn cautiously observes his family doing all kinds of daily activities and wonders if he is big enough to do them, too. Join the young boy as he goes from cautious to confident and learns when and how to use good manners. Preschool-age children will delight in placing their hand on the clever handprint to see if they, like Finn, are big enough to do things like use their quiet voice at the library, share a cookie, and shake hands with grown-ups.
Julia Pinckney lives in Charleston, South Carolina, and is the proud mother of two sons with impeccable manners.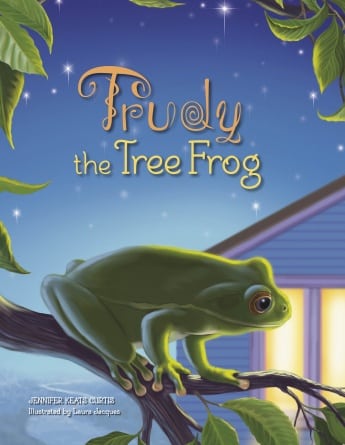 Trudy the Tree Frog by Jennifer Keats Curtis, Illustrated by Laura Jacques
In this classic grass-is-greener-elsewhere tale, the amphibious Trudy is happy sleeping in a bark-covered tree until one wide leap lands the little tree frog on a young girl's bedroom windowsill. There, she spies the girl's wondrous sleeping quarters and becomes desperate to get out of her scratchy limb bed and onto those fluffy pillows. See what happens when she gets her wish.This rhyming tale will make young readers smile and encourage them to think about slumbering in their own comfy beds. For ages 5 to 8.
Two tiny "spring peepers" regularly disrupting author Jennifer Keats Curtis's family dinners served as the impetus for this heartwarming and humorous tale. The award-winning author is frequently found among students and teachers talking about literacy and conservation. She has penned numerous nonfiction and realistic fiction books about animals, including Osprey Adventure, Saving Squeak: The Otter Tale, and Squirrel Rescue. Among other recent titles are Turtles In My Sandbox, Kali's Story: An Orphaned Polar Bear Rescue (Children's Choice Book Award), Seahorses, and Salamander Season. Jennifer resides in Maryland with her family and a wide variety of pets. Visit her website atjenniferkeatscurtis.com.
Laura Jacques's artistry in this work inspires awe as she magically captures the emotions of the girl and hapless frog. Jacques graduated from Paier College of Art with a BFA in illustration. Her illustrated children's books and educational products focus on wildlife, nature, and environmental awareness. Book honors and awards include Baby Owl's Rescue (da Vinci Eye/The Eric Hoffer Award), Whistling Wings (NOBA National Outdoor Book Award, Moonbeam Bronze Award, and The Mom's Choice Award), and For the Birds: The Life of Roger Tory Peterson (NSTA-CBC Outstanding Science Trade Books for Children, NOBA National Outdoor Book Award, John Burroughs List of Nature Books for Young Readers, and NCTE Orbis Pictus Award for Outstanding Nonfiction for Children). Visit Laura's website at http://www.laurajacques.com.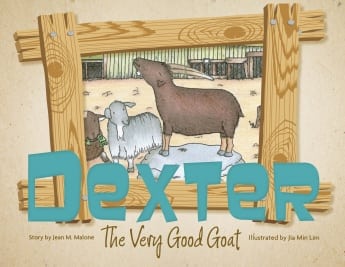 Dexter the Very Good Goat by Jean Malone, Illustrated by Jia Min Lim
Dexter is the top goat at the petting zoo, but he's not the bravest, much to his embarrassment. He has the longest, smoothest, and straightest horns of all eleven goats, and he's very good at using them to keep the others in line. He's also a very good boy. Dexter never grabs the paper maps out of visitors' hands or sneaks into the alpaca pen for an afternoon grain snack. But he's secretly afraid of some things, like the generator, the big green ball, and–horror of horrors–having his hooves trimmed. Follow the zoo-yard adventures of this irascible goat and find what goes on inside his head as he learns to overcome his fears. Age level: Early Readers: Ages 5–8
Jean M. Malone is an author, librarian, and former zoo volunteer. She lives in middle Tennessee with her husband and spends her free time being herded by a very naughty Australian cattle dog.
Jia Min Lim is a Hertfordshire creative who specializes in illustration, character design, and making bespoke stuffed toys. She lives in the UK, where she can almost always be found equipped with a pencil, sketchbook, and ukulele.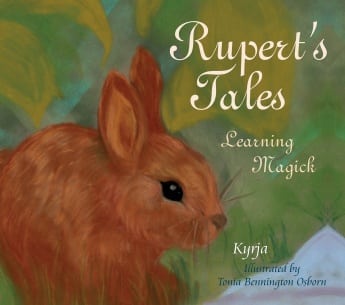 Rupert's Tales: Learning Magick Kyrja , Illustrated by Tonia Bennington Osborn
Follow the adventures of Rupert the rabbit as he learns that intentions and imagination are two of the most important ingredients in all things magickal. In "Tools of the Craft," Rupert meets a family who has come to teach their children about tools they use in crafting magick. "Rupert's Magickal Imagination" has him watching children practicing using their intentions when one of them wonders what happens if you don't believe in magick. With two rhyming stories and 23 vibrant illustrations, this book offers an enchanting way to help your child begin a journey to learn about magick. For readers aged 5 to 8.
Kyrja has authored a growing list of titles, including the Rupert's Tales, Gatekeeper's Choice, Shards of Light series, and The Monster Got Mom. She and her husband, Randy, lead an Adopt-A-Road crew, grow food—not lawn, founded the "Hands of the Goddess" homeless outreach program, and have a "Free Share" library in their yard. Kyrja loves to write and sing children's songs, so may burst suddenly into song at any moment! Tonia's life-long labor of love is exploring and expressing the miracles that make up her world. Formally educated at OSU, the Columbus College of Art & Design, the Dayton Academy of Design, Tonia expertly creates in soft pastel, graphite, watercolor, acrylics, and oils. Her favorite medium is soft pastel on suede—an art form that she has lovingly embraced and genuinely enriched through her own unique innovations and experiments. Tonia's work is displayed internationally with various galleries and private clientele.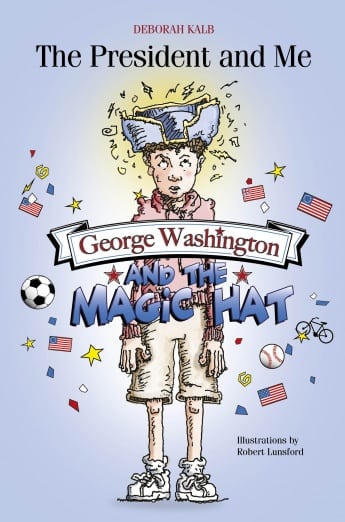 The President and Me: George Washington and the Magic Hat by Deborah Kalb, Illustrations by Robert Lunsford
Adventure, history, and the drama of school life intertwine in this engrossing tale of a fifth-grade boy struggling to find his place after his best friend abandons him. Find out what happens when Sam's class takes a trip to Mount Vernon, where he accidentally buys a bossy three-cornered hat that sweeps him off to the eighteenth century and a warm friendship with George and Martha Washington. As Sam travels back and forth between his present-day life and incredible adventures with George Washington, he learns about history, himself, and the nature of friendship and families.
Deborah Kalb is a freelance writer and editor who spent more than 20 years working as a journalist. She is the co-author, with her father, Marvin Kalb, of Haunting Legacy: Vietnam and the American Presidency from Ford to Obama, and has always been interested in presidents and history. She lives with her family in the Washington, DC, area.