Cartoon Network's beloved blue jay is taking the spotlight in the all-new DVD, Regular Show: Mordecai Pack! This new release (available January 27) is filled with 16 hand-picked, Mordecai-centric episodes from the Emmy® Award-winning animated comedy, Regular Show: Mordecai Pack follows everybody's favorite slacker blue jay, his best friend Rigby and the rest of the gang on their extreme and surreal misadventures. Fans of Regular Show series will want to add this DVD to the previous great DVDs including Regular Show: Rigby Pack, Regular Show: Mordecai and Margaret Pack, and Regular Show: Fright Pack among others, as well as the first three full-season home entertainment releases of the series.
Created by J.G. Quintel, Regular Show follows two best friends and park groundskeepers, Mordecai and Rigby, a blue jay and a raccoon whose attempts to escape their everyday boredom take them to fantastical – and sometimes unintended – extremes. Maintenance duties for Rigby and Mordecai are just dull enough to somehow propel the pair into different wild shenanigans each episode. Their boss, the gumball machine Benton, does not enjoy having to manage their antics. However, Rigby and Mordecai's insane escapades often delight Pops, a talking lollipop, who has spent his entire life in the park.

Since its September 2010 debut, Regular Show has solidified itself as one of Cartoon Network's most popular series, consistently posting ratings that are anything but regular. During its fifth season on the network, Regular Show ranked as the top show in its time slot among boys 6-14 and kids 6-14, according to Nielsen Media Research data. New episodes from the sixth season of the series are currently in premieres on Thursday nights at 7:30 p.m. (ET/PT) with multiple replays throughout the week.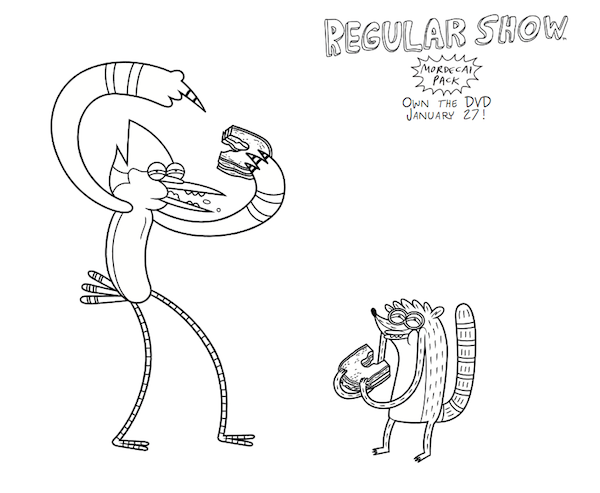 Coloring Pages: For some extra fun with Mordecai and his pals, we have a bunch of Regular Show Coloring Pages coloring sheets for you to print out for your kids and let them loose with their crayons, markers and colored pencils.
Reader Giveaway: One lucky Jinxy Kids reader will win their own copy of the Regular Show: Mordecai Pack. To enter, just complete the entry form below by 2/15/14. Good luck!