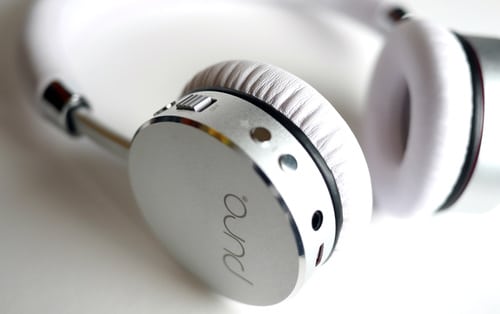 If your kids love listening to music, but you're concerned about what all that headphone-wearing might be doing to their hearing, you'll want to check out Puro Headphones. Puro specializes in high end headphones with a passion for hearing health and superior sound quality at reasonable price. They just released their very first product called Puro Kids®, an innovative new type of headphone that combines studio grade listening quality with a volume limiter that prevents the volume from exceeding 85 dB.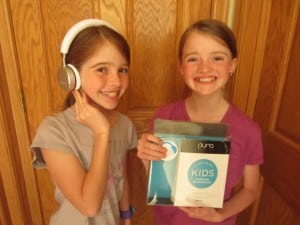 I was probably just as excited to receive these and try them as our daughters were! I wanted to hide them and never let the kids use them… but I was nice and decided to share. The Puro Headphones were very comfortable. I was able to pair them quite easily with an Ipad, as well as my cell phone which is not an Apple product. We all four tried them out. We listened to music, and then we also tested them out as a headset and paired them with our cell phones.
First of all, I was not excited by the white color but they seemed to wipe clean. My preference would have still been basic black. (A tan/gold color is also available.) We all thought the sound quality when listening to music was very good, and would highly recommend them for that. However, when we tested them out as a headset for conversation, I think we all concluded that they were much better for music. We could hear and speak well enough but there is a bit of a "tunnel sound" from the person wearing them. All in all we were impressed and liked them. Might have to add a pair for the other daughter onto the Christmas list for next year!

Studio Grade Bluetooth Wireless/Wired Headphones for Kids

Kids wireless/wired Bluetooth headphones, with Puro Balanced Response® sound curve along with Healthy Ears® hearing protection, are unique on the market and a great choice for parents who are concerned about hearing health but want to give their children a product that they will actually want to use.
Advanced and unique DSP-based Volume Limiting Ear Protection max out at 85 dBA, the maximum level recommended by audiologists. Our headphones actively monitor volume levels to protect your kid's ears while delivering fantastic studio grade audio.

Puro Balanced Response® sound curve produces such high quality music reproduction that they will not want to listen to them any louder. The sound is so good that we expect parents to want some for themselves and their bigger noggins.

18 hour battery life, supple protein leather ear cups and headband, and very efficient noise attenuation make for a very comfortable product.
Reader Giveaway: One lucky Jinxy Kids reader will win their own set of Puro Sound Labs BT2200 Wireless Headphones. To enter, just complete the entry for below by 11:59pm ET on 5/7/15. Good luck!
Puro Headphones

About the Author
Latest Posts