We love Peppa Pig! Even though Little R has passed the key age for Peppa he will still find the Peppa Pig app on my iPhone that has been there since he was a toddler and play it for a bit. I love seeing that cute smile he still gets on his face when he plays, even though he is a "big boy" now. He will be heading back to school in a couple of weeks and Peppa is ready to go back to school too with the DVD release of Peppa Pig: School Bus Trip – available August 4 from Entertainment One!
You can get this new adventure as a special DVD + Scholastic Mini Book Gift Set (SRP: $19.98) and it will also be available for Digital Download. The Scholastic Mini Book included as part of the Gift Set is titled "Class Trip," which fits perfectly with the back-to-school theme and makes a great "watch and read" opportunity for parents and kids.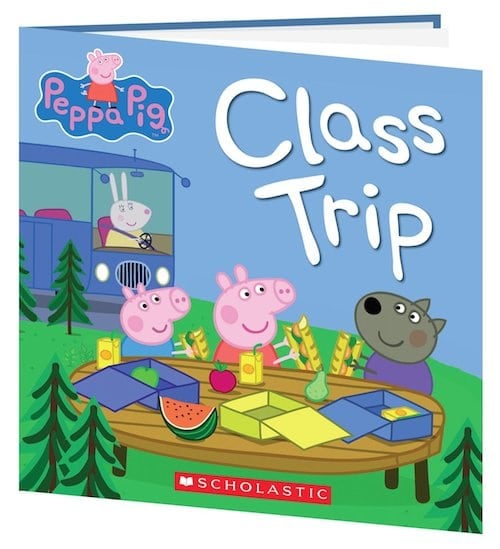 In the Peppa Pig: School Bus Trip DVD, Peppa and her school friends take a trip to the mountains, where she and her classmates have fun hearing echoes, having a picnic, and singing their favorite tune on the bus ride home – the "Bing Bong Song." Back at school, Peppa attends gym class, acts in the school play, participates in sports day, and much more! Young viewers will love these hilarious adventures filled with lots of snorts, laughter, sunshine, and of course, jumping in muddy puddles!
The "peppasodes" include:
"School Bus Trip"
"The School Camp"
"Gym Class"
"School Play"
"Mister Skinnylegs"
"Jamble Sale"
"Sports Day"
"The Quarrel"
"Madame Gazelle's Leaving Party"
"The Library"
Airing on Nick Jr., Peppa Pig follows the adventures of Peppa, a loveable, exuberant little piggy who lives with her brother George, Mummy Pig and Daddy Pig. Peppa Pig episodes are available on DVD, and for download on iTunes and Amazon Instant Video.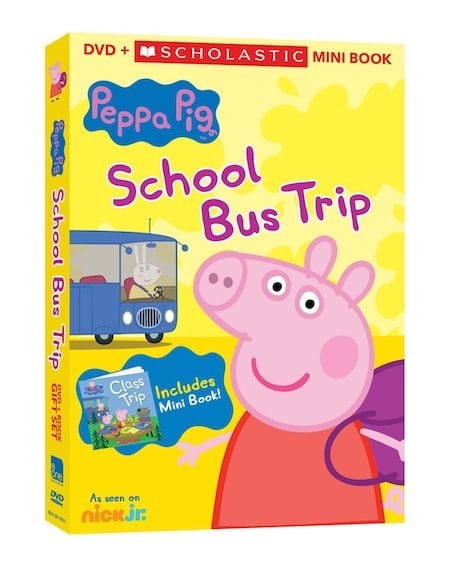 Reader Giveaway: One lucky Jinxy Kids reader will win their own Peppa Pig: School Bus Trip DVD and book set. To enter, complete the entry form below by 11:59pm ET on 8/24/15. Good luck!
Peppa Pig: School Bus Trip