It is hard to believe that summer has flown by and the kids are back in school. To get into the groove of the school year, we are joining in with a bunch of other awesome bloggers as part of the Back 2 School Giveaway Hop! The sponsor for the Jinxy Kids giveaway is National Geographic Kids Books and we have some awesome titles to tell you about!
The host of this event, The Review Wire, will be offering 4 prizes! 3 winners will each receive a Student All Star Set and 1 Grand Prize winner will receive a mix of products worth over $50.00 from TreeSmart. Make sure to swing over and enter to win! Once you have entered the Jinxy Kids giveaway, be sure to enter at all the other blogs listed at the end of this post!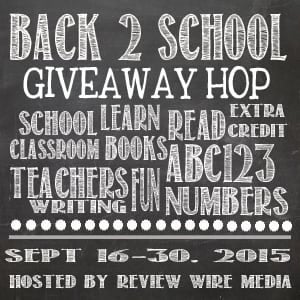 Now on to National Geographic! This Fall, National Geographic is debuting several titles for kids of all ages and reading levels that are perfect for getting into the back-to-school groove and priced to NOT bust the back-to-school budget.
Here are a few of the featured books:
Explore My World series (ages 3-7, $4.99 each) – These engaging Explore My World picture books on subjects kids care about combine simple stories with unforgettable photography. They invite little kids to take their first big steps toward understanding the world around them and are just the thing to curl up with together and read aloud.

In Explore My World: Baby Animals readers learn about a day in the life of a baby animal, from mama's care to the great world beyond.

Explore My World: Nighttime delves into the nighttime and all its mysteries, from the stars to hooting owls.

NG Readers series (ages 5-8, $3.99 each) – Each book in the best selling National Geographic Readers series is written in an easy-to-read format and falls into one of five reading levels and is labeled by level on its front cover. The simple, fun text is only the beginning: National Geographic photography and kid-friendly diagrams draw kids in and get them reading about their favorite subjects. Developed by National Geographic in close consultation with literacy education experts, this series is one teachers, librarians, parents, and grandparents know they can trust to nurture every child's love of reading. New this season are the following:

NG Readers: Flutter, Butterfly

(Level 3)

Chapters series (ages 7-10, $5.99 each) – This chapter book series picks up where the Readers series leaves off.

For sports fans and animal lovers, Chapters:

Hoops to Hippos, True Stories of a Basketball Star on Safari

is a slam dunk. San Antonio Spurs' Boris Diaw takes young readers on safari as he explores his off-court passion of wildlife photography! Join Diaw as he escapes from stampeding wildebeests, comes face-to-face with lions, and discovers why you should never come between a hippo and its watery home.

Look & Learn Series (ages 2-5, $6.99 each) – Even when their backpacks are almost as big as they are, reading together is critical for developing a lifelong love of books. The Look and Learn series of board books Look & Learn board book series are developved in association with child education experts and introduces concepts with context reinforcement so learning sticks. This Fall features two new titles:
Plus, National Geographic Kids has developed an amazing Super Reader site to complement the Readers series. It has prizes to reward their reading effort, printable posters to help track their progress, activities, quizzes, games and ALOT more. Check it out for yourself at https://kids.nationalgeographic.com/superreaders.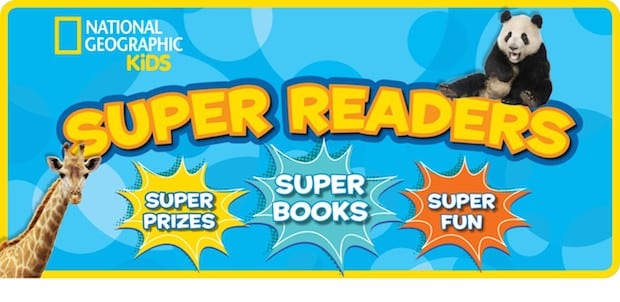 Reader Giveaway: One lucky Jinxy Kids reader will win a "Reading Rocks Mega Giveaway Prize Pack" consisting of all 11 titles listed above (ARV $48). To enter, just complete the entry form below by 11:59pm ET on 9/30/15. Good luck!
National Geographic Kids Books

About the Author
Latest Posts