When it comes to bedtime, books are a MUST! What could be better than a brand new book about hugs? I'm Going to Give You a Bear Hug!, by Caroline B. Cooney is a giggle-inducing book that will also help them to wind down for a good night's sleep!
ABOUT THE BOOK
I'm Going to Give You a Bear Hug!, written by bestselling author Caroline B. Cooney, is a playful and comforting bedtime book that imagines all the wonderful ways a child might give and receive a hug.
Whether it's a big bear, gasp for air, knock over a chair hug or a wet and drippy, slimy, slippy fish hug, children will giggle their way through all the imaginative examples. Cooney's sweet, whimsical rhymes encourage playful interaction between parent and child and ultimately help them wind down before they snuggle into bed and drift off to sleep.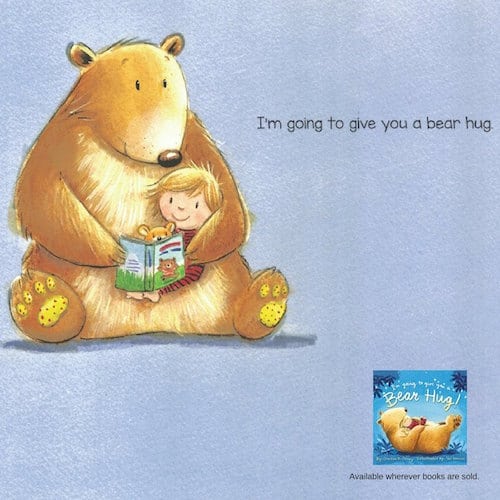 ABOUT THE AUTHOR
Caroline B. Cooney was born in New York, grew up in Connecticut, and now lives in South Carolina. Caroline is the author of 90 Young Adult novels in many genres, and her books have sold over fifteen million copies. I'm Going to Give You a Bear Hug! is her first picture book. It's based on a verse she wrote for her own children, Louisa, Sayre and Harold, who are grown now.
LEARN MORE
Buy the book at Barnes & Noble
Follow ZonderKidz on Twitter, Facebook, and Instagram
Like Caroline B. Cooney on Facebook
#BearHugBook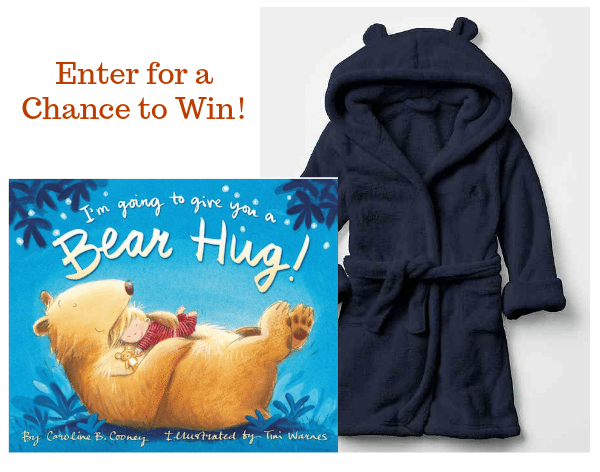 Reader Giveaway: One lucky Jinxy Kids reader will win a copy of  I'm Going to Give You a Bear Hug! and a beary-y cute bedtime robe for your little one! To enter, just complete the entry form below by 11:59pm ET on 7/24. Good luck!
I'm Going to Give You a Bear Hug! Giveaway