Lincoln Logs Redfield Ranch lets you build your very own log cabin ranch using 124 real wood logs and building accessories, complete with colorful figures!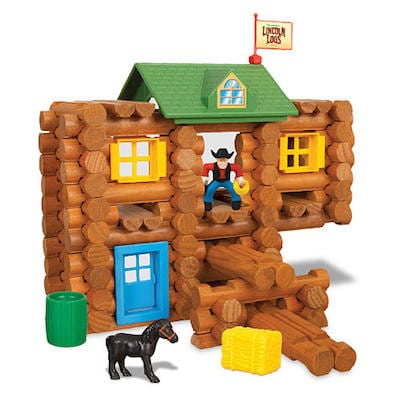 When I was growing up I loved my Lincoln Logs! I was a big fan of the Laura Ingalls Wilder series of books, including Little House in the Big Woods, and building houses and cabins with my Lincoln Logs made me think I was building houses that Laura could have lived in.
All these years later, Lincoln Logs are still making fun toys for kids to play with.
The latest addition to the family is the K'NEX Lincoln Logs Redfield Ranch. With this set, your little ones can build a home on the range!
Lincoln Logs Redfield Ranch includes 124 real wood logs plus colorful figures and other building accessories. Step-by-step instructions guide you to build a ranch complete with a horse and cowboy figure. Parts come in a newly designed and collectible storage container, so clean-up is quick and easy.
We like that the set includes instructions to be able to construct a really cool house. But, it is also nice that the same pieces can be made to invent our own houses and structures. The storage container makes it easy to keep everything stored together (no lost pieces!) and it looks pretty cool too!