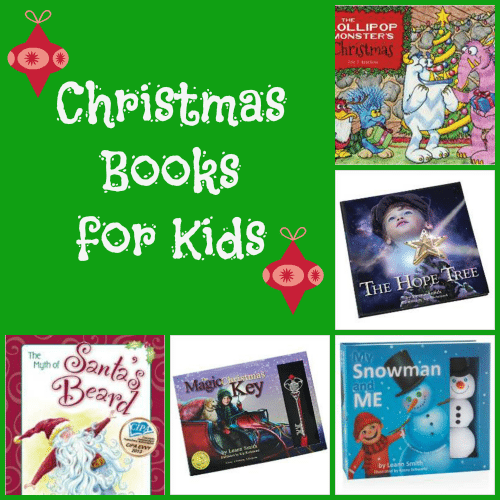 Give the gift of reading this Christmas! Sure, kids all want lots of toys for Christmas, but the gift of a book is something that can start a holiday tradition. It's fun to take out the same Christmas story and sit down and read it as a family year after year. Here are a few of this year's newest children's books to celebrate the season.
The Lollipop Monster's Christmas, $14.98 (Reg. $16.99) by Eric T. Krackow (Author), Heather M. Krackow (Contributor)
Larry's favorite time of the year has arrived. He races around his home trying to make everything perfect before his friends arrive for Christmas morning. During the celebration, he discovers a lonely monster named Walter, who is very sad. Larry asks him why he is sad and Walter explains that Christmas is a difficult time of the year because he is always alone and has no family. Larry invites him to spend the holiday with him and his friends. Walter shyly accepts the invitation and follows Larry back to his home. Walter is welcomed by Larry's friends and ends up having the most merry Christmas ever!
The Magic Christmas Key Book and Key Gift Set, $26.48 (Reg. $35) by Leann B Smith (Author), Kip Richmond (Illustrator)
Gold Mom's Choice Award 2014. Andy believes in Christmas, and encouraged by his grandfather, begins a marvelous adventure that starts with the gift of Santa's Magic Key. His papa asks Andy to keep the key safe. But Andy, in spite of good intentions, allows the Magic Key to get into the hands of others. The fun loving chaos that ensues requires Andy to be honest and brave, leading him to Santa Claus himself. Andy learns that indeed, All Things Are Possible When You Believe. This 1st edition 10″ x 10″ hardcover book and beautiful key are showcased in a keepsake box. This Christmas season, read the story of Andy, and learn about The Magic Christmas Key, then start the tradition with your family!
My Snowman and Me Gift Set, $25.05 (Reg. $32) by Leann Smith (Author), Kacey Schultz (Illustrator)
My Snowman and Me is a delightful story for young children introducing the magic and wonder of building a snowman. In simple words, perfect for a beginning reader, the story shows what the snowman can be, and that in spite of the warm sun and the snowman melting, he will always come back, whenever it snows. Whether too warm for snow, or too cold to go out, My Snowman and Me allows the child in your life to build their snowman anytime and anywhere. And, at the end of the book, record the day your child's first snowman came to life, and the snowman's name too. The book, buildable snowman toy, and keepsake box.
The Hope Tree, $16.60 (Reg. $20) by Leann B. Smith (Author), Kip Richmond (Illustrator)
Award winning author Leann Smith loves Christmas and hopes that this simple story will inspire children and families to celebrate the heart and spirit of Christmas every year. Smith is the author of The Magic Christmas Key, My Snowman and Me and The Winning Garden.
The Myth of Santa's Beard , $8.81 (Reg. $9.95) by Sharon Thayer (Author), Carousel Publishing (Editor), Marci Chambers (Illustrator)
There is a problem growing at the North Pole because children around the world are being so good. Santa s beard grows a little each time children share, play fair, do their best and tell the truth. Because the children are good every day, Santa s beard gets so long he can t walk, he can t talk and he can t make the toys. But those smart little elves come up with a plan. Now all Santa has to do is choose the best kids from his Good List to receive a snippet of his beard. Included with this book is a snippet of Santa s beard tied with a red bow and an envelope to mail the book to the child from the North Pole or tuck it inside their Christmas stocking. Parents will love this story that reinforces ethics and values and your child ages 3-8 will treasure the book and the snippet of Santa s beard every Santa believing year and beyond.