Could your kids use some new clothes to start the new year? If so, then you're in luck! For a limited time only, Gymboree is offering their biggest clearance ever with up to 75% off the entire store during their I SPY A SALE Event! Gymboree only offers this event twice a year so be sure to take advantage of the great deals today!
There is still a lot of winter left (here in Minnesota we just got our first "real" snow this week), so it's a perfect time to stock up on sweaters and outerwear. They have awesome coats starting as low as $9.99!

Also on the line of winter wear, there are sweaters for both girls and boys as low as $7.99. I love some of the super cute cardigans that are perfect for layering.
And if you want to start planning ahead for spring and summer, they have lots of tees on sale starting as low as $5.99. For girls I love the shirts with black and white designs highlighted with just a hint of color – so cute! (I wish I could find one for myself!)
For boys, there are TONS of t-shirts including those with a sports motif, lots of fire engine gear and for the Dinotrux fans they have Dinotrux shirts featuring all of your little guy's favorite characters at only $5.99!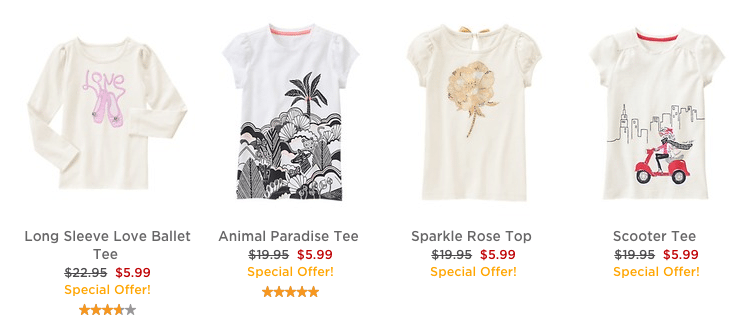 This sale lasts for only a limited time, so head on over to Gymboree and stock up for the rest of winter and get a start on spring and summer wardrobes now. You will end up with a GREAT deal!