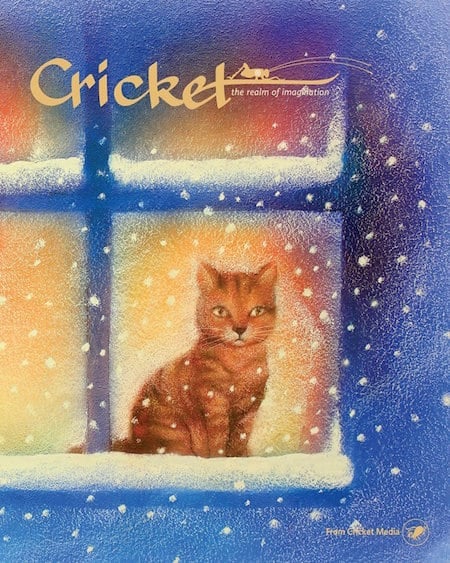 When I was a child I LOOOOVED Cricket Magazine. Actually, my mom started my subscription, right at the beginning of its publication…back in 1973. Since then they have added other magazines to the Cricket Media family, but they all hold to the same principle of quality literature for children. They're perfect for holiday gifts that keep giving all year long. If your kids are like I was, they'll get excited every time they see a new issue in the mail.
This holiday season, all of these award-winning ad-free kids magazines, including BABYBUG, LADYBUG, SPIDER and CRICKET, are inviting gift-givers to double the reading and double the joy with a new "Double the Giving" Campaign. Through the end of December, any gift-giver purchasing an annual print subscription to one of four different Cricket publications will also deliver the gift of reading to a child in an underserved community through two award-winning, charitable partners: Libraries Without Borders and Parent-Child Home Program, both 2016 Library of Congress Literacy Award Winners.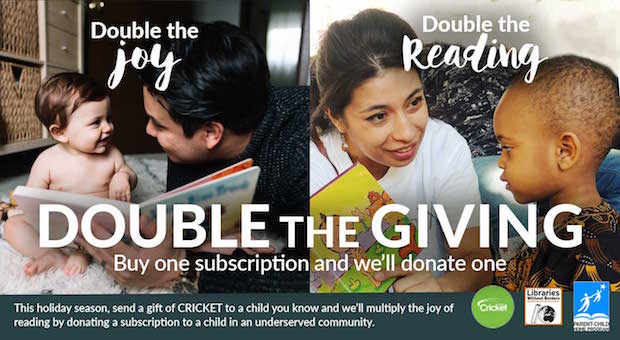 Since 1973, the magazines in the Cricket family have sparked curiosity, inspired creativity and opened worlds of possibility in kids ages 3-16. Simply stack a year's worth of one of Cricket's magazines in front of a child, and they'll see months of great stories and interactive features; adults will see a lifetime foundation of literacy and learning. But, for many children, experiences like this are not a given, and Cricket wants to help. It's their goal to reach 10,000 new kids in underserved communities across the country this holiday season.
Generous gift-givers seeking to give the life-long gift of reading are invited to visit DoubletheGiving.com. There, they'll have the opportunity to join a movement guaranteed to spark a lifetime love of reading through Cricket's "Double the Giving" Campaign, Through the purchase of specially-discounted subscription bundles to BABYBUG (ages 6 mos.-3), LADYBUG (ages 3-6), SPIDER (ages 6-9) or CRICKET (ages 9-14) for $29.95 (regularly priced at $33.95), gift-givers can select between two charitable organizations to receive another 9-issue annual print subscription.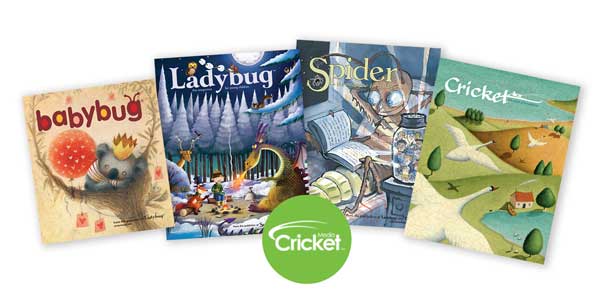 Libraries Without Borders supports community development in 20 countries around the world through the promotion of literacy. And, since 1965, the Parent-Child Home Program has been providing under-resourced families with the necessary skills and tools to help their children thrive in school and in life, developing school readiness in children with disadvantages by combining intensive home visits with weekly gifts of books and educational materials. Donated subscriptions through the "Buy One, Donate One" program will deliver BABYBUG, LADYBUG, SPIDER, AND CRICKET to families in more than 400 high-need, underserved communities throughout the United States, opening windows of possibility, creativity and wonder for thousands of children across the country.
Reader Giveaway: One lucky Jinxy Kids reader will win a subscription to their choice of Cricket Media magazines. To enter, just complete the entry form below by 11:59pm ET on 12/19/16. Good luck!