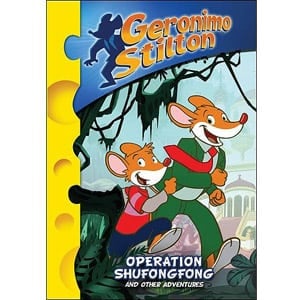 Are your young explorers ready to join the mouse adventurer Geronimo Stilton on his next escapade? For the very first time, animated children's global sensation Geronimo Stilton, from the hit animated kids TV show and best-selling Scholastic book series, will be coming to DVD and digital platformsin the U.S.! Kids and families from coast-to-coast are in store for a wild ride full of hilarious hijinks and far-flung antics alongside the brilliant mouse journalist and his courageous pals as they launch paws-first into exciting capers in search of the next big scoop with "Geronimo Stilton: Operation ShuFongFong" from Entertainment One on September 24, 2013.
Inspired by the best-selling Scholastic book series of the same name, the Geronimo Stilton TV series, a co-production of Atlantyca Entertainment and Moonscoop, along with the participation of Rai Fiction, France Television and leading French broadcaster M6, centers on the globetrotting exploits of a famously klutzy "big cheese" media mogul. Geronimo finds himself reluctantly undertaking sensational journeys through New Mouse City (a creatively re-imagined New York City) and other exotic locales all over the world.

"Geronimo Stilton: Operation ShuFongFong" features four exciting adventures starring the unlikely action hero with two left paws, who is joined by his fearless, gadget-loving 12-year-old nephew, Benjamin; his ultimate pack rat cousin, Trap; and his younger sister, the daring special correspondent, Thea. The DVD release invites children and their families on thrilling journeys from the high seas to the jungles of Asia with lots of fun stops in between, as they make fascinating discoveries and encounter amazing people and places along the way.
The four episodes on the DVD include: "Operation ShuFongFong," in which Geronimo and his sidekicks journey deep into the Bandel Jungle to retrieve a pair of stolen ShuFongFong lizards; "Mouse House of the Future," where Geronimo reluctantly accepts Professor Cheesewheel's offer to make his messy house fully automatic complete with a robot butler; "Reported Missing," which finds Geronimo and team trekking to Africa to uncover the secret of an adventurer who vanished without a trace long ago; and "It's My Scoop," where Geronimo learns that he needs to be more careful with his notes if he is to stop getting scooped by rival news organization, The Daily Rat.
Geronimo Stilton has been an international sensation since its September 2009 premiere in Italy and currently airs in 120 countries globally. With more than 50 titles available from Scholastic, the Geronimo Stilton book series has more than 26 million books in print in North America.
Reader Giveaway: One lucky Jinxy Kids reader will win their own copy of Geronimo Stilton: Operation ShuFongFong. To enter, just complete the entry form below by 11:59pm ET on 10/7/13. Good luck!
a Rafflecopter giveaway