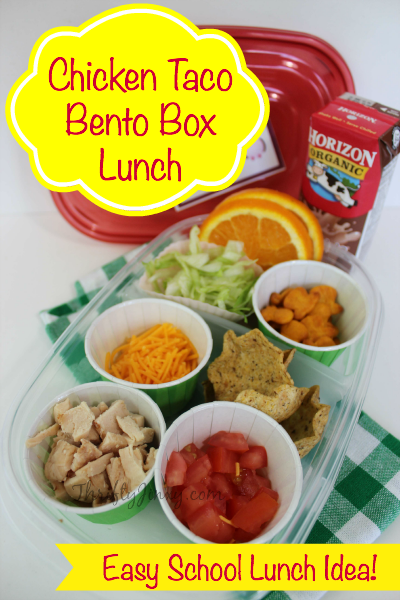 When it comes to packing school lunches, do you have a hard time coming up with new ideas? The top priorities for a great school lunch are balanced nutrition. Making the lunch FUN too increases the likelihood that it will all being eaten and not traded away or brought home again at the end of the day.  With this Chicken Taco Bento Box Lunch idea your child will get protein, veggies, fruit, dairy and carbs along with a lot of FUN as they create their own little chicken taco cups!  If you have leftover chicken or a rotisserie chicken, you can use that instead of prepackaged and, of course, you can change up the side selections from what we have here.

Chicken Taco Bento Box Lunch
INGREDIENTS
2 oz Grilled Chicken Breast pieces
7-10 Tostitos Multigrain Scoops
1/4 cup Cheese Crackers
1/4 cup Shredded Cheddar Cheese
1/2 Orange sliced
1/4 cup Diced Tomatoes
1/4 cup Shredded Lettuce
1 Lowfat Milk Carton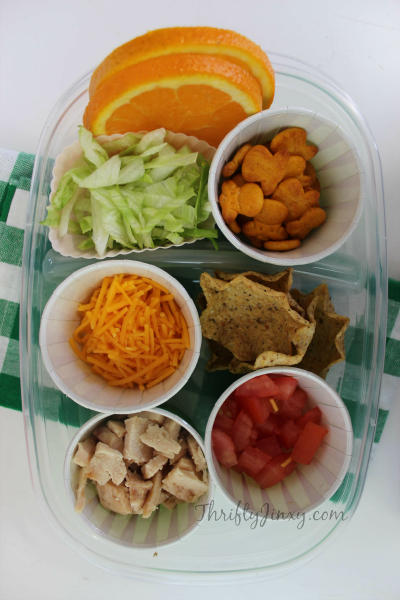 DIRECTIONS
Cut up the chicken into small pieces.  Place each ingredient into cups and place in Bento Box.  You can also use cupcake liners (the washable silicone type work great) in a regular rectangular food storage box.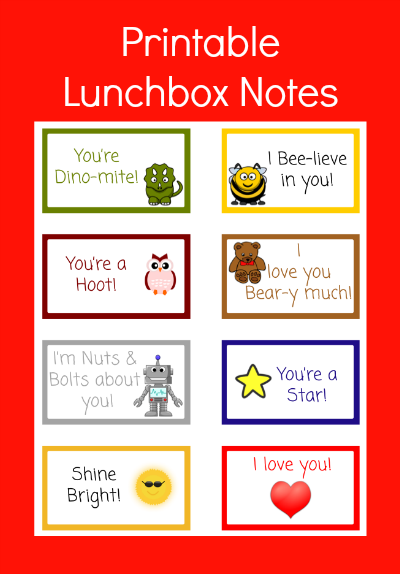 To add some fun to this lunch and ALL of your kids' school lunches, we have these cute Printable Lunchbox Notes that you can print out and slip into a lunchbox or bag for a little surprise.  Add your own short note to make them more special!
What  type of bento box lunches do YOU like to create?