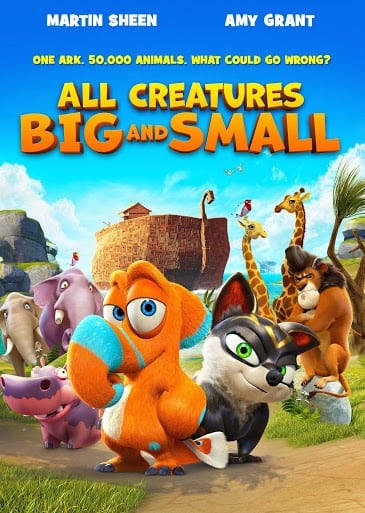 Plan a family movie night for FREE! Right now we can score a FREE download of the new movie All Creatures Big and Small on Google Play! Featuring the voice talents of Martin Sheen and Amy Grant, and distributed by Entertainment One , All Creatures Big and Small is a family-friendly, feature-length adventure that reimagines the epic tale of Noah's Ark.
In All Creatures Big and Small, a clumsy new species of Nestrians, led by patriarch Dave and son Finny, find themselves left off the list of animals allowed to board Noah's Ark. With rough waters ahead, the father-son duo scramble in disguise to sneak onto the boat. Caught up in all the excitement, Finny accidentally steps off the boat and gets left behind leaving him and a few new friends to embark on an incredible and harrowing journey to reunite with their family. With the aid of creatures big and small, Dave must turn the Ark around to save his son in this heartwarming adventure of biblical proportions.
For added fun, print off this Build your Own Boat Activity Sheet:
Check out these fun clips from the movie:
Download your FREE copy of All Creatures Big and Small today!
About the Author
Latest Posts