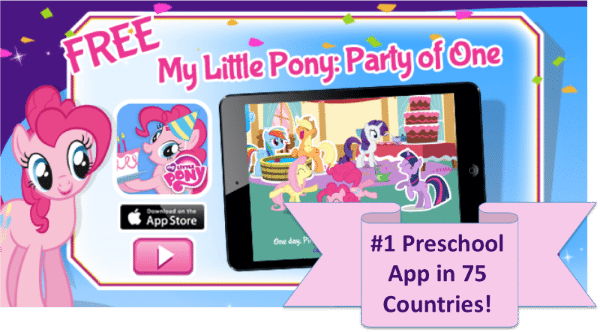 This week is Friendship Week and to celebrate PlayDate Digital is offering their app My Little Pony: Party of One for FREE from the App Store. Your little one can go on an adventure with Pinkie Pie and her friends in this interactive tale about the magic of friendship.
Who throws better parties than Pinkie Pie? Having just finished one celebration, Pinkie Pie sets off to invite all of her favorite ponies to a NEW party, but suddenly every pony seems to be QUITE busy. What's going on? Join the investigation as Pinkie Pie visits her My Little Pony friends looking for clues.

Bold graphics, bright colors and lots of animations make Party of One an enjoyable and engaging way to be entertained and practice reading skills. Perfect for My Little Pony fans and beginning readers.
Key Features:
•Your favorite ponies are here: Pinkie Pie, Rainbow Dash, Fluttershy, Applejack, Twilight Sparkle and more!
•Featuring the official voice of PINKIE PIE from the show FRIENDSHIP IS MAGIC
•Watch the characters animate in playful moments during every story spread
•17 scenes that come to life as children tap and explore each page.
•Tap on the ponies to move the adventure forward
•Highlighted words to help test and build age-appropriate vocabulary
•Word round-up to reinforce learning goals
•Parents can track children's learning progress
Hurry because you only have through Thursday, 8/7, to download the app for free!