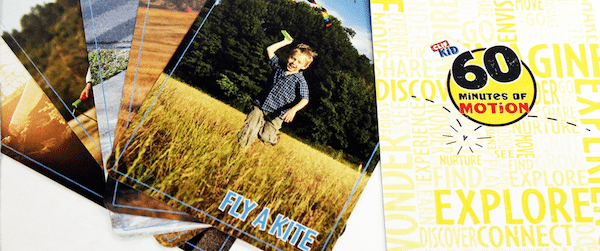 I love this fall weather! My family and I try to spend as much time outside as possible this month to enjoy these cooler days. It is the perfect weather for outside play – not too hot not too cold.
If you are looking for some motivation for you and your children to get outside and play check out these playing cards from Clif Kid. This is a free printable deck of 60 Minutes of Play cards that are really great!
Here is what is included in this game:
10 Motion Cards: one minute bursts of motion that have a specific movement, like star jumps, crab walks or planks.
5 Activity Cards: sustained 10 minute activities that kids can do solo or with friends and family.
5 Adventure Cards: wild cards with inspiring words and phrases that prompt kids to choose their own imagination-filled adventure.
2 Game Cards: motion-filled games (inspired by CLIF Kid Backyard Game of the Year) for hours of family fun and play.
1 Snack Card and 1 Hydration Card: tips on how to nourish yourself before, during and after outdoor play and activity.
How fun is that?! Head over here to print this great freebie and get your children outside to play in this incredible fall weather!