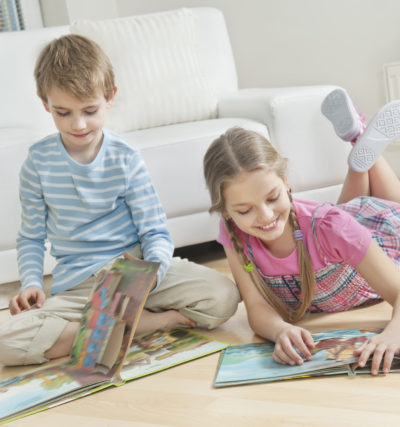 When I was growing up, my family had a different Easter basket tradition from the normal "hunt for it Easter morning" practice. Instead, my mom put together Easter baskets for us kids a couple weeks before Easter, and then we were allowed to have a little bit of candy from it each day. Honestly, I still haven't landed on exactly how I want to proceed with Easter baskets for my kids. Do I want them to have a bunch of candy over a few weeks, or should I fill their Easter baskets with candy and other goodies and have the kids hunt for them Easter morning?
Either way, I know I want to look for other options besides just candy. If you're also looking to avoid sugar overload this year, books are a great way to fill the kids' Easter baskets (and they last waaayyy longer than chocolate!). National Geographic Kids Books has several new titles for kids of all ages that are perfect for Easter and for celebrating spring.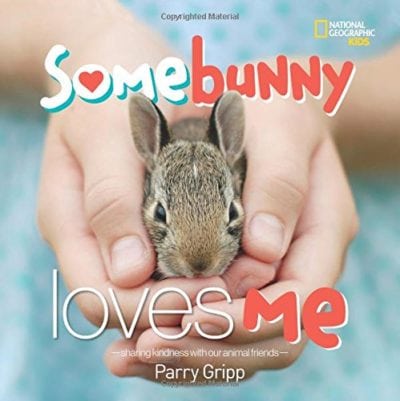 Somebunny Loves Me by Parry Gripp ($16.99; ages 4-8) contains sweet and silly rhymes to share how children can best understand, appreciate and interact with a variety of fuzzy, feathered or scaly pals. Paired with adorable, full-page photographs, Parry also includes a personal note in the back of the book giving kids and their parents more tips on how to be good pet owners – from how to keep pets safe, clean and healthy to how to best interact with them and even pointers on how to make a pet music video.
Parry is an Emmy-winning singer-songwriter whose quirky, popular tunes including "Nom, nom, nom" and "It's Raining Tacos" have made his YouTube channel a smash hit with nearly 140 million views. He is an avid animal lover, and his bunny Bruno is often the inspiration behind many of his songs. Check out the Somebunny Loves Me music video and sing along as you and your kids turn the pages (hopefully with their favorite pet by their side!).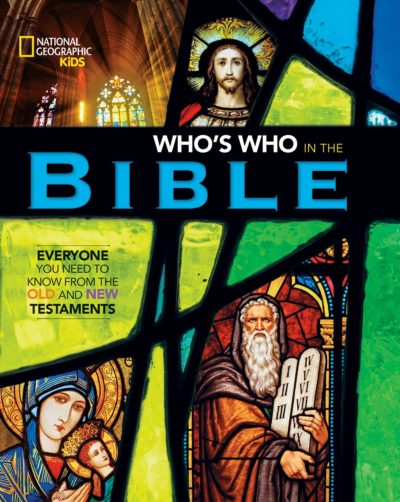 Who's Who in the Bible ($14.99; ages 8-12) profiles everyone you need to know from the Old and New Testaments. From Adam and Eve in the Garden of Eden to Paul's ministry to the ancient world, this beautiful book pairs need-to-know information about Biblical personalities with timeless artwork.
Each vibrant, colorful profile is accompanied by fast facts, including which books of the Bible the person appears in and what he or she is best known for. Feature spreads cover the history, archaeology, and geography associated with notable individuals. An alphabetical index covering more names not mentioned in profiles ensures that kids reading the Bible never have to ask, "Who's that?"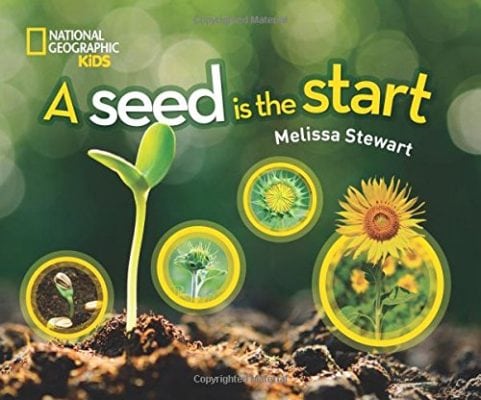 A Seed is the Start by Melissa Stewart ($17.99; ages 6-9) is a story about the surprisingly diverse world of seeds. Spring is about to, well, spring into action, and the magical seed is where it all begins. Beautiful photography and lyrical text pair with comprehensive picture captions in this book. Learn all about the plant cycle from how seeds grow to the fascinating ways they travel to what it takes for a seed to become a plant. The magic of spring, revealed!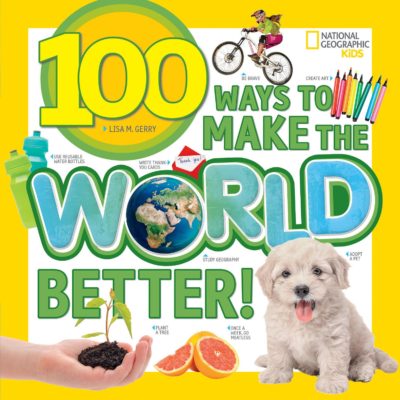 100 Ways to Make the World Better ($9.99; ages 8-12) – Who says kids can't change the world? If they've got the will, Nat Geo Kids can guide the way, with doable activities, hands-on projects, advice from National Geographic explorers, interviews with experts, weird-but-true facts, and more inspiration. In keeping with the Nat Geo Kids mission, the book is full of practical, positive, and powerful ideas that every kid can consider, from simple acts of kindness to creative adventures to good-for-the-planet projects.
Ideas are presented as simple concepts with engaging graphics and photographs, and many are followed by detailed supporting information. Kids get a sense of their own power to make a difference and an understanding of what actions contribute to positive outcomes. Sometimes all it takes is starting with something simple, and before you know it, together we've reshaped our planet for the better.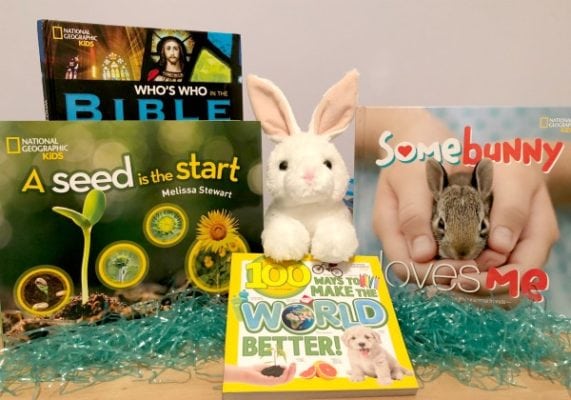 Reader Giveaway: One lucky Jinxy Kids reader will win an Easter book prize pack which includes all four books listed above as well as an adorable plush bunny! To enter, just complete the entry form below by 11:59 pm ET on 4/2/18. Good luck!