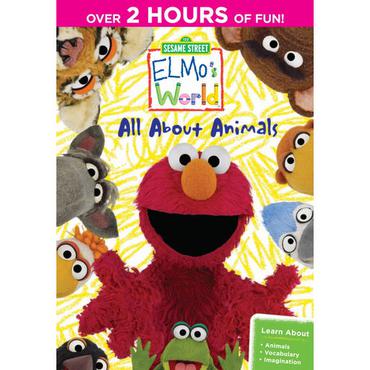 Coming soon to DVD is a brand new adventure with everyone's favorite little furry red monster – Elmo.  Warner Bros. Home Entertainment  and Sesame Workshop, the nonprofit educational organization behind Sesame Street, will release Elmo's World: All About Animals on DVD and digital March 4, 2014.  These fun DVD is filled with over two hours of barking, chirping, galloping and more along with a special classic bonus story where Elmo visits the zoo.
Elmo loves animals and wants to learn everything about them. Join everyone¹s favorite red furry monster as he finds out about dogs, birds, fishes, horses, penguins and many other members of the animal kingdom. Elmo¹s World: All About Animals encourages children to use their imagination. In each segment, children pretend to be different animals, such as galloping like a horse or chirping like a bird. It focuses on teaching children about responsibility and building self-esteem through lessons such as, how to take care of a pet/animal and how to be respectful of their homes. It also introduces new vocabulary words, such as veterinarian, nest and feathers. Timed for a spring release, Elmo¹s World: All About Animals is sure to entertain and educate preschoolers on all their favorite animals before taking trips outside to the zoo, farm and other favorite animal destinations.
Reader Giveaway:  One lucky Jinxy Kids reader will receive their own copy of Elmo's World: All About Animals.  To enter, just complete the entry form below by 11:59 pm ET on 3/12/14.  Good luck!