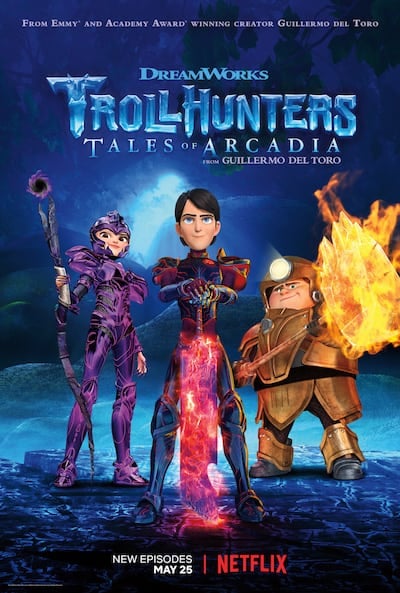 Good news Trollhunters fans!! DreamWorks Trollhunters Part 3 debuts THIS FRIDAY, May 25th, exclusively on Netflix! Part 3 is the final season of this Emmy-winning series from Guillermo del Toro and our chance to see how the adventures of the Trollhunters conclude.
As the season begins, the fate of troll and human civilizations hang in the balance. The Trollhunters are racing to stop Gunmar and the now resurrected Morgana from bringing about the Eternal Night and shrouding the world in darkness forever. To defeat them, the team must seek the help of the legendary wizard Merlin to unlock his ancient magic and unleash a powerful weapon that will alter the course of their lives forever.
DreamWorks Trollhunters Part 3 marks del Toro's most recent directorial project as co-director of the two-part series finale alongside executive producer Rodrigo Blaas. The duo previously won a Daytime Emmy for Outstanding Directing in an Animated Program for their work on season one.
Netflix and DreamWorks recently announced that Tatiana Maslany, Diego Luna and Emile Hirsch have joined Guillermo del Toro's Emmy-winning series and the already star-studded cast including Kelsey Grammer in his Emmy-winning role as Blinky, Mark Hamill (Dictatious), Lena Headey (Morgana), David Bradley (Merlin), Ron Perlman (Bular), Steven Yeun (Steve), Anjelica Huston (Queen Ursurna), Jonathan Hyde (Strickler), Amy Landecker (Barbara), Charlie Saxton (Toby), Lexi Medrano (Claire) and Fred Tatasciore (AAARRRGGHH!!!).
Trollhunters Book

Funko – Dreamworks Trollhunters JIM – 3 3/4″ Action Figure

Trollhunters: Season One

POP! Television 466: Trollhunters- Jim (Armor) & Gnome POP Vinyl Figure

Trollhunters 2018 Wall Calendar

Exclusive Pop! – Trollhunters – Jim with Red Armor with NYCC Sticker

Bular: Funko POP! TV x Trollhunters Vinyl Figure + 1 American Cartoon Themed Trading Card Bundle [#471]

AAARRRGGHH!!!: Funko POP! TV x Trollhunters Vinyl Figure + 1 American Cartoon Themed Trading Card Bundle [#470]

Welcome to the Darklands (Trollhunters)

Aja and Krel, voiced by Maslany and Luna, are two mysterious new students who unknowingly come to the aid of the Trollhunters team in the fight against Morgana. The duo will also reprise their roles and serve as the leads of the next installment of del Toro's Tales of Arcadia trilogy, DreamWorks 3 Below, set to debut on Netflix later this year. Hirsch steps into the role of Jim Lake, Jr., originally voiced by the late Anton Yelchin.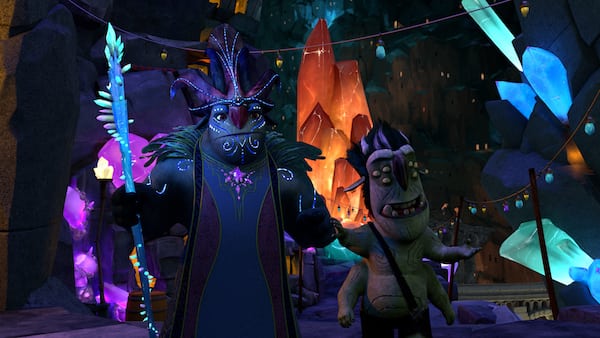 DreamWorks Trollhunters is created and executive produced by del Toro with Marc Guggenheim (Arrow, Legends of Tomorrow), Rodrigo Blaas (Alma), Chad Hammes (Dragons: Race to the Edge) and Christina Steinberg (Rise of the Guardians) serving as executive producers. Dan Hageman (The Lego Movie, Ninjago) and Kevin Hageman (The Lego Movie, Ninjago) serve as co-executive producers.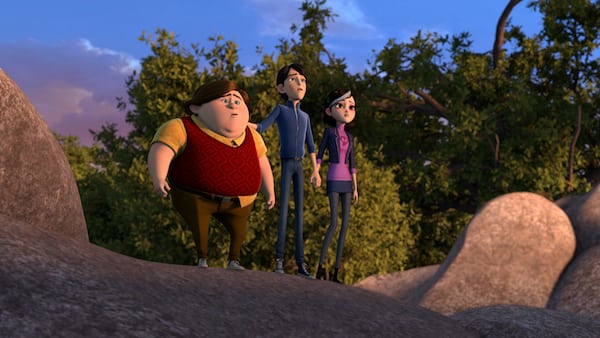 Premiering in 2016 to critical acclaim, Trollhunters introduced audiences to the seemingly quiet town of Arcadia and an ordinary kid who embarks on an extraordinary adventure in a hidden world right beneath his feet. The first season lead the 2017 Creative Arts Daytime Emmys with six wins, more than any other program, including writing for an animated program (Marc Guggenheim), directing (Blaas, del Toro), casting (Ania O'Hare, Mary Hildalgo) and a voice acting win for Grammer. The second season received four nominations for the 2018 Creative Arts Daytime Emmy Awards, including a win for Outstanding Writing in Animated Program.
Tune to Netflix May 25th of Trollhunters Part 3!!
About the Author
Latest Posts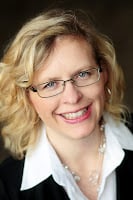 I'm a busy blogger and happy auntie of Little R, who I spend time with several days per week – which ends up being the FAVORITE part of my week! We love to cook together, do crafts, play outside and turn boring errands into fun adventures.