This Monday, August 21, 2017, we have a chance to witness a rare occurrence as a total solar eclipse will be visible in totality within a band across the entire contiguous United States. Even if you're not right in the path of totality, the eclipse can still be an exciting thing to watch and a great opportunity for kids to learn more about our solar system.
BUT, it's very important to watch the eclipse safely. Looking at the sun directly can cause serious, permanent eye damage. You also need to beware of shoddy "solar glasses" that may not actually meet required safety standards. The safest way to witness the eclipse is via a projector. To help you, we have two DIY Solar Eclipse Projector projects courtesy of The Lion King!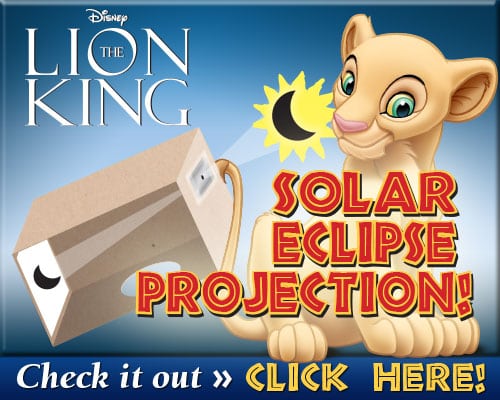 There are two different projectors you can make. The first, the DIY Solar Eclipse Pinhole Box Projector, is the most simple using only a box, a sheet of paper, aluminum foil and duct tape. It will project an image of the eclipsed sun on the paper inside the box. If you have a pair of binoculars, you can create the DIY Solar Eclipse Binocular Projector. You'll also need a tripod to aim your binoculars on the ground to project the image of the sun onto a sheet of paper. (Only use this projector for a few minutes at a time so you don't damage your binoculars.) Download the instructions for both DIY Solar Projector projects here.
Remember to NEVER LOOK DIRECTLY AT THE SUN WITHOUT PROPER PROTECTIVE EYE GEAR. Even sunglasses can't protect your eyes from the damage of the sun's rays. Always keep your back to the sun while looking at a projection.
One of the biggest animated films in history, The Lion King, the coming-of-age masterpiece, filled with humor and heart, breathtaking animation and soul-stirring Academy Award®–winning music (1994: Best Original Score and Best Original Song, "Can You Feel the Love Tonight"), joins the highly celebrated Walt Disney Signature Collection. The Lion King roars to its rightful place in the Walt Disney Signature Collection on Digital Aug. 15th and on Blu-ray™ Aug. 29th.
Audiences will fall in love all over again with the treasured classic, and a new generation of fans will laugh with Timon and Pumbaa, cry with Simba and Mufasa, burst into song, and find their place in the "Circle of Life." The Walt Disney Signature Collection release includes over three hours of classic bonus material and exclusive, brand new features inviting viewers to sing along with the film's award-winning music, observe recording sessions, step inside the story room, witness the evolution of a villain, and join Nathan Lane (voice of Timon) and Matthew Broderick (voice of Adult Simba) for an extended conversation regarding the legacy of "The Lion King."