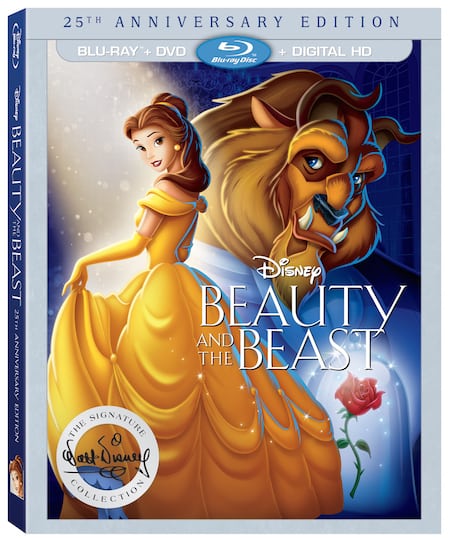 I vividly remember the first tine I saw Disney's Beauty and the Beast in the  theater 25 years ago. I took my 5-year-old goddaughter with me and on our drive to the theater I was stopped by a police car for having expired tabs on my license plate. We both loved watching Beauty and the Beast and talked about it all the way home. BUT, when we walked in the door at her house the very first thing she said to her Mom was "We got stopped by the police!"
It's hard to believe that 25 years have passed since then and that my goddaughter now has two little ones of her own. They are part of a whole new generation who are loving this Disney classic!
Twenty-five years ago, Disney's Beauty and the Beast broke ground as the first animated feature film to receive an Academy Award® nomination for best picture, and now this tale as old as time joins the Walt Disney Signature Collection. The Blu-ray release will include the original theatrical film; an extended version with the "Human Again" song sequence and a never-before-released on home entertainment sing-along version.  The original work-in-progress version will be available digitally and on Disney Movies Anywhere. Relive the magic on Sept. 6 on Digital HD and Disney Movies Anywhere, and on Sept. 20 on Blu-ray™ and DVD.